Hi, and welcome to this fun UI design article.
This article will define UI design, the UI Designer job description, plus the UI Designer skillset.
By the end of this interactive UI design article, you will make more intelligent UI Designer career decisions.
In particular, we will focus on the following critical areas:
What is a UI Designer?
Step-by-step process of becoming a UI Designer
UI Design job description
Frequency-Asked Questions and More
Let's get started!
Introduction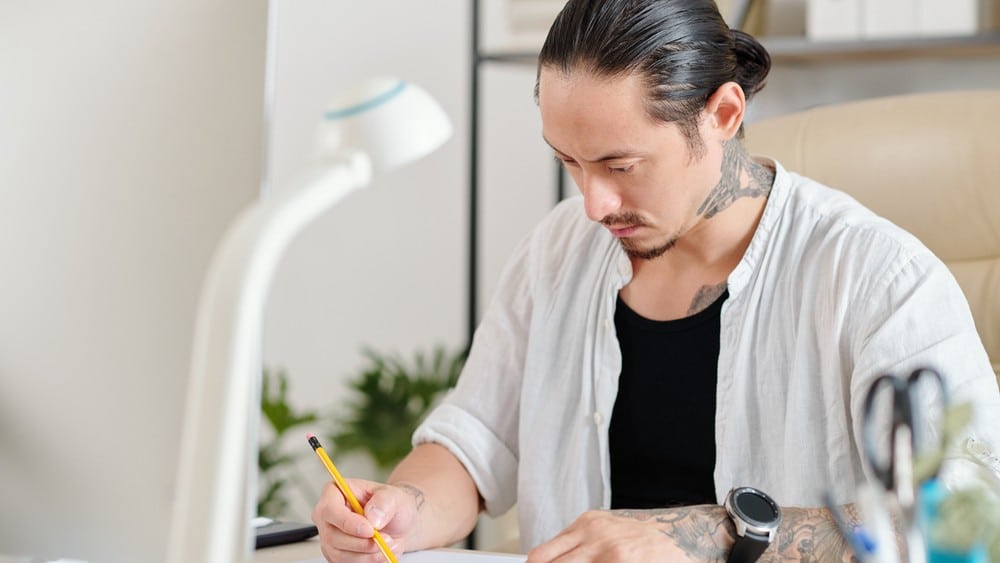 You must be familiar with your phone's or laptop's home screen icons, widgets, toggles, search boxes, graphics, and other visual elements.
That's the User Interface (UI).
The User Interface (UI) is a critical and fast-growing subset of the User Experience (UX) sector, helping users better interact with their digital products.
As a discipline that has just gained prominence recently, many people still don't understand it correctly.
That's why this comprehensive article will delve deep into the world of the UI Designer and demystify the workings of this exciting digital career.
Continue reading for the UI Designer definition.
What's a UI Designer?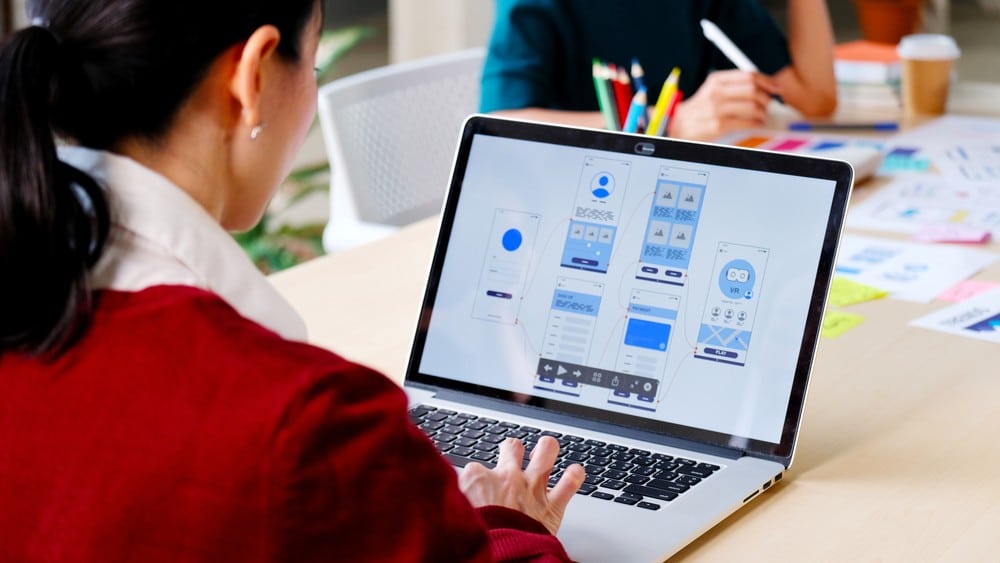 A UI Designer is a skilled professional responsible for creating interactive, responsive, and high-quality user interfaces in digital products.
UI Designers are responsible for creating different visual elements in a digital products user interface that make it aesthetically appealing and practical, including:
Input controls ( toggles, text fields, drop-down lists, checkboxes, radio buttons)
Navigational components ( tags, pagination, sliders, image carousel, breadcrumbs, icons)
Information components (message box, tooltips, notifications, progress bars, pop-ups)
Containers (accordion)
Buttons, color schemes, animations, typography, fonts
User Interface Designers extensively use photo editing and graphic design software in their design work to create responsive designs that enhance human-machine interaction.
Unlike UX Designers, who are more concerned with user interactions, UI Designers focus on creating visual elements that align with graphic design principles.
Read on to learn how to become a UI Designer.
Step-by-step Process of Becoming a UI Designer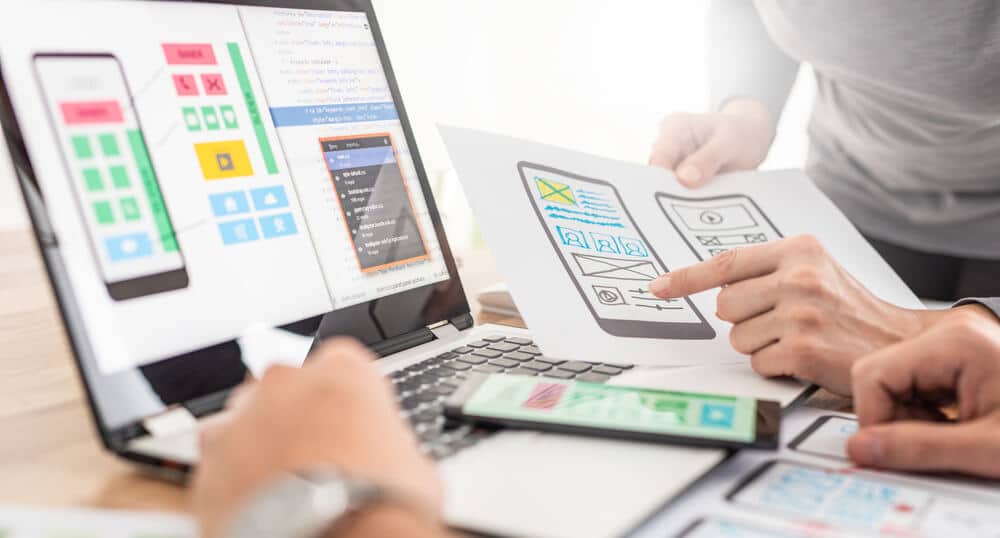 Now that you understand what a UI Designer is, let's focus on the steps to becoming a highly effective and in-demand UI Designer.
1. Learn UI basics
As a newbie, the UI space may seem confusing and intimidating, but with a bit of passion and commitment, you can quickly excel in this profession.
The first step in becoming a UI Designer is understanding the UI basics.
UI design basics include:
Types of User Interfaces.
Language
Color
Imagery
Interaction design
Typography
Icons
Layouts
Visual styling
Laying a solid foundation in UI basics will help you create high-quality UI designs and become a better Designer.
2. Enroll in a UI Bootcamp
The world of technology is rapidly evolving.
To receive the most up-to-date and relevant UI education, consider enrolling in a UI Bootcamp.
UI Bootcamps combine the latest practical UI training with classical UI theory to provide comprehensive, all-around UI training.
In a UI Bootcamp, you'll learn about:
UI design tools
UI design principles
User research
Color theory
User experience design
Design decisions
Communication skills
Collaboration
Problem-solving
UI design patterns
UI Bootcamp training is an excellent way of securing entry-level User Interface design jobs.
3. Develop UI Design Skills
Learning UI basics is not enough to turn you into a rockstar UI Designer.
To become proficient in UI design, you must develop your UI design skills.
The top skills you'll need to develop as a UI Designer include:
Wireframes
Prototypes
Information Architecture
UI Design tools
Soft skills (communication, problem-solving, collaboration)
4. Gain UI Design Experience
After acquiring classroom knowledge, the next logical step is to gain practical UI design experience.
A good way of gaining high-quality UI design experience is by:
Finding a mentor
Volunteering your UI design services
Applying for entry-level UI design jobs
Participating in UI design fairs and seminars
Gaining UI Design experience is critical in helping you grow into a world-class UI Designer.
5. Build a UI Design Portfolio
A UI design portfolio is a collection of your best UI design work, showcasing your design skills to employers or clients.
A UI Design Portfolio is critical in helping employers gauge your design skills and portrays you as a professional.
A good UI design portfolio should:
Be in digital format
Include a detailed narrative
Demonstrate your UI design skills
Feature your best pieces
Display your personality
Demonstrate excellent personal branding
Feature an interactive home page
6. Apply for entry-level UI design jobs
After building a stunning UI design portfolio, applying for entry-level UI roles is the next step in your UI Designer journey.
The good thing about entry-level UI jobs is that the requirements are not hard to satisfy.
Use online job boards like Zippia, Ziprecruiter, and Glassdoor to secure entry-level UI design jobs.
Create a customized CV and cover letter for each entry-level UI Designer job listing.
After securing the UI design job, give it your all and learn as much as possible.
Remember that positive reviews from previous employers will go a long way in growing your reputation as a solid UI Designer.
You may be asking, what does a UI Designer do?
Read on as we take a closer look at the typical UI roles
UI Designer Roles and Responsibilities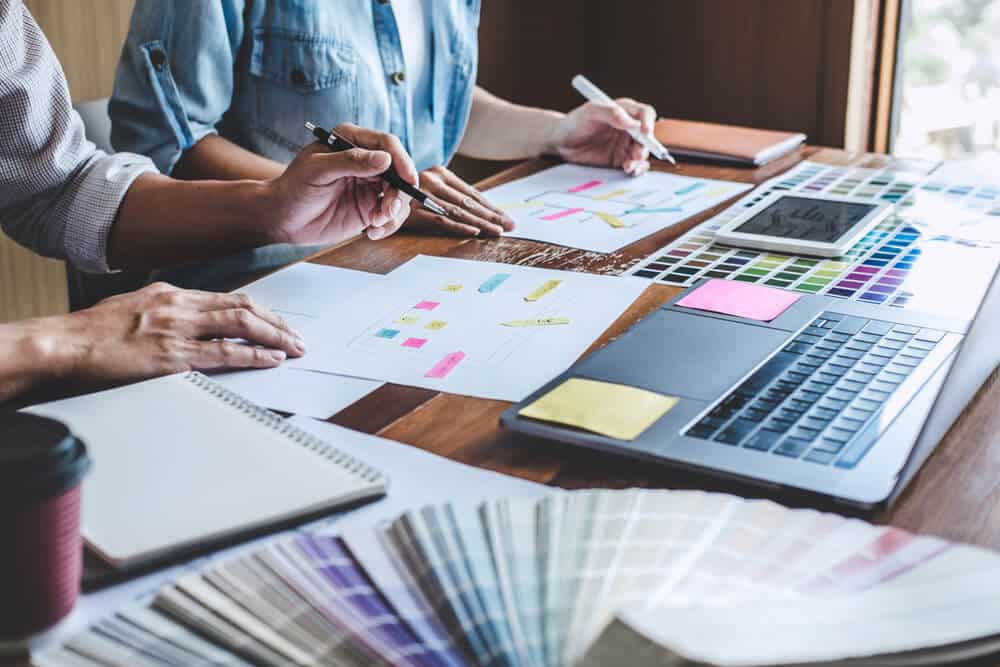 User Interface Designers are integral to the digital product design process and are responsible for conceptualizing, designing, testing, improving, and launching responsive and interactive User Interfaces.
What does UI do?
Here are the primary duties and responsibilities of a UI Designer:
1. Create UI designs
The UI Designer is responsible for the whole UI creation process, from conceptualizing to commissioning.
During the UI creation process, UI Designers create wireframes, storyboards, and user flows which are integral in creating highly responsive User Interfaces.
2. Collecting user information
The UI Designer is responsible for collecting, sorting, and interpreting user feedback.
User data collection is critical in ensuring UI Designers create the most effective, helpful, and responsive User Interfaces.
3. Collaborating
Creating digital products like websites and applications is a multistep process involving UX Designers, Web Designers, Graphic Designers, and Systems Engineers.
One of the core UI Designer's duties is to effectively collaborate with other creative design team members to ensure that UI designs conform to company guidelines and are user-friendly.
4. Define UI parameters
The UI Designer is responsible for the overall user interface creation journey.
The UI Designer is responsible for defining the UI creation parameters.
The UI Designer will typically define the color schemes, interface layout, fonts, typography, and other visual elements of the User Interface.
5. Presentation
UI Designers are responsible for creating and presenting the UI design rough drafts to team members, stakeholders, and management.
The UI Designer will defend the decision to use particular fonts, colors, and graphics within the interface.
Presentation of the UI design is critical in ensuring that the final User Interface satisfies user needs while meeting company goals.
Continue reading to view a typical UI Designer job description
User Interface Designer Job Description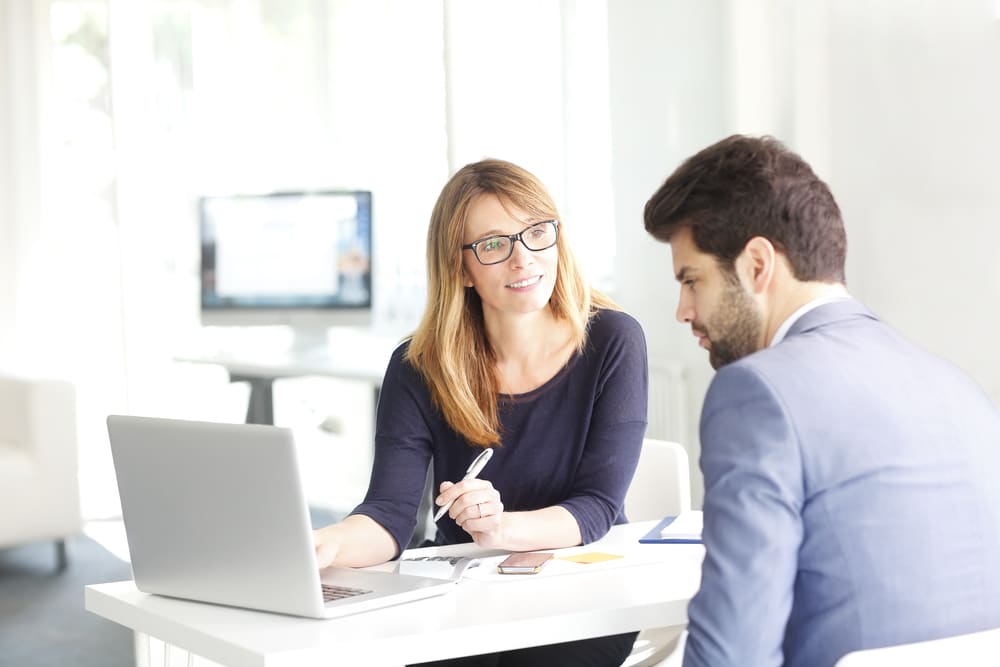 After understanding a UI design, let's analyze what a UI Designer does.
Here is a typical UI job description:
Key duties and responsibilities
Create interactive UI site maps, wireframes, prototypes, process flows, storyboards, mockups, and user flows.
Collect and implement user information and feedback into the UI design
Brainstorm interactive and user-friendly UI design ideas
Collaborate with Graphic Designers, System Engineers, and other Designers in creating compelling UIs
Create interactive and responsive User Interfaces
Present UI design ideas and proposals to the design team, management, and stakeholders
Optimize and improve existing User Interfaces
Conduct user research and tests on UI designs
UI Designer Requirements
Different UI Designer jobs have varying requirements depending on the project's scope, complexity, and deliverables.
Typical UI Designer requirements may include any of the following:
Relevant UI design experience
Highly creative
Design or Human-Computer Interaction degree
Excellent UI design portfolio
Experience in using visual design tools, including Adobe Photoshop, Illustrator, and Canva)
Excellent collaborative, communication, and design skills
Basic understanding of programming languages (CSS, Javascript, HTML)
Experience in prototyping tools (Figma, Invision, Sketch, Adobe XD)
Problem-solving, communication, and critical thinking skills
Excellent time management skills
Experience creating wireframes, storyboards, user flows, and sitemaps
Familiarity with agile/scrum process
Strong presentation skills
Besides the necessary UI know-how, UI Designers require specific skills and characteristics to succeed.
What skills do UI Designers need?
Please continue reading for the answer to this question.
Qualities and skills of UI Designers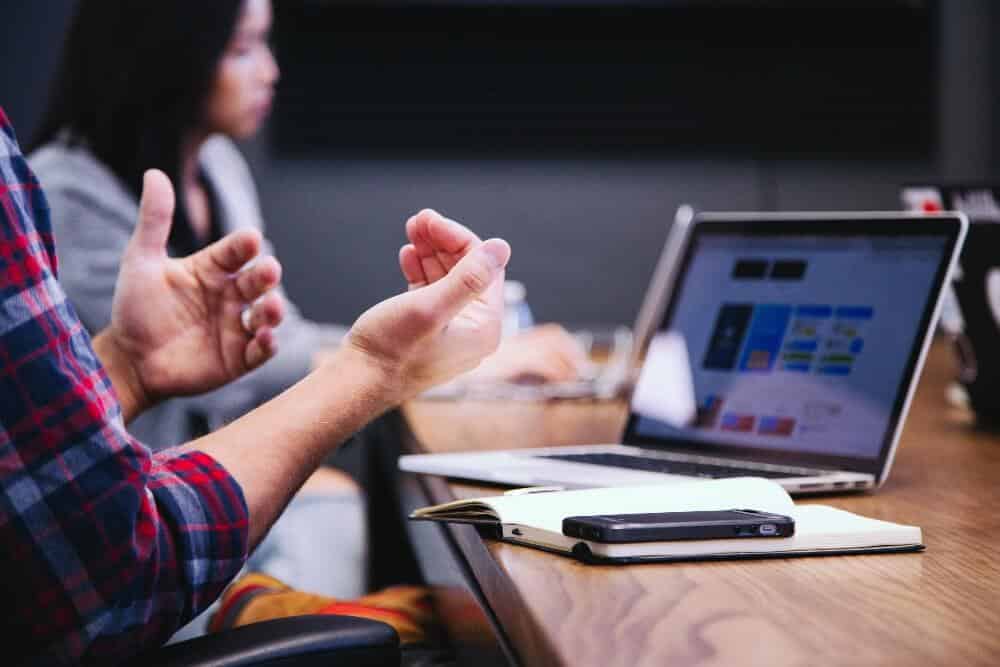 Here are the top qualities and skills that UI Designers require to excel in the UI design space:
Hard Skills
UI Designers' hard skills refer to the technical skills that UI Designers require in their normal UI designing activities.
These are the top UI Designers' hard skills:
1. User research and personas
UI Designers greatly depend on personas and user research to create compelling UI designs that enhance the user journey when using a digital product.
Therefore UI Designers need to possess excellent research and persona-creation skills.
2. Prototype and wireframes
User Interface designing relies on wireframes and prototypes to create UI design layouts and structures.
A good UI Designer must possess excellent wireframing and prototyping skills.
Learning to create low and high-fidelity prototypes means you'll be faster, more efficient, and develop better UI designs.
3. Information architecture
The informational architecture allows the UI Designer to store information conveniently, increasing the usability of a website or an application.
Having good information architecture skills is vital for UI Designers to create responsive interfaces that are easy to use.
4. Agile
Most web development and UI design projects run on the popular agile project management system.
Working knowledge of the agile project management system is a critical skill for successful UI Designers.
5. Application development
The digital design space is closely interlinked, with different design professionals taking up other digital design roles.
Possessing strong application development skills is an added advantage for any UI Designer.
As a UI Designer possessing application development skills is vital in helping you develop fully functional and adequately programmed graphical user interfaces.
6. Design Tools and Software
Successful UI Designers are experts in using visual editing and design software.
Using design software properly will allow you to create high-quality and functional visual elements in UI designs.
Apart from design tools, it's also critical to be conversant with UI fundamentals, including fonts, typography, and color theory.
Apart from technical skills, UI Designers also need soft skills.
Soft skills
Here are the top soft skills that UI Designers require:
1. Effective communication
The UI Designer's scope of practice means that they deal with multiple people during their daily activities.
UI Designers deal with clients, management, Graphic Designers, System Engineers, UX Designers, and other team members.
Practical communication skills are critical in ensuring UI Designers produce high-quality and functional User Interfaces.
2. Problem-solving
Every UI design project offers a challenging set of variables and requirements.
To create effective UI designs, the UI professional must possess excellent problem-solving skills.
3. Flexibility and open-mindedness
To excel in the UI space, a UI Designer must be flexible and willing to compromise.
Project targets, deadlines, and requirements may change suddenly due to client or market changes, and a UI Designer must take it in stride.
Being flexible and open-minded means that you will quickly adapt to any changes in the UI project.
4. Professionalism
As a UI Designer, you need high levels of professionalism.
Professionalism, in this case, means being courteous, respectful, displaying integrity, and excellent time management.
Being professional will help you build a positive reputation which is crucial for success in this industry.
5. Empathy
Empathy means putting yourself in the users' or clients' shoes.
As a UI Designer, having empathy is vital in helping you create UI designs that have a purpose and solve user problems.
You can learn about the client's pain points using analytics, heat maps, client feedback, and user surveys.
6. Design thinking
Design thinking is an advanced problem-solving technique that relies on a human-centered, hands-on approach to solving user problems and alleviating their pain points.
The main principles of design thinking include:
User empathy
Defining the problem
Brainstorming solutions
Prototyping
Testing
Design thinking helps UI Designers create high-impact solutions to their user's most pressing challenges.
7. Curiosity and constant learning
UI Designers are always trying to solve their client's problems and improve their user's experiences.
To achieve this, they need to be curious about innovations, trends, and ways of thinking.
On top of being curious, a desire for continuous learning will keep you in the loop concerning emerging UI industry trends.
Tips to becoming a successful UI Designer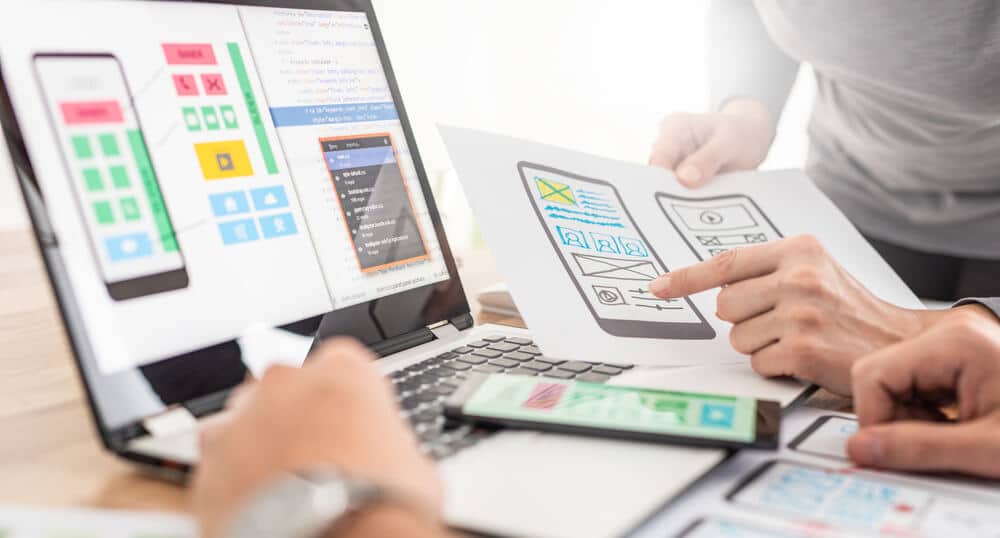 Here are a few tips to help you improve and become a better UI Designer:
1. Continuous learning
The UI design space is rapidly changing, and you can only keep up to date with the emerging industry trends through continuous learning.
An excellent way of sharpening your UI skill set is by attending UI design trade fairs, symposiums, seminars, and competitions.
2. Get a mentor
An excellent way of becoming successful in their UI design field is by getting a successful UI design mentor.
Having a mentor will enable you to grow professionally and avoid the common mistakes that most new UI Designers make.
To identify an ideal UI Design mentor, consider joining online UI design forums like LinkedIn and social media groups.
3. Grow your portfolio
Taking on personal and professional UI design projects is an excellent way of growing your UI design skills and craft.
Consider creating personal UI design projects that tell your story and allow you to showcase your professionalism and UI design skills.
4. Perfect the basics
Most UI Designers fail to lay a solid UI design foundation which severely affects their overall performance.
To be successful in the UI design field, consider perfecting your understanding of UI basics.
UI basics include color theory, design layout, visual hierarchy, fonts, UI design patterns, and typography.
5. Networking
Networking is a common denominator of all successful UI Designers.
Through networking, you'll get the opportunity to learn about job opportunities, UI design trends and learn excellent UI design tips and tricks.
To grow your professional UI design network, join UI design communities, chapters, and associations within your region and online.
6. Emulate Top Designers
The fastest way to grow as a professional UI Designer is by copying successful UI Designers.
Please note that copying doesn't mean plagiarism of another Designer's work.
Emulating top Designers means studying how they approach their UI design projects, the design tools they use, and how they structure their design work.
Use these tips to become a better UI Designer.
Why choose UI designing?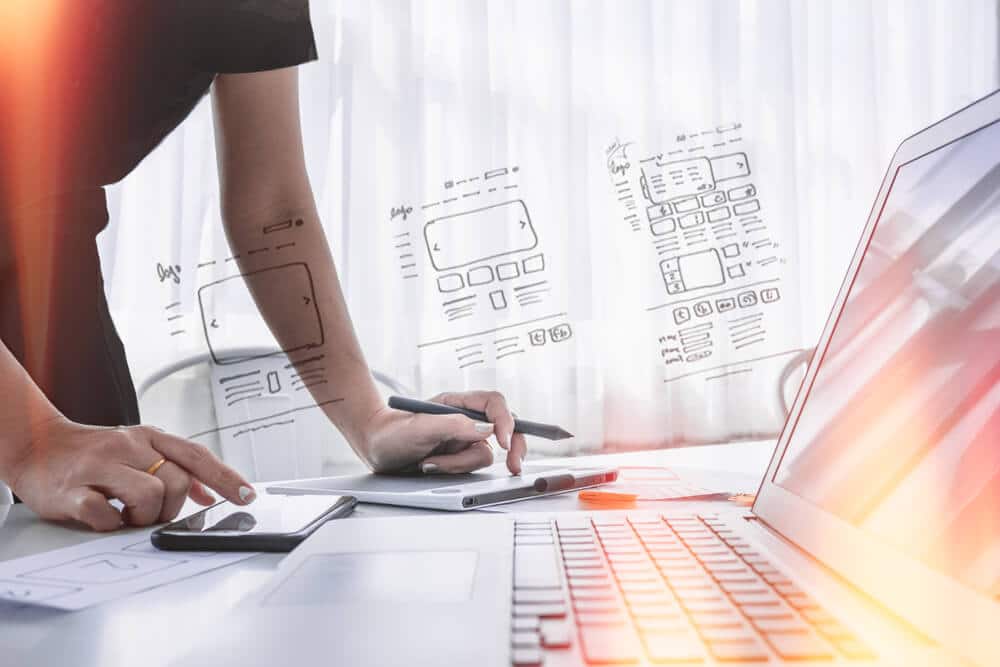 You can take many design career paths, but why stick with UI design.
Here are the top reasons why UI design is perfect for you:
1. High demand
The UI industry offers stable and long-term career prospects due to the high demand for UI design services.
According to the Bureau of Labor Statistics, the digital design sector will grow by 13% between 2020 and 2030.
2. Wide range of job opportunities
UI Designers work in a wide range of industries, including software design, manufacturing, education, eCommerce, traveling, entertainment, and sales and marketing.
The opportunity to work for different agencies, startups, and established companies within these industries improves your career choices.
3. Shape the future
UX Researchers, Graphic Designers, UI Designers, and other digital designers are shaping how we perceive and interact with digital products and services.
If you dream of working in a profession that is changing the face of humanity, then UI design is the perfect career for you.
4. High job satisfaction
The UI design field offers a high level of job satisfaction.
UI Designers offer highly specialized design skills that improve and solve the user needs bringing a deep sense of achievement to the Designer
5. High income
UI Designers enjoy competitive salaries and perks.
Becoming a UI Designer is a sure way to secure financial freedom and independence.
UI Designer Job Outlook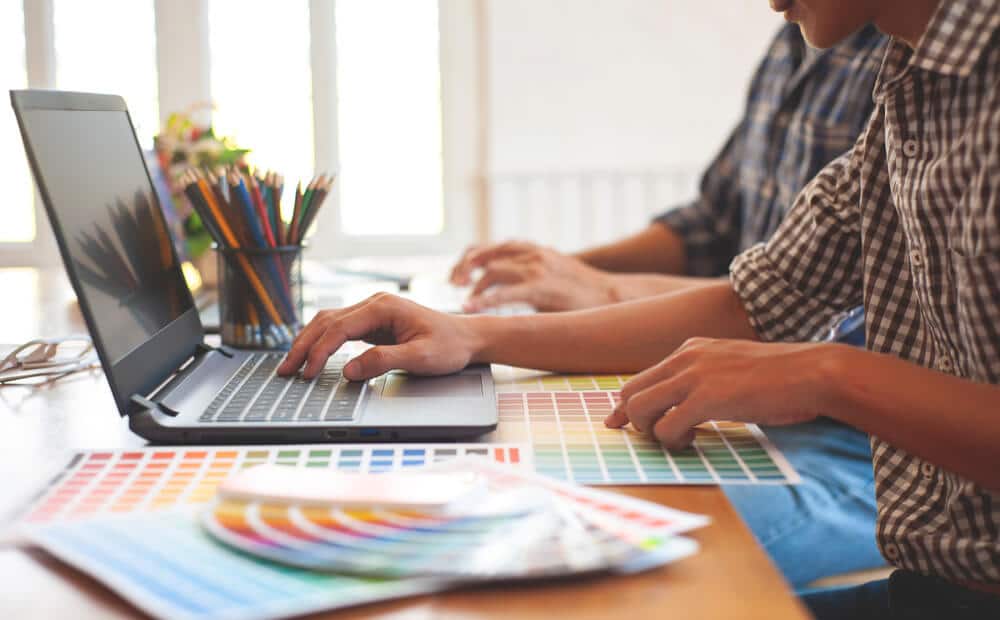 The overall outlook for UI Designers is quite favorable, with tremendous growth expected in the foreseeable future.
The BLS estimates that the digital design industry will grow by 13% between 2020 and 2030.
Further reports by CNNMoney and Pay Scale expect the UI design sector to grow by over 20% in the next couple of years.
Conclusion on What is a UI Designer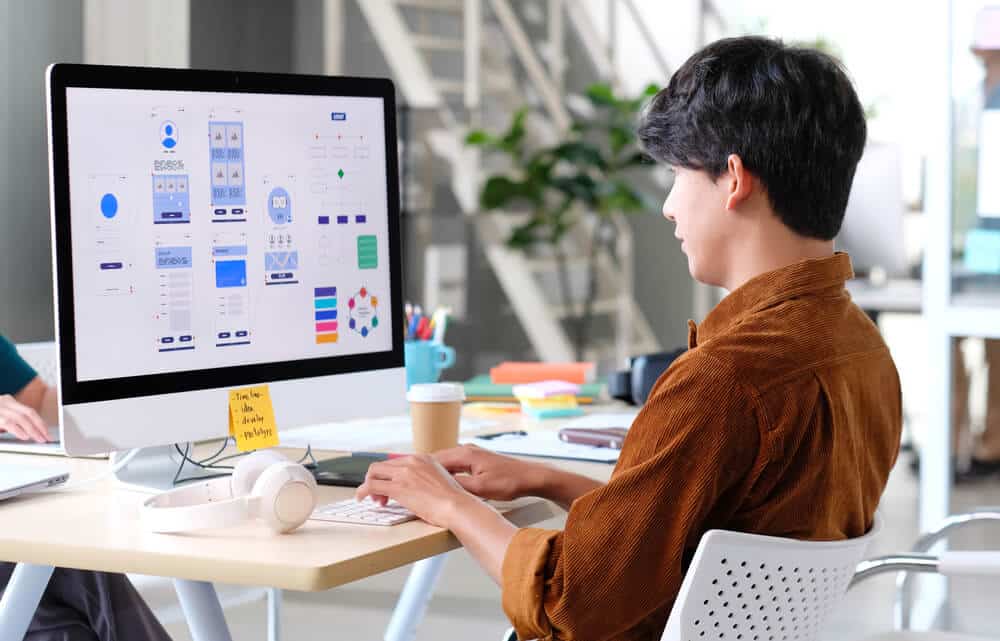 The UI design career path is a promising one guaranteeing great career options, stable salaries, and long-term career growth.
If you wish to join this rewarding and fascinating career, now is the time.
We hope this comprehensive article has given you an insight into one of the fastest-growing and in-demand digital design careers.
Please continue reading for expert answers to our reader's frequently asked questions.
FAQs on What is a UI Designer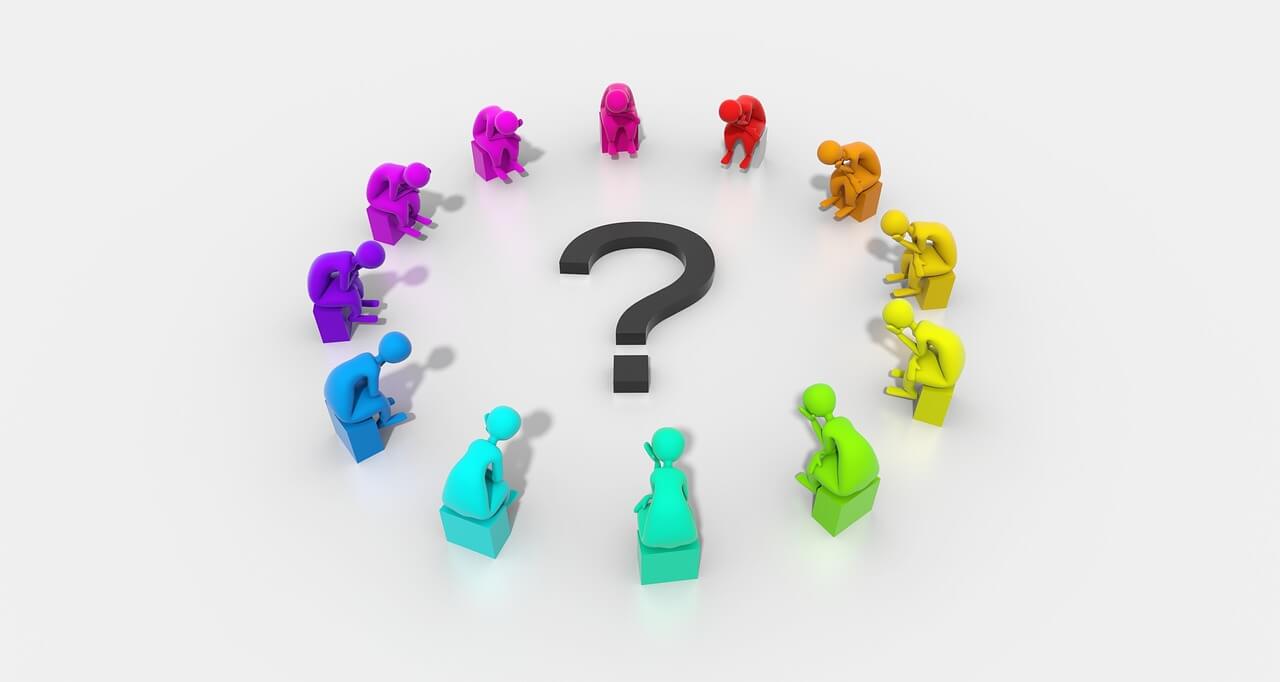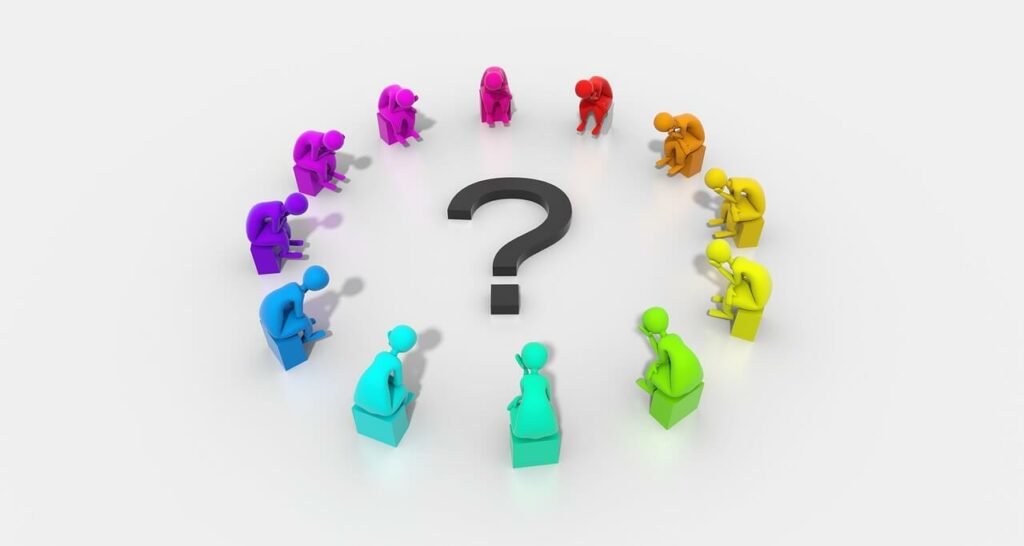 Is UI Designer a good career?
UI Designing is an excellent career choice since UI Designers jobs offer a high UI Designer salary, stable job prospects, and a great working environment.
According to the Bureau of Labor Statistics, the UI Designers industry is expected to grow by over 13% between 2020 and 2030.
What is User Interface Design?
User Interface design refers to the selection, arrangement, and positioning of visual elements within a digital product like websites or online apps, which makes it easier to use.
UI work involves choosing color palettes, design layouts, fonts, typography, images, icons, and other visual elements within the product.
Do UI Designers create websites?
Yes, UI Designers help create websites.
UI Designers don't necessarily deal with the technical aspects of web development; instead, they help design the visual elements of a website.
The overlaps in the web development and design fields mean that UI Designers have an increasingly more prominent role in web development. 
What does a UI Visual Designer do?
The UI Visual Designer is responsible for creating a digital product's visual design, including the design layout, fonts, icons, tags, typography, and images.
Duties of a UI Visual Designer include:
– Identifying a color scheme
– Developing a design layout
– Incorporating visual elements
– Optimizing the user interface
– Creating a responsive user interface
Do you need a degree to be a UI Designer?
No, you don't need a degree to be a UI Designer.
There are several options for gaining high-quality and relevant UI Designer knowledge, including joining UI Design bootcamps, online courses, or mentors.
Experience in design or tech also improves the transition into the UI design space.
What is a UI Artist?
A UI Artist is responsible for creating high-quality graphics and images for interactive applications like video games.
The typical duties of a UI Artist include:
– Creating high-quality animations, illustrations, and graphics
– Incorporating relevant graphical themes and backgrounds
– Designing buttons, icons, search boxes, and other interface elements
What is UI Designer?
The simplest User Interface Designer definition is that a UI Designer is a professional responsible for creating the visual elements of a website, application, or digital platform.
UI Designers are responsible for the imagery, fonts, color schemes, typefaces, and style guides of digital products.
Is UI design hard?
In a sense, UI designing is challenging since it requires mastering two vastly different skill sets;  psychology and design.
As a UI Designer, you must perfectly balance the user and machine interests, ensuring that none overwhelms the other.
Additionally, you must be highly creative, which isn't the case for everyone.
UI UX Designer meaning
A UI/UX Designer is a professional Designer who creates interactive and user-friendly interfaces that enhance a digital product's user experience and performance.
UI/UX Designers in web design teams ensure that the visual elements on a website or application are responsive, relevant, and easy to use. 
What is a web UI Designer?
A Web UI Designer specializes in creating user interfaces for websites and web applications.
The core duties of a UI Web Designer include:
– Creating web design layouts
– Developing a website's visual elements 
– Optimizing the speed and performance of web interfaces
– Developing responsive web interfaces
– Optimizing existing web interfaces
What is UI Design?
UI Design refers to the steps, procedures, and actions that UI Designers use to design, create, improve and launch interactive and visually appealing user interfaces.
UI Designers ensure that any interfaces(graphical, voice, touch) they design are user-friendly, solve user problems and enhance the user journey.
What is a UI Design?
A UI design is a digital template that outlines the selection, arrangement, and functions of individual visual elements within the interface of a digital product.
The User Interface design usually refers to the color schemes, fonts, icons, tabs, typography, and widgets within a digital product.
References