Hey Everyone!
Welcome to our informative guide on the best UX Design Tools to enhance your User Experience Practice.
This guide explores the top free and paid UX Design Tools to help you create interactive digital designs.
Furthermore, we compare the top UX Design Tools and discuss how to choose the best tool for you.
After reading this guide, you'll be familiar with all the best UX Design Tools in the market, helping you select one software for you.
This guide will cover:
Top UX Design Tools for UX and Product Designers
A comparison of the best UX Design Tools
How to choose the right UX Design Tool?
What should you expect to pay for UX Design Tools?
Let's get straight into it!
Top UX Design Tools for UX and Product Designers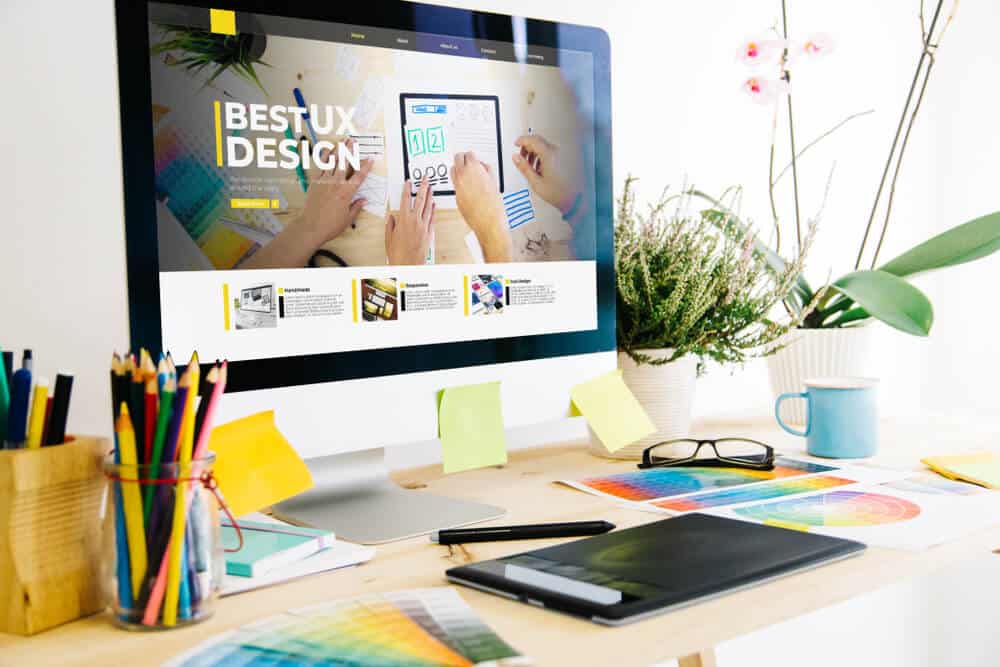 Whether you are a Graphic Designer or UX Design professional, if you are taking up a creative digital design project, implementing the User Experience (UX) element of web design is crucial to creating interactive projects.
When producing interactive digital projects, you may have to look to tools to help you visualize, research, and conceptualize interactive digital designs.
There are several UX Design Tools to help creatives develop an interactive user flow.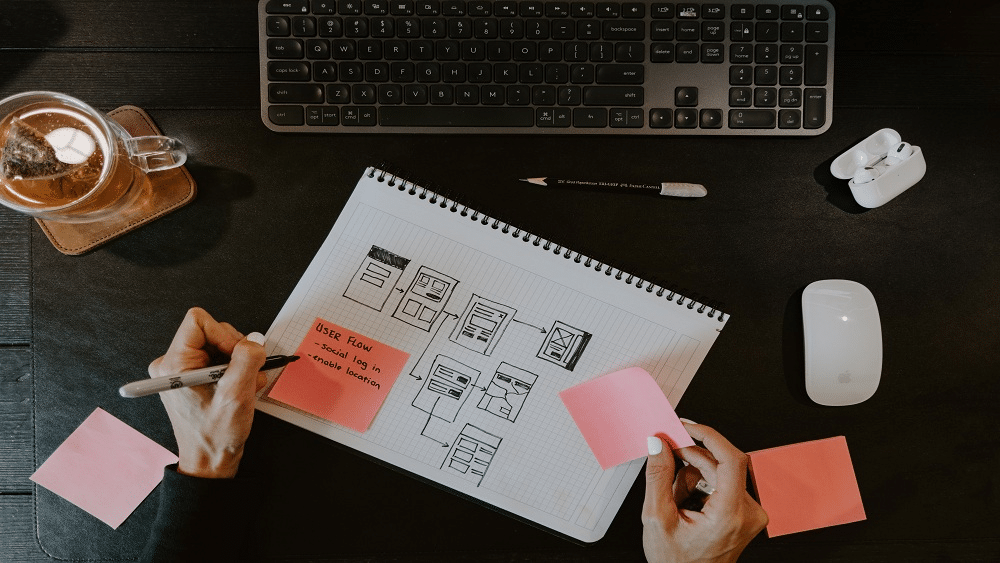 Some focus on aiding the wireframing process, and others, being an all-encompassing tool, assist with the entire UX Design process.
Hence when it comes down to choosing a tool for you, there are several parameters you must consider, like the functionality needed to meet your UX Design process goals.
To make the process easier, we've listed the best free and paid UX Design tools and explored what they offer so that you know what you stand to get out before selecting your perfect tool.
The 5 Best Free UX Design Tools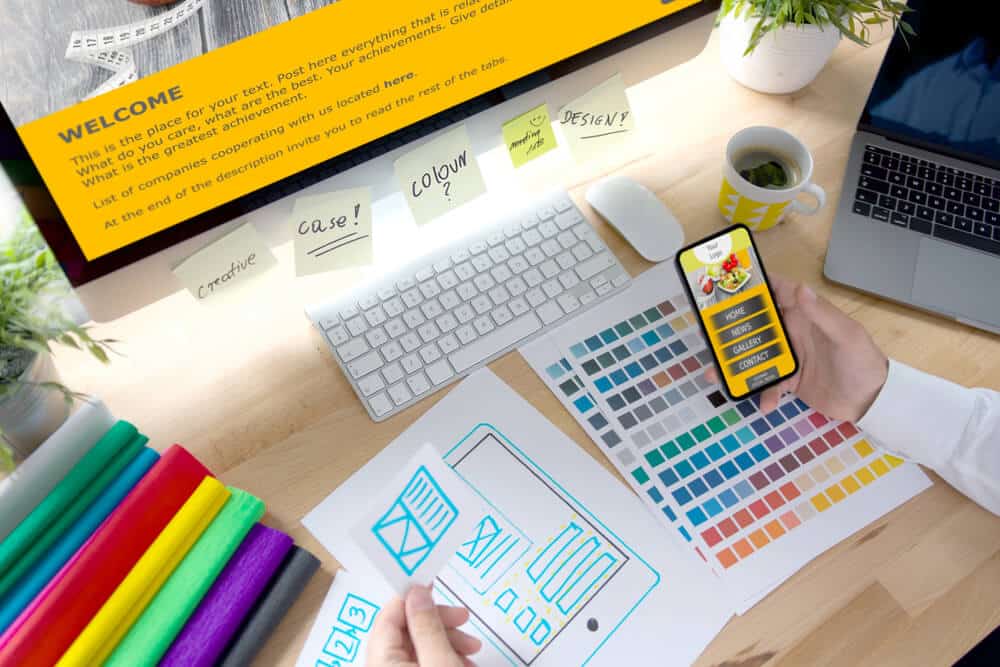 1. Pencil Project
Pencil Project is an open-source GUI prototyping tool used to help UX Professional draw different types of interfaces.
Its main appeal is that the software serves as an efficient mockup creator on multiple desktop platforms despite being free.
Furthermore, it offers a wide range of design elements like shapes, stencils, Sketchy GUI, and more to optimize the creation of catchy designs.
Features
Provides multiple built-in shapes to help users design different types of interfaces from webpage to mobile platforms.
Offers advanced drawing features to simplify the drawing process
Gives access to design collections created by the Pencil Project community
Supports exporting of design projects in a wide selection of formats
Integrated with OpenClipArt.org for access to a variety of clip arts
Features a drag-and-drop system helping users work with design elements without needing to write code
Supports inter-page linking by converting linkings in a document into HTML hyperlinks during exportation
Pros

Cons

Provides a variety of shapes and blocks without no additional costs required

Supports exportation of a variety of file formats

The software can be a bit slow at times
Pricing: Pencil Project is free of cost.
2. Fluid
Fluid helps UX Professionals create web and mobile prototypes in minutes with easy-to-use design elements.
Their primary focus is on making their software accessible to everyone; hence you can use it across multiple platforms like IOS, Android, and various web platforms.
With accessibility across different platforms and operating systems, the software easily facilitates real-time collaboration.
Some other Fluid.UI features include:
Access to pre-built UI kits for faster prototyping
Ability to link any web prototypes with any web or tablet
It offers the user the ability to prototype in both high and low fidelity
It comes with over 2000 components in its built-in library
Allows for live chat for easy team collaboration and feedback processes
Pros

Cons

Offers several free built-in UI kits

Allows real-time collaboration

It provides both low and high-fidelity prototyping

Features are not intuitive, so it may not be all that easy to use for beginner users

May cramp out elements in small monitors
Pricing: Fluid has a free forever payment plan.
However, you can subscribe to a monthly payment plan to unlock more features.
3. Mockflow
Despite mainly being a UI Design tool, Mockflow has multiple features that facilitate user experience processes such as wireframing and product design.
Additionally, it allows you to embed projects from other design services, enabling you to build better prototypes.
Features
Maps your user experience workflows so that you can keep track of your progress
Offers designers several pre-built UI packs
With its built-in communication suite, it facilitates face-to-face meetings among design professionals
UX Professionals can create sitemaps and workflows to help design professionals visualize how an app or website will look.
Pros

Cons

Supports exports in various formats

Mockflow's free account gives you access to several useful features

Online-based software makes the software easily accessible at any moment, over the internet

Some users may find Mockflow to have a limited scope of use

Selecting multiple components may sometimes be a hassle
Pricing: Mockflow's basic plan is free forever.
4. Wireframe.cc
Wireframe is considered the best web-based wireframe tool, yet it doesn't cost a dime to access its basic plan.
Their software has some good UX Design features, such as quick processing of wireframing while still being lightweight.
Besides light software generally being good for fast functionality, their straightforward approach means you access an easy-to-use interface that keeps you focused on the wireframing procedure.
Features
It only offers limited colors to help you focus on design rather than decorations
Features a click and drag tool to control operations of tasks
Features a context-sensitive interface that only shows the tools you need when you need them
Enables the creation of wireframes for different platforms
Pros

Cons

Web-based – Requires no installation

Provides an easy-to-use interface

Efficient for quick wireframing

It does not facilitate high-fidelity wireframing

Users can only develop one wireframe at a time

Not ideal for collaborations
Pricing: Wireframe's basic plan is free; however, there is an option to upgrade to their Premium plan for $16 monthly.
5. Moqups
Moqups is web-based design software that helps UX Professionals create real-time wireframes, prototypes, mockups, and diagrams.
It's an easy-to-run wireframing tool suitable for UX professionals wanting a quick and easy-to-function wireframing solution.
And despite being a non-complex tool, it still offers several features found in more elaborate software, such as efficient collaboration and low and high-fidelity wireframing support.
Features
Facilitates real-time team collaboration and communication
Loaded with intuitive tools
Being a web app, Moqups works on all types of devices and several web-platforms
It comes with a built-in library of icons and stencils
Promotes one-stop designing by offering several tools such as icons, images, stencils, fonts, diagrams, wireframes, and prototypes, to mention a few
Pros

Cons

Moqups platform is relatively easy to use

Offers several templates for charts and flows

Facilitates seamless collaboration

Offers customizable designs

The drag-and-drop editor can be difficult

Downloading mockups requires you to upgrade from the free plan
Pricing: Moqup has a free basic plan, although downloading mockups requires upgrading from the free plan.
The 6 Best Paid UX Design Tools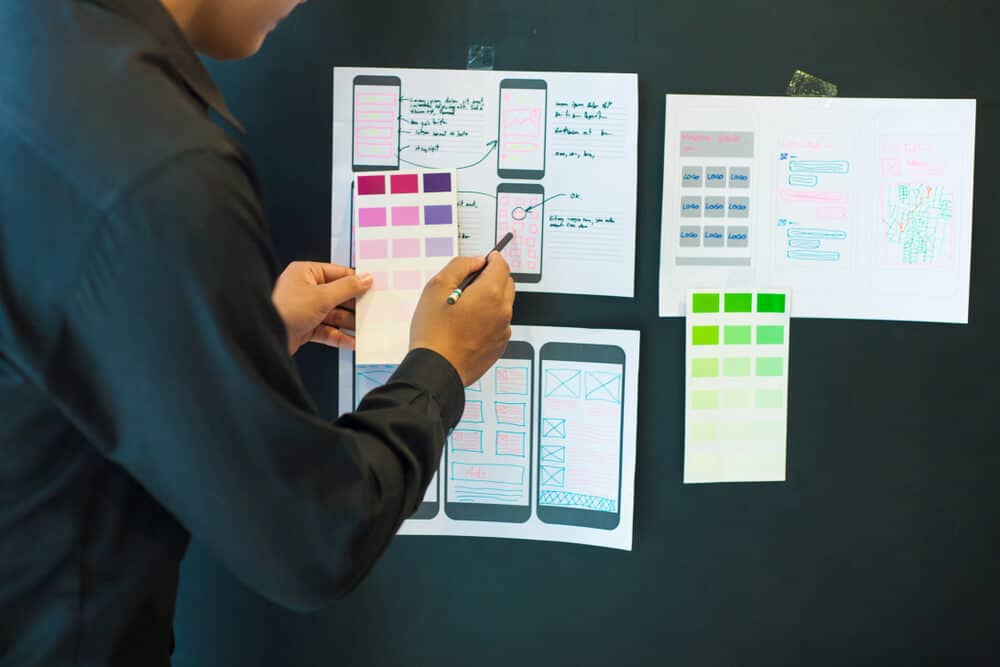 1. Adobe XD
If you are an old-time Digital Designer, you probably know that the full spectrum of Adobe design software is considered industry benchmarks.
To maintain standards, Adobe creators promise their users no less than a powerful UX design tool in the Adobe XD.
Adobe XD is equipped to create prototypes replicating your design ideas, helping you make the designs become reality faster.
Features
With Components and States in Adobe XD, you can create elements that you can reuse across your designs
Features such as Whiteboarding, Wireframing, user experience design, prototyping, user interface design, team collaboration, and Developer hand-off help you make the designs become reality faster
Stacks and Padding help you navigate working with dynamic content by preventing nudging and tinkering when editing components
The Repeat grid helps you slash time when creating repeat content such as photo galleries or data tables
The software aids Designers in creating unique augmented digital experiences with its 3D Transforms feature
Integration with other Adobe software like Photoshop, Illustrator, and Adobe Creative Cloud helps you get the most out of all Adobe design tools
Pros

Cons

Easy-to-use vector design platform

Multi-platform compatibility

Offers tutorials to help navigate the tool

Being able to see prototyping live via smartphone only works with MacOS

It does not support designing customized shapes

It does not facilitate exporting CSS
Pricing
Accessing Adobe XD costs $9.99 monthly.
2. Figma
There are several reasons why Figma is considered a leading UX design wireframing tool.
For one, Figma's tool offers optimization of teamwork and collaboration through its online whiteboard, sticky note, and workshop features, allowing several team members to brainstorm their ideas at once.
Other pivotal features include:
Features
Allows users to access searchable assets and shareable styles on one interface
It prides itself on its modern pen tool that offers seamless drawing without any merging or the need to connect paths, which isn't available anywhere else
Offers advanced font features for unique designs
By facilitating plugins and widgets, the tool promotes the automation of workflow
The drag-and-drop feature makes it easy to use tools available in their library
Figma's Iterative design flow allows teamwork collaboration no matter the location
Pros

Cons

It runs on several operating systems, including Linux, Windows, and macOS

Supports real-time collaboration

Optimizes quick iteration with flexible components and styles

It offers a free version for beginner designers to try out

You can not do much without an internet connection

It can be quite expensive

PDF importing is not sufficient
Pricing: Figma has a free package that offers limited features.
Otherwise, their Figma professional package is $12 per editor per month, and the Figma Organization package is $45 per editor per month.
3. Sketch
Sketch is a browser-based UX Design software that provides you with tools to put together design ideas and create playable prototypes.
In fact, according to a survey conducted by UX tools, 44% of UX professionals prefer to complete their brainstorming and ideation process on Sketch over whiteboard apps or physical whiteboards.
However, more than facilitating extraordinary ideation processes, Sketch makes it possible to combine a collection of reusable elements to create a consistent interface design.
Features
Sketch facilitates a wide range of plugins to help enhance functionality and automate tasks
Offers Artboard presets to help you organize your creations in preset dimensions
The software provides a pixel alignment feature beneficial for aligning objects in your designs to the pixel grid
Collaborative features to facilitate teamwork
Pros

Cons

Features exceptional PDF import abilities

Facilitates offline designing

Offers real-time collaboration

The software only works on MacOS

Inflexible styles make creating unique prototypes difficult
Pricing: Sketch offers a 30-day free trial.
After that, Sketch's Standard subscription is $9 per editor per month.
4. Marvel
The Marvel software is a multi-purpose platform that works great in helping UX professionals in creating websites, apps, wireframes, and prototypes.
Furthermore, the Marvel app is compatible with a wide array of design elements such as hand-offs, CSS, and Shapeshifters, it helps UX professionals fulfill several UX design processes.
Features
Offers codeless prototyping
Allows users from different locations to test your designs and provide feedback on your prototypes
The software boasts fast URL sharing
It offers various unique tools like the ability to add transitions and gestures to help you elevate the design process
You can use the Marvel app on multiple devices such as Android, iPhone, iPad, and Apple TV
Pros

Cons

It offers a wide range of graphical and transitional options

Supports automatic backup

Accessible across various platforms

Limited features available on their mobile app

The trial version provides users access to restricted features
Pricing: Marvel Pro is $12 monthly, while Marvel Team is $45 monthly.
5. Invision Studio
InVision Studio is considered one of the best high-fidelity prototyping tools.
It is a design tool with various features such as powerful templates, animation support, and transforming static images into interactive images.
Invision Studio is also known for its incredible workflow optimization, as the tool integrates several productivity apps like Kanban boards and Google Docs on one interface.
Invision's product offering caters to all levels of UX Designers and is best suited for rapid prototyping and animation.
Features
It offers intelligent image cropping that allows Designers to have their images auto-cropped as you change the size of your design
Allows you to control several artboards in one animation
Provides swipe triggers to be used to create parallel effects
Supports prototype creation without coding
Allows you to test prototypes on your phone through their mobile app
If you know how to use Sketch, InVision Studio shortcuts mimic Sketch shortcuts
Allows for real-time team collaboration
Pros

Cons

Promotes design team collaborations

Relatively easy learning curve

Allows access to version history

Features an intuitive display

The tool can lag quite often

InVision Studio offers limited customer support
Pricing: Invision Studio offers a free plan with access to limited features.
Its popular Pro plan costs $7.95 per month.
6. Balsamiq
Balsamiq benchmarks your low-fidelity UX Design tool market by offering a quick, easy-to-use wireframing tool that focuses on structure and content instead of accessory design details.
You can efficiently run the software on desktop, web, or mobile and use code to create highly detailed prototypes.
And should you need to adjust your prototypes, Balsamiq boasts its coding low fidelity tool as its most valuable feature for easy and fast changes.
Features
Allows users to create reusable templates while offering a vast element library
Provides Quick Add and other keyboard shortcuts to optimize quickness of use
It consists of several hundreds of community-generated UI icons and controls
Supports exports in PNG and PDF format
It offers drag-and-drop functionality for faster designing
Pros

Cons

Presents an easy-to-use interface

Produces exceptional mockups

It gives access to a good selection of shapes and other design elements

Easy to include notes for collaboration
Pricing: 2 projects per month costs $9 monthly.
Balsamiq's 20 projects per month plan cost $49 monthly.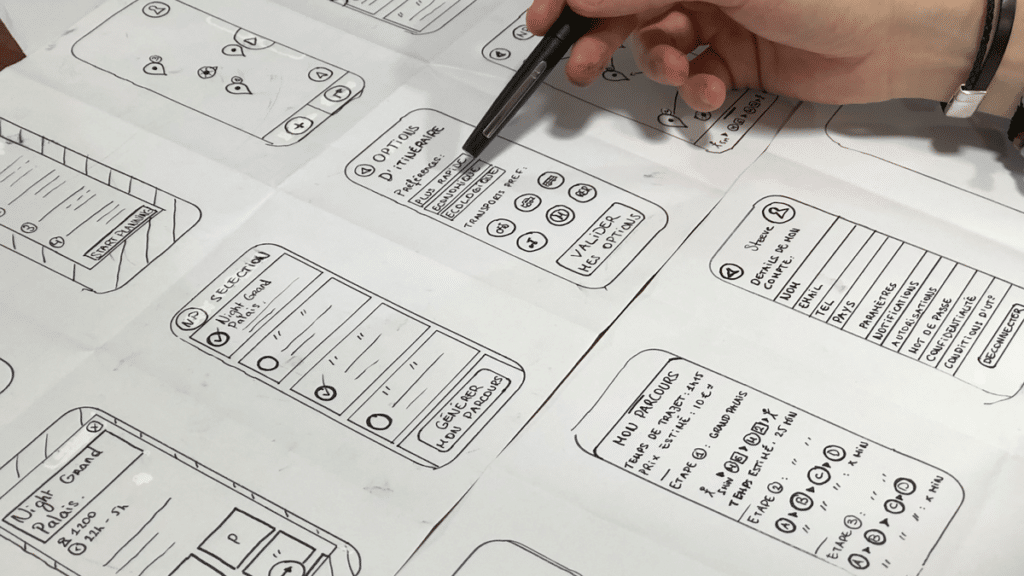 Finally, their 200 projects per month plan cost $199 monthly.
Now that we've determined what top free and paid tools are available for shaping the user experience, let's compare the best UX Design Tools so you can decide what might work best for you.
A Comparison of the Best UX Design Tools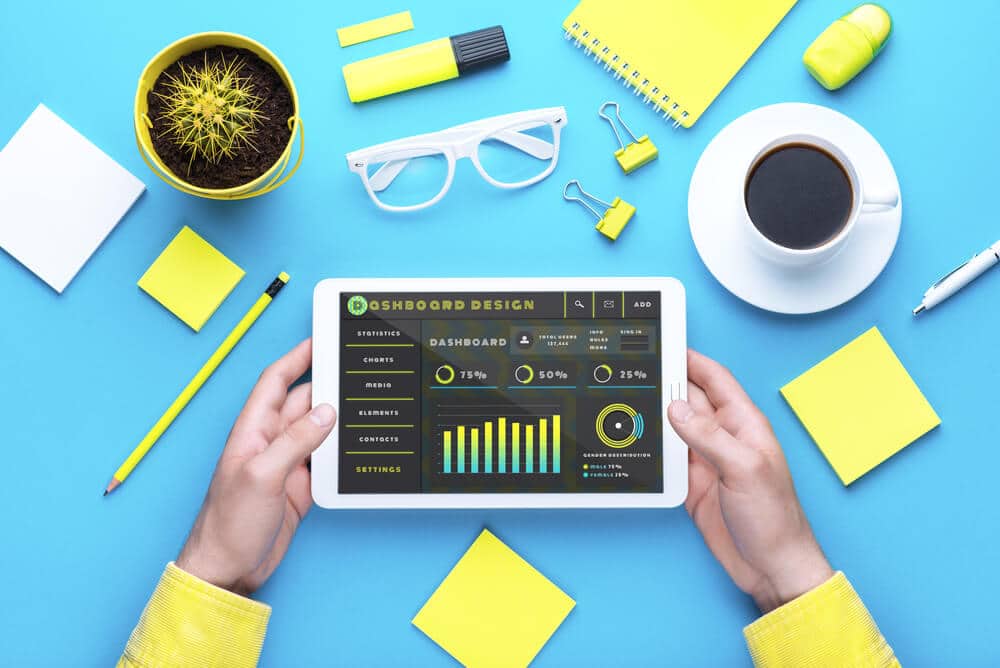 Part of looking for the perfect UX Design Tool is comparing all your options to sift out what works and what does not:
| | | | | | |
| --- | --- | --- | --- | --- | --- |
| UX Design tool | Integration possibilities | Multiple artboards vs Single artboards | Collaborative | Proficiency level | Cost |
| Adobe XD | Integrates with Slack, and several other apps | Opens multiple artboards | Supports collaboration | Beginner friendly | $9.99 |
| Marvel | Marvel integrations include Sketch and Jira, to mention a few | Does not open multiple artboards | Supports collaboration | Beginner user-friendly | $12 |
| InVision Studio | Supports integration with several apps like Slack | Opens multiple artboards | InVision Freehand supports team collaboration | Beginner friendly | $7.95 monthly |
| Fluid | No plugin library, integrates with several popular tools | Opens multiple artboards | Supports collaboration | Beginner friendly | Free |
| Figma | Offers limited integration possibilities | Opens multiple artboards | Supports collaboration | Beginner friendly | $12 per editor per month |
| Sketch | Supports integration with several apps and plugins | Opens multiple artboards | Supports collaboration in beta | Beginner friendly | $9 per editor per month |
How to choose the Right UX Design Tool?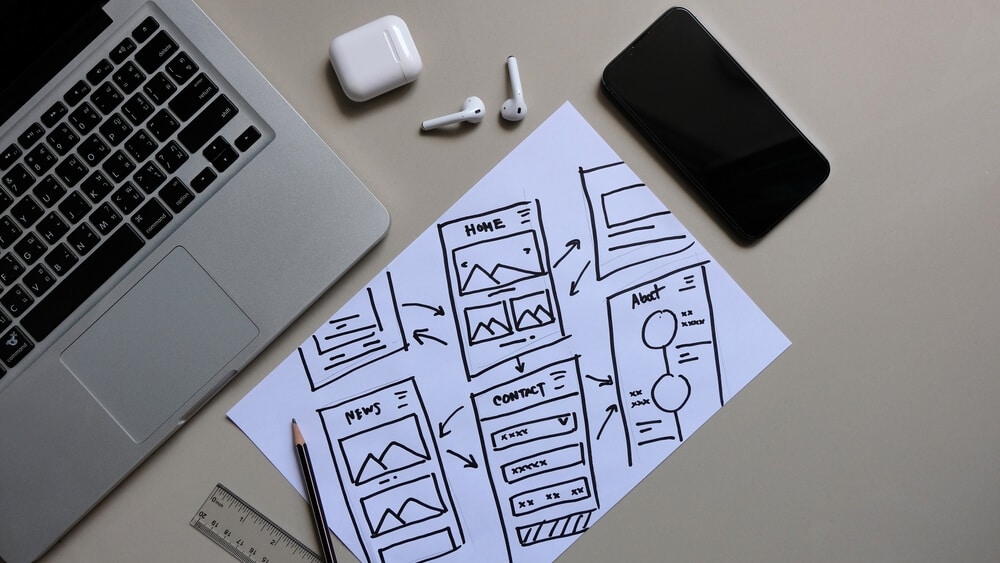 With a lot of UX Design Tools offering similar features, it may sometimes be confusing to boil down which will best fulfill your project needs.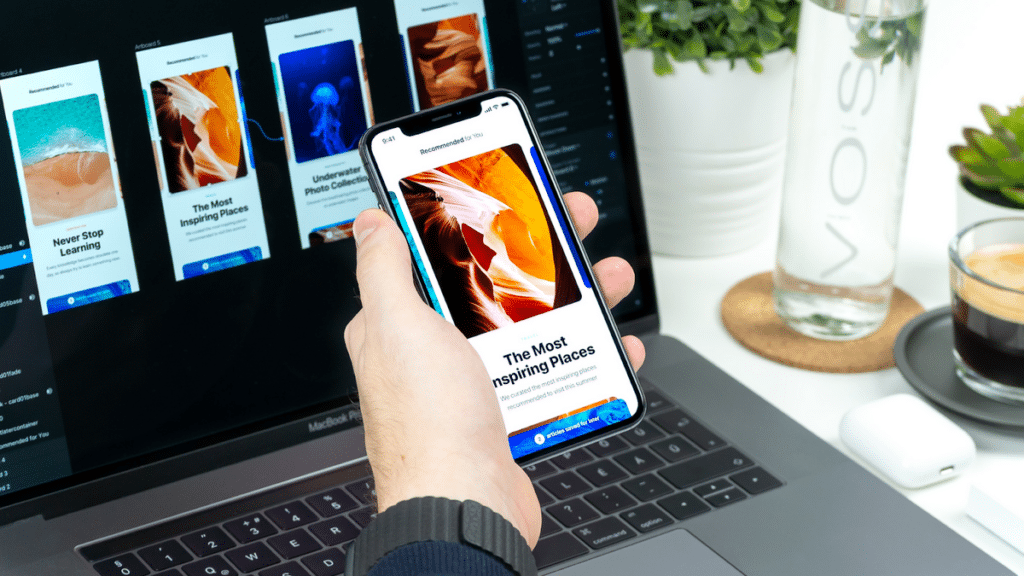 Hence, we've listed a few aspects to consider to help you at least narrow down the top options for you:
Facilitates team collaboration
If you are a UX professional who works with a large team of Researchers and Visual Designers, having a tool that can facilitate real-time collaboration can make getting work done relatively more straightforward.
With real-time collaboration, you can manage edits and workflows more efficiently.
Furthermore, if you want every design stakeholder to be involved and keep track of progress, choosing software like Figma or Sketch will help promote collaboration.
Meets your UX Design process goals
Whether creating a landing page, a blog publication, or a mobile app design, the kind of project you're working on, and the user experience goal will influence the UX Design Tool to use.
For example, if you're designing a website page and your goal is to outline the structural guideline of that webpage, then using software that offers wireframing as part of its design system will do just fine.
However, should your goal be to define the visual interaction, you'll need a tool that supports you in creating interactive prototypes and facilitates user testing.
Integrations
Having a UX Design Tool that can connect multiple apps and plugins on one interface can be beneficial, especially when you know that you tend to jump across platforms to fulfill your work.
Support offered
It's important to ask yourself whether a UX Design Tool will be able to provide support to you when you need it.
This includes the software's support team responding promptly when you have issues or questions.
It also includes quickly accessing support resources like tutorials to help you navigate using the UX Design Tool.
Hence, before picking a UX Design Tool, ensure it has an active support system.
Pricing
While there are many good free UX Design Tools in the market, there will often come a time when you'll need to upgrade to paid plans to access advanced features.
When choosing a subscription plan, ensure the tools you'll access will be well worth your money.
If the pricing seems extreme, remember you always have the option to shop around for new software that will provide price value.
Speaking of pricing, the following section goes into detail on what you should be typically paying to access a valuable tool.
What Should You Expect to Pay for UX Design Tools?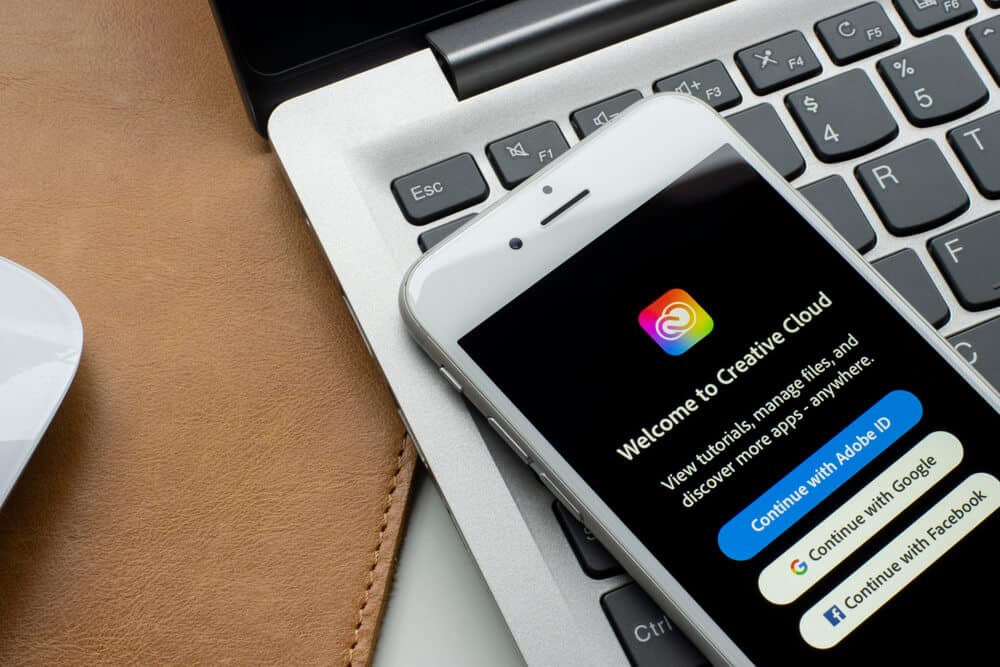 If you are new in the industry and aren't aware of the pricing points of UX Design Tools, it can be easy to fall into the trap of overpaying for a design tool that just doesn't provide as much value.
To evaluate whether you're paying fairly for a UX Design Tool, consider what the tool can give you.
Should your tool be well designed, give you the ability to research, plan, conceptualize and detail a design, and finally deliver a user-friendly prototype, then investing hundreds of dollars for the tool per year may be worth it.
But if you frequently encounter glitches, have to jump from tool to tool, to get several UX design project processes done, can't facilitate usability testing, and are breaking the bank on subscription, then it's time to consider a new UX Design Tool.
Conclusion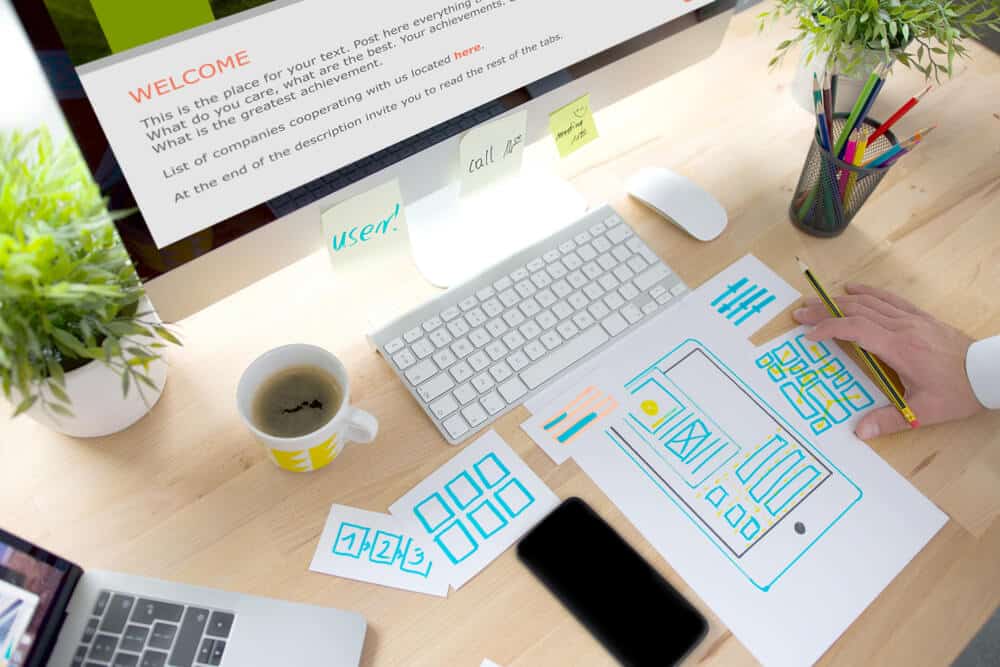 With several UX Design Tools in the market, you can become inundated with having to review the choices available to you.
However, with some research and guides like this, narrowing down the list of best free and paid UX Design Tools and then trying the tools in your shortlist will make it much easier to find that perfect tool.
Hence we hope that by reading this guide, you have a starting point regarding choosing from the best UX Design Tools in the market.
We also hope you're better informed of what functionality to look for when selecting an efficient UX Design Tool.
All the best!
FAQs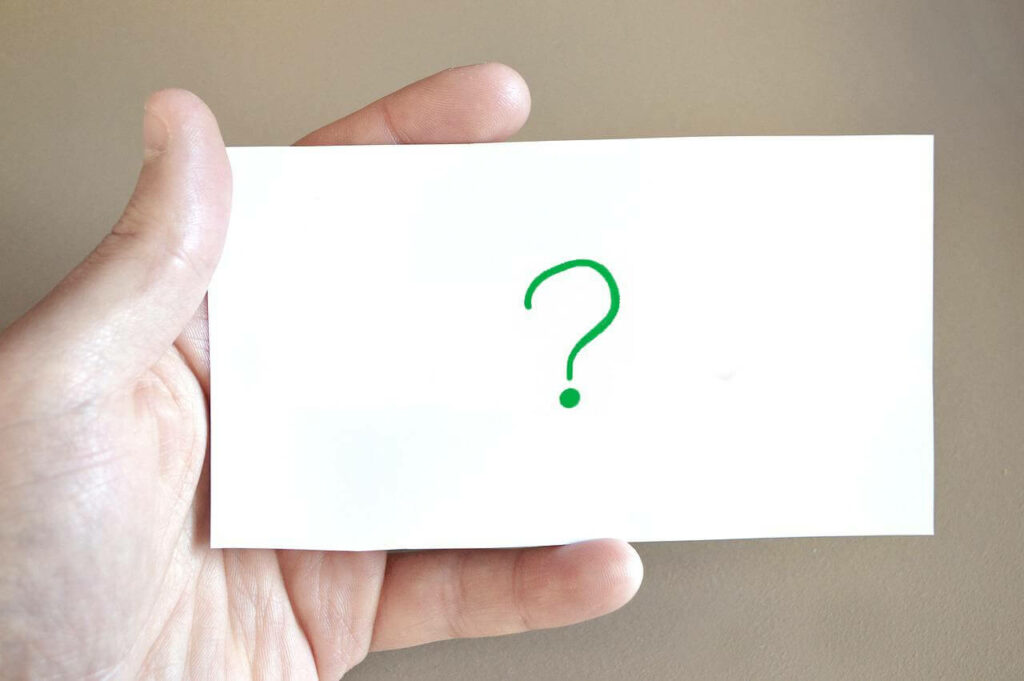 What is UX Design Tools?
UX Design tools help UX Designers design projects that are easy to use and that make customer engagement with the product enjoyable.
Usually, UX Design Tools are categorized into three elements: ideation, wireframing, and prototyping.
Each aspect helps accomplish a specific goal in the design process.
What software do UX Designers use?
With various processes required in the UX Design process, Designers tend to use multiple software to fulfill each step of the UX Design process.UX Design software includes an ideation or brainstorming tool, a wireframing tool, and a prototyping tool. Some tools in the market can facilitate all three processes.
What tools do people use for UX Design?
There are several ideations, wireframing, and prototyping tools that people prefer using for UX Design.
However, Figma is considered the leading wireframing tool, while Sketch is regarded as the most widely used design tool.
Other reputable UX Design Tools include Adobe XD, Marvel, and Invision Studio.
How to learn UX Design Tools?
You could start by researching the perfect tool for your design needs and then playing around with its features.
Then, access tutorials that can guide you on how to use the tool's functions.
If you want to start using UX Design Tools with a bit of context, try accessing video tutorials that may even give you tasks to work on real design projects.
What is a UX Design method?
A UX Design method is used to determine the channels users will likely interact with on a design project.
An example of a UX Design method is Service Blueprint, a map used to visualize the channels a consumer might take when using your digital platform.
What are UX Design technologies?
According to Adobe, the emerging UX design technology is Voice UI, which brings user experience to a new level through voice assistants.
Other new UX Design technologies include Touchless Gesture Control, Artificial Intelligence, and Virtual Reality.
All these technologies seek further opportunities to create engaging and intuitive designs.
Which tool is best for UI UX Design?
Figma, Sketch, Marvel, InVision Studio, Axure, and Adobe XD are the best paid UI UX Design Tools.
Top UI UX Design Tools that offer free plans include Wireframe.cc, Pencil Project, Moqups, Mockflow, and Fluid.
References