Hello guys! Welcome to an advantageous article that would get you ready for a UI design career!
We guarantee that reading this UI Design Courses article all the way to the end will help you understand the user Interface functions, design tools, course requirements, and the necessary advice for success in this field.
At the end of this crash course, we promise you will leave with a fuller understanding of why a UI design course is necessary and why this is a perfect skill set.
In this UI course case study we detailed:
What is UI design course?
Best UI courses for perfect learning experiences
Importance of UI design course
How to identify excellent UI design course
Let's dive in!
What is UI Design Course?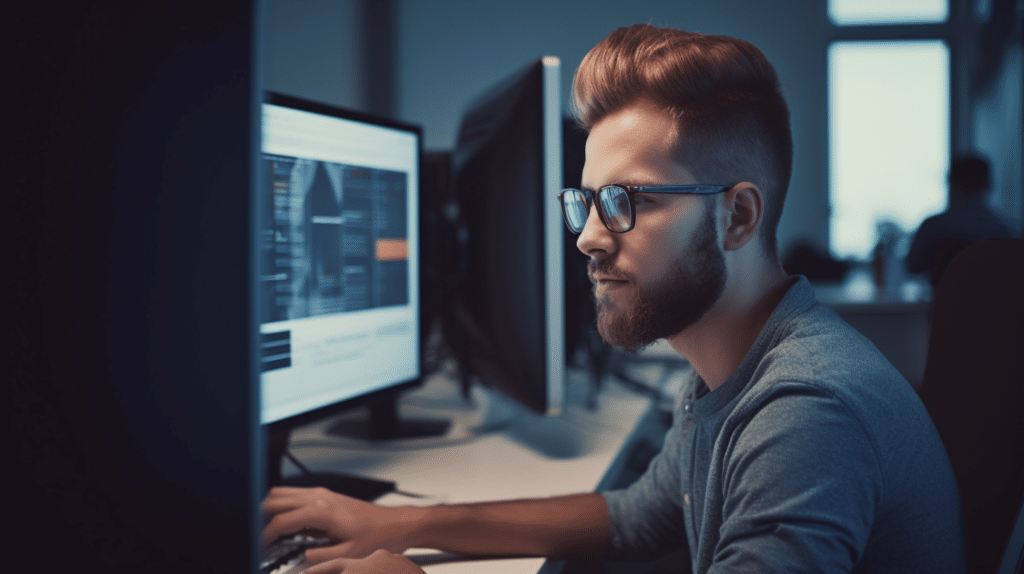 UI (User Interface) Design is what connects people to your website.
It includes the fundamentals of design skills and components that need to be on your web design and mobile app for people to be able to find their way around and make decisions.
It is the relationship between a person and the design project they are using and how it changes over time.
Your UI includes how your digital product communicates with users, how it looks, and how information is presented.
There are many ways to look at a user interface, but the basics always include how a product relates to the user and how the user connects with the product.
UI Design is all about structure, how the user interacts with it, and how to talk to it.
This is one reason why you need to pay very close attention to it.
It's the foundation of how your website is set up and works when your target audience visits.
If something doesn't go as planned, problems usually follow.
The input controls, informational components, navigational components, and containers are all parts of User Interface Design.
Buttons, toggles, tags, lists, breadcrumbs, icons, and many other things also play a big part.
It is how you set up your website's back-end so that visitors can have an enjoyable and smooth technology experience on the front end.
For optimal UI design, you should note that:
Users evaluate designs rapidly and prioritize functionality, likeability, and usability
User interfaces should express brand values and bolster users' trust
So, here are some boot camps and crash courses that Tech people who are interested in design or design people who are interested in tech should check out.
Best UI Design Courses
Whether you're a web developer or graphic designer looking to improve your skills or a complete beginner thinking about a new career in UI design, learning UI design skills will permit you to make a real-life difference in people's lives with effective, beautiful interfaces.
You can do the basics at your own pace and on your own, but there are many online UI courses that will certainly give you the design approach and practical skills that will get you employed in today's market.
Udacity
Many Udacity courses are free to start, but you can pay later to upgrade.
We've got the perfect one for anyone who wants to learn more about UI or Product Design.
This design course will help learners turn their excellent idea into a product that can be used to set up businesses.
Product Design combines practice and theory to teach you how to participate in Google's Design Sprint, use UI/UX best practices, validate a product, and set up and track actionable metrics.
This course is free and will take about two months to complete.
The target audience for this course is designers who know the fundamentals of UX and are in the middle of their careers.
People who work in Product Design at Google teach the course, so you know right away that this is a good one.
Caler Edwards
Popular designer Caler Edwards publishes industry insights on his YouTube channel.
His videos span a wide range of subjects, from "speed art" that time-lapses his design process to updates on the Adobe XD product line.
But if you're searching for UX/UI courses, in particular, his Design Build Launch playlist, which spans over two hours in eight videos and covers topics like wireframing, responsive design, website design, and launch, is like a course all by itself.
If you'd rather watch design in action than a talking head, Edwards' channel is perfect for you because he maintains the focus on what's on his screen.
He only uses Adobe XD, which is a tremendous assistance for beginning designers who are still getting to know their design editors.
It is interesting to note that this massive knowledge is absolutely free.
User Experience Design Essentials
This Udemy course is fantastic for learning about user interface and experience design. You will master not only the fundamentals of UI/UX but also practical UI design tools like Adobe XD in this course.
The course, developed by Daniel Scott, covers user interface (UI), web design (WD), and user experience (UX).
You need not be concerned about the quality.
Even though it doesn't only concentrate on UI, it is still very extensive and ideal for individuals who are interested in all of the essential elements of project designing and design principles.
The opportunity to be invited to a freelancing project by Daniel is one special aspect of the tutorial.
This aids in preparing students for taking on real-world design processes and assignments.
DesignTalk
The DesignTalk webinar and online talk series feature experts from businesses like InVision, Airbnb, and Buffer.
They're all free, honest, and brimming with in-depth wisdom.
Anyone interested in becoming an advanced UX designer should take this course.
You may view more than 80 episodes, and new ones are released frequently.
Each episode lasts between one and two hours.
A fantastic opportunity to get practical guidance from industry experts is provided through DesignTalk.
You may really pick and choose what you'd like to learn more about because there is such a diverse selection of things available.
Udemy
Want to learn the foundations of UI design and not spend a fortune?
Go for the well-known learning portal Udemy.
An excellent place to start is the Principles and Practices for Great UI Design course given by professional Joe Natoli.
This 50-lesson, 300-minute course is stuffed with timeless UI design guidelines that you may use on any project you work on.
In order to build effective visual signals for your users, you'll discover how to create and use color, hierarchy, typography, contrast, and gestalt concepts.
Learn.UIdesign
The basic tools, techniques, and procedures of UI design are taught to tech enthusiasts in a plain manner on this platform.
After enrolling, you'll get access to 41 videos that you may watch at your own pace.
As you move through the course, you'll also have access to a number of printable cheat sheets, downloadable assignments, an online slack community where you can get feedback on your own ideas, and Erik's "Redesign vault," where he redoes student projects that they have turned in.
The cost of the training is somewhere between $999 and $2,100; regrettably, there is no internet advertising of the exact cost.
Experience Haus
Experience Haus, a London-based business, provides a more cutting-edge, interactive method of learning UX and UI design online.
You will receive genuine client check-ins and briefs, interactive user interview sessions, live workshops, and a course completion certificate at the conclusion of their 8-week user experience and interface design course.
It's a fantastic alternative for anyone who prefers a more collaborative learning environment because there can only be 15 students in each course.
CareerFoundry
One of the few career-change programs now available that is UI-specific is the acclaimed CareerFoundry Program.
The course focuses on both practical and theoretical aspects of UI design in order to advance you from a complete beginner to a talented professional.
You'll build an app from scratch toward the completion of the course.
It costs a little more than $6,000 compared to some of the other UI design programs.
This project will serve as the foundation of your skilled profile.
The icing on the cake? Your personal instructor, career specialist, and mentor will be there for you every step of the way to ensure that you find employment within half a year of graduating or you get a refund!
Thinkful
IT Bootcamp Beginners who want a thorough introduction to design can consider Thinkful's "designer track" course, which mixes UI and UX design to provide students with a competitive skill set.
Students receive 360-degree aid as they create their portfolios with 2-5 real-world tasks throughout the course, which is flexible speed and boasts a comprehensive strategy to design.
To ease the financial burden, Thinkful also provides a variety of scholarships that support diversity in technology.
The $12,500 full-time option comes with the assistance of devoted learning assistants.
The $9,500 part-time program contains self-stridden lessons that call for 20 to 30 hours of study every single week.
Instead of receiving specialized learning aid, part-time scholars might benefit from elective office hours with a subject-matter expert.
Thinkful has a range of payment options for students who are unable to pay in full upfront, including delayed tuition.
Springboard
Similar to Bloc, Springboard provides a career track for UX/UI design that incorporates two specialties into a single course.
You'll work on significant design projects, then go on to finish practical training with an enterprise customer as part of a 35-unit curriculum.
The price of the course is $14,300 ($11,910 if paid in full).
You will receive expert mentoring throughout the program, work on a real-world project for four weeks with a real client, and develop a design profile.
This program also includes a guaranteed job, so you can ask for a refund if you don't find employment within six months of finishing it.
You'll graduate within eight to ten months with a polished UI/UX design profile that will make you stand out on the market.
Students who complete the program earlier benefit from lower tuition costs because they are billed monthly for the program.
Noble Desktop's UI & UX Design Certificate
For those in New York City, this is a good choice.
The 72-hour total schedule includes a 30-hour UX blast which is also offered as a single course.
It also flaunts two two-day intensives (a day on Sketch, one on fundamental visual design principles including color typography, layout, and theory), and the other day primers on Illustrator and Photoshop.
Cost: $2,990
NNgroup
Let's talk about the Nielsen Norman Group's YouTube channel, NNgroup.
The NNGroup's team is one of the most relied-upon resources for all things relating to user experience because they have been defining and advancing UX design from the start, providing in-depth UI design coverage.
Their YouTube channel is the ideal resource for quick tutorials on UX/UI design.
Although the majority of the films are only a few minutes long and focus on specific subjects like "empathy maps," or "Fitt's Law" this channel has hundreds of videos that cover all you need to know, all for absolutely free.
To find the specific topics you're looking for, use their handy playlists.
Skillshare
It does make sense to desire to test UI design prior to making any significant time or financial commitments.
Save the day with Skillshare!
Skillshare offers free registration and access to classes on both the mobile and web platforms, with micro sessions you can squeeze in anywhere.
This course has a monthly fee of $36 or smaller you pay the yearly subscription fee upfront.
Once you sign up, you may access lots of online courses, including a section on UI and UX design.
The UI Design Essentials in Figma, Intro to UI Design Principles, and Adobe Illustrator CC Masterclass are a part of the most well-liked courses for studying UI design.
There are many individual UI design classes on the website, but if you're looking for a course, this UI Sketch course is a wonderful choice.
This program will teach you how to utilize the famous UI design tool Sketch to its fullest extent over the course of seven hours.
You'll build a functional, interactive prototype using a combination of hands-on activities and video instruction.
Envato Tuts+
Need some traditional instruction but are sick of watching video tutorials?
Envato Tuts+, known for its tech training, has a fantastic range of written UI and UX tutorials, including ebooks, video courses, and blog-style pieces.
Envato Tuts+ has a large range of free UX/UI design lessons, including blog guides and how-tos, which is one of its many advantages.
It's the best method to start your education off on a tight budget or to add additional classes to make up the difference.
For a more comprehensive experience, subscriptions grant access to the paid courses and ebooks, plus students receive a 30% discount.
It has plans that are totally free and paid plans that start from $16/month.
Interaction Design Foundation (IDF) UI Design Courses
IDF is well recognized for its UX materials, but they also offer a variety of UI design courses.
A total of 12 courses are available to prospective UI designers, ranging from foundational classes on visual design and design thinking to UI design patterns and UX design for beginners.
Intermediate courses cover important concepts like designing for accessibility and interaction design for usability, and advanced courses examine more advanced ideas like brain science, affordances, and virtual and augmented reality.
For a fixed charge of $16 per month, you can access the whole course syllabus online.
If you want to learn UI design from a recognized supplier in an affordable and flexible manner, The Interaction Design Foundation is a fantastic alternative.
UX Design Institute Professional Certificate
A UI design course with university credit is available from the Design Institute, providing scholars with a credential that will be respected by companies in the industry.
The 12-week online course brings about 180 minutes of study time per week to finish.
You are free to study at your defined speed whenever time works for you because the course is completely flexible.
The course material is intended for digital designers, graphic designers, and UX professionals who wish to advance their knowledge of user interface design and develop into more comprehensive product designers.
The Design Institute provides one of the most cost-effective solutions on demand without sacrificing quality for $1,900.
In just three months, you'll receive a valid qualification and a curriculum supported by universities.
Laith Wallace
When it comes to offering career guidance, Laith Wallace's YouTube channel dominates all other UX/UI design tutorials.
Laith does touch on design approaches and philosophy, but his best advice is on how to act professionally during interviews, land a UX/UI job, and keep up a freelancing career.
Given that it's free, this channel can enhance any other design courses you're taking.
The majority of the other lessons on this list are capable of covering UX theory and implementation, but not all of them go as thoroughly into the professional and career facets of life as a freelance designer.
The Futur
A YouTube channel called The Futur teaches users "how to make a living doing what they love,", particularly in design-related professions.
They offer a wide range of tutorials on UX and UI design, among other design-related subjects.
The variety of topics covered on this channel plus the broadcasters' personalities makes it amazing.
It has a friendly, laid-back atmosphere and gives off the impression that a friend is offering wise counsel.
But don't be fooled by their informality; when necessary, they are quite sophisticated and use cutting-edge methods.
The great part is it absolutely free!
Requirements for Enrolling in a UI Designer Class
You don't have to pursue a specific course of study to begin a career in user interface design.
Although having a background in graphic design is advantageous, anyone may theoretically pick up the required abilities.
What then are they?
Branding, typography, and color theory
Teamwork and communication skills
Wireframing and prototyping
Key industry tools, including Sketch
Interaction design principles
User research and personas
Besides equipping yourself with these skills, learn about current UI trends and observe what other designers are doing to get a head start on becoming familiar with the market.
Inspiration and examples may be found in abundance on websites like UI Movement and UI Parade.
Of course, there are a ton of UI design errors that you should avoid and learn from as well.
You must then begin mastering the crucial abilities we previously discussed.
There are numerous UI Design Programs available that will take you from a beginner to an expert by emphasizing both practical and theoretical UI design.
By establishing user stories, creating wireframes, gathering user requirements, and going through design/critique loop iterations until the project is ready for production, you'll build just about anything from scratch.
Importance of User Interface Designs
One of the factors contributing to the increase in traffic to your ios devices, HTML, and wireframe websites, is user interface design.
People are drawn in and kept there when your UI is free of typography, smooth, accessible, and usable.
UI design is what encourages visitors to suggest your website and also turn into devoted clients.
Whatever somebody says, it should never be disregarded.
In addition to simple design adjustments like button shapes and color schemes, it's likely that visitors won't stay on your website if it's challenging to use.
The user experience should be one of your top objectives when consumers visit your website.
The conversion rates are higher and visitors are more likely to recommend your website to others when they have a positive experience there.
This translates to a greater opportunity to increase sales and expand your clientele.
Making the UI Design of your website understandable without the need for a manual can mean the difference between a successful outcome and a possibly disheartening failure.
Simply put, user interface design is crucial because it has the power to increase or decrease your clientele.
It reduces issues, boosts user engagement, perfects functionality, and forges a solid connection between your clients and your website.
Conclusion
The tutorials above should provide you with what you need, whether you're seeking training on a specific subject or comprehensive courses on anything UI-related.
To get you started, we've offered a range of solutions to suit students of all skill levels, financial situations, and preferred learning styles.
And if you ever require assistance from a qualified UX/UI designer, there is also a large pool of independent designers who are experts in that field.
FAQs
What Is the Best Website to Learn UI/UX?
Here are the best online UX design courses:
UX Academy
CareerFoundry
Interaction Design Foundation
Coursera
Udemy
Skillshare
Lynda
SuperHi
Which Course is Best for UI Design?
Best UI Design courses you should go for in the pursuit to become a UI designer:
Noble Desktop
CareerFoundry
Ironhack
Flatiron School
Learn UI
Springboard
General Assembly
BrainStation
Designation
Bloc
What Degree Do You Need to Be a UI Designer?
To become a UI Designer, you do not need a degree in a certain field. 
Having a background in design can help you get started, but anyone can learn the skills they need to get a job in user interface (UI) design.
What is the Best UI Design Online Course?
The best online UI design courses to take in 2022 are listed below, ranging from beginner courses for those wishing to dip their toes into comprehensive career change programs for those looking to invest.
The list consists of:
Experience Haus
Skillshare
Udemy
CareerFoundry
Learn. UIdesign
Thinkful
Springboard
How to Learn UI Design for Free?
Here are the best free courses you can take to learn UX/UI:
Future Learn – Digital Skills: User Experience
CareerFoundry: A Short Course in UX Design
DesignTalk is created by InVision
Udacity: Product Design by Google
DesignBetter from InVision
LinkedIn Learning
Coursera: An Introduction to User Experience Design
Hack Design
References