Hello, and welcome to a new and exciting article on an efficient Project Management software that helps systemize tasks/processes and increases productivity – the Trello Project Management Tool.
At the end of the reading, you'll take away all the necessary information as well as tips required for using this awesome tool for your work life.
We'll be covering all the basics about Trello in this article, such as:
So, if you're related to Product Development, Human Resources, Marketing, Finance, or a related sector, read on to find out how you can use Trello Project Management Software to automate your work.
What is Trello Project Management Software?
Trello is a Cloud-Based Project Management Platform that facilitates keeping a record of your projects and guarantees that you meet all your deadlines.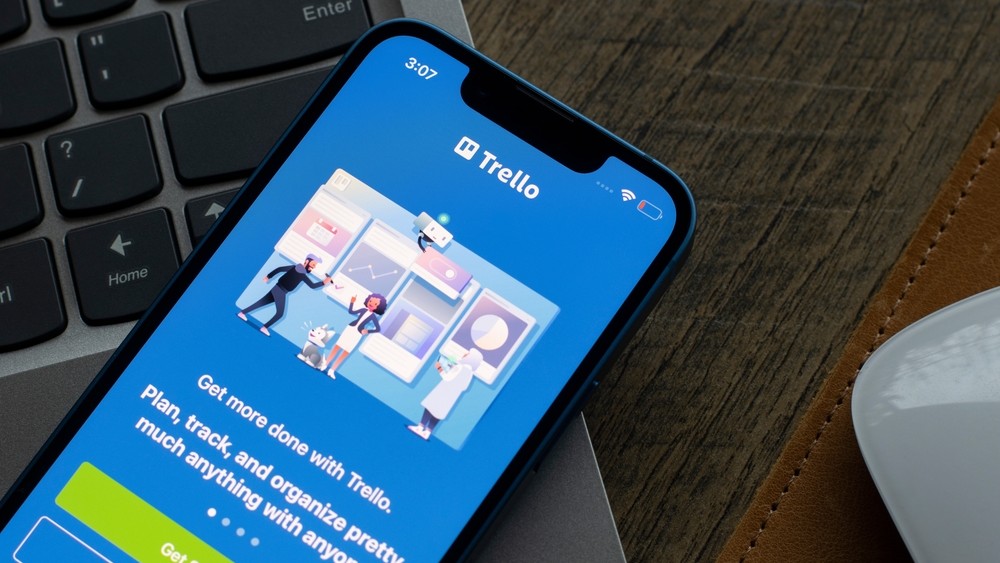 Trello was developed in 2011 by Fog Creek Software and brought to the market in 2014, intending to create the basis of a fresh business before it was sold to Atlassian in January 2017.
Simply put, Trello Project Management Software elaborates the tasks being worked on, who is working on what task, and how long each task will take to be completed. It is quite similar to a Virtual Whiteboard stacked with sticky notes allocated according to teams and projects and classified as per their current status in the work timeline.
Kanban methodology is utilized for tracking, organizing, and managing work. We'll explain how Kanban works through this example.
Let's say you want to make a to-do list for your family, and all you have is a poster board and some sticky notes. So first, make three columns, or 'lists' as Trello calls them, and label them as To Do, Doing, and Done. Then, write a chore on a sticky note and fix it within its designated column.
Each family member can now choose or be assigned a task from the 'To Do' column, write their name on its respective sticky note, and move it to the 'Doing' column. Once finished, the sticky note is moved to the 'Done' column, and the individual can claim a new task.
This example highlights two benefits of using the Kanban method:
It is an amazing system for controlling the amount of work a person is assigned
Everyone is aware of the team's work or needs to do, increasing accountability and the opportunity to assist other team members who might fall behind.
Regarding the topic at hand, here are some salient features of Trello Project Management Software.
Trello Software is straightforward to set up. Just provide a few details at sign-up, and you're good to go. You can start with a blank Board or select a template from the library.
Trello features user-friendly and easy-to-understand interfaces to facilitate navigation on tablet and mobile devices so that you can easily manage projects or important alerts on the go.
Catering to Larger Groups
Even though Trello is free, it also features an Enterprise and Business Class pricing structure. While most teams stick with the free version, larger organizations with more sophisticated workflow generally adopt the paid versions for increased functionality.
Trello's paid version features Power-ups for availing additional features and automating the workflow. It also provides smooth integration with various platforms such as Gmail, Google Drive, CloudApp, Slack, Jira, GitHub, and many other third-party apps. More on this later.
Trello features collaboration among its core aspects. After creating your Board, Trello allows you to invite team members to join and manage their designated tasks. Cards assigned to certain team members can display due dates so that everyone is aware of deadlines.
REWIND helps create incremental backups of an individual's Trello Boards and automatically restores them.
Trello provides a simple RESTful web API through which users can interact with every featured resource, such as a Board, a Card, or a Member via their URL.
Key Components of Trello Project Management Software
When using Trello, you can visualize workflows and obtain a cohesive picture of an ongoing project from start to finish using:
Trello Dashboards, through which information about a particular item/task is viewed. For instance, a different Dashboard can manage Software Development projects, while a different Dashboard can manage Marketing projects.
Trello Cards are also called the building blocks of a Trello Dashboard. They can represent different ideas and tasks, for instance, a task that requires completion, needs to be remembered, due dates, attachments, tags, etc.
Trello Lists, a constituent of Dashboards that helps you track Trello Cards. Lists make Trello an easy-to-use and reliable Project Management tool that you can use to monitor how tasks are progressing.
Other key Components of Trello include the following:
The Progress Metre Checklist in Trello Project Management Tool keeps track of subtasks mentioned in a Card within a Trello Board. You can also add multiple checklists to one Card.
Cards that are no longer required on the Board can be archived.
Using different keywords, you can filter and present Cards within their Card names according to distinct words in the filter keyword or some other factors.
Notifications and Deadline Reminders
If a member of a card sets a due date of that Card, they'll be notified by default 24 hours prior to its deadline.
Trello will also notify the members whenever an action is executed on the Board.
Auto-Generated Email Notifications
Trello also provides email alerts to subscribers of a Card or Board. These are generated whenever an action takes place on them.
Trello Project Management Software's activity feed highlights updates throughout an individual's Trello Board.
Trello features Project Management templates to help you get started. We'll be discussing some here.
The Project ManagementTemplateis a highly efficient Trello Board with Lists and Cards required for initiating your project. Begin by adding all relevant documents, specifications, designs, and other reference material for your project in the Resource List. Then add Cards to the To-Do List and categorise them into Pending, Done, or Blocked Lists. Also, a specific List allows the addition of questions for planned meetings.
The Program Management Template follows many lists such as Key Performance Indicators, Milestones and Essential Dates, Metrics, and Reporting, Risk Management and Dependencies, Event Management, Open Requirements, Finance and Budget, Release Management, Training and Certification, and Newsletter.
The Client Workflow Management Template is created for handling Client Workflow, allowing you to format List names as per the Project and industry. You can also add new Clients, allocate Attorneys/team members, and transfer them into On Hold, Doing, Lost lists, and Win Lists.
The Premortem Template takes an administrative approach. It imagines that a project has failed and works backward to figure out the elements contributing to the failure. This helps create a visual 'premortem' of the Project and helps find out the answers to challenging queries.
Using Trello for Project Management
By incorporating these basic characteristics, you can optimize workflow and boost the overall performance of the project management process.
You can start with a blank Board or one of Trello's Templates. However, a blank Board is ideal for managing a company's Project Workflow from scratch. You can select background images, label colors, cards' backgrounds, and much more.
Once you determine the main phases of your project development, you can convert these stages into Lists and convert the Tasks under each phase into Cards.
Finally, assign the Cards to designated members, along with resources, due dates, checklists, etc.
You can also customize your Board according to the specific stages of your Project. For instance, a 'General information' or 'Resources' List can contain all essential information and guidelines for your team, 'Paused' and 'Blocked' Lists can sideline Tasks that aren't being worked on presently, and so on.
After personalizing your Board, lay down your project specifics and begin creating one Card per task (with Checklists if multiple actions are involved).
Try to outline as many details as possible in the 'Description' on your Cards to make them self-explanatory to all members. Also, you can add comments to track changes and/or clarifications.
Use Labels, Butler, and a Time Tracker further to enhance your Project via the Trello Project Management Tool. You can also define who updates Cards and moves them to the correct Lists.
You can use labels to categorize your tasks. Also, consider using Time Tracking and Reporting Power-Ups in Trello to allow team members to log tasks against time and export them using MS Excel for in-depth analysis.
Periodic maintenance checks make sure a project runs smoothly. Routinely schedule the following tasks to keep your Board updated:
Make sure the Task Cards are adaptable and clearly understood by all members
Ensure all required fields are filled, such as members, due date, description, and activity
Don't use several Labels on the Board to avoid cluttering
Make sure all Cards are in their correct List according to the progress that has been made
Develop a queries/roadblocks List for team members to cite any issues with Workflow
Delete/Archive Cards that are irrelevant to the ongoing project
Trello Project Management Tool offers various modes of integration with many solutions and products, such as Jira, Slack, Salesforce, Confluence Cloud, Adobe XD, GitHub, and Google Drive.
Adding these tools can help improve the Workflow of your Project and Development teams and reduce context-switching, eventually saving time and enhancing productivity.
As mentioned previously, Trello provides three plans according to different organization strengths and requirements.
The first is Trello Free, and it has the following features:
limitation of 10 Boards with one Power-Up (features you can add to each Trello Board, for example, calendar view, time-tracking, and custom fields per Board)
maximum file attachment size of 10MB
cannot integrate account with other applications
limited to 50 automated command runs per month
Then are the Business Class ($12.50 per person per month OR $119.88 per person per year) and Enterprise(variable prices) accounts provide unlimited Power-Ups per board. They both also allow uploads of 250MB and let users create unlimited team Boards.
The difference between the two accounts is largely based on more backend management options; Trello Enterprise features tools for single sign-on and handling permissions and restrictions.
Trello Pros:
Available for free
Extremely natural and easy-to-navigate user interface to immediately overview task status with its Kanban foundation
Allows outside members to join a board within the group
Allows creation of closed boards with limited members within a group
Public boards are viewable by anyone
Allows creation and color-labeling of more than one list within each board
Can implement checklists on tasks
Can assign many members a single task
Features an API for extending the system
Provides superior-quality built-in apps on iPhone and Android
Trello Cons:
Lacks Gantt chart (project bar chart)
Cannot write documents or Wiki regarding boards; only allows a simple description
Cards/tasks are confined to a single Board/Project
Restricted email integration
Limited labels
Lack of freeform tags
Cannot adequately work with multiple cards or large tasks
Limited keyboard shortcuts and keyboard productivity usage
Even before the pandemic, the market for work management tools was already booming. Moreover, the increasing demand for hybrid workplaces and remote work has further increased the requirement for tools that organize tasks between different teams.
It is expected that investments in social and collaboration platforms will increase by 17% this year, amounting to $4.5 billion, and the biggest driver will be working management platforms.
Alternatives looking to make the most of this opportunity and capitalize on the increased business demand include Asana and Monday. Both completed IPOs in the past year at valuations of $4 billion and $7.5 billion, respectively. Other competitors include Workfront (acquired by Adobe for $1.5 billion) and Wrike (acquired by Citrix for $2.25 billion). The Microsoft 365 suite also features a task management tool called Planner.
Most of these tools are based on the Kanban-style propagated by Trello, offering similar lists, boards, and card layouts, along with comparable automation and collaborative aspects.
On the other hand, some rivals have adopted a more spreadsheet-centric outlook of project management, such as the well-funded standalone apps Smartsheet and Airtable, along with products including Microsoft Lists and Google Tables.
Nevertheless, Trello has managed to hold a noteworthy market share, mainly due to its simplicity and user-friendly interface. In 2018, the app had about 50 million registered users in 2018, which have since increased after integrating apps such as Jira.
The Trello Project Management Tool is a fun, interactive, user-friendly, and intuitive app that allows users to coordinate, organize, and track various projects and tasks without creating confusion or missing deadlines. The main appeal of this kanban-based board app is its ease of use and capability of facilitating cooperation between internal and external teams.
The one negative aspect about Trello is that it does not feature tools for handling and distributing resources across multiple projects. As a result, it is not a great option for bulky and lengthy project management tasks.
However, with so many exciting tools, colorful templates, integration options, and a simple-to-use layout, Trello is definitely a project management collaboration tool worth investing in.