Hi guys, welcome to the most informative article on Project Management Processes you can find anywhere.
By the end of this guide, we trust that you'll know everything that has to do with the process of managing successful projects and how to identify and mitigate the most common project risks.
In this adept piece, we'll examine:
Let's jump right in!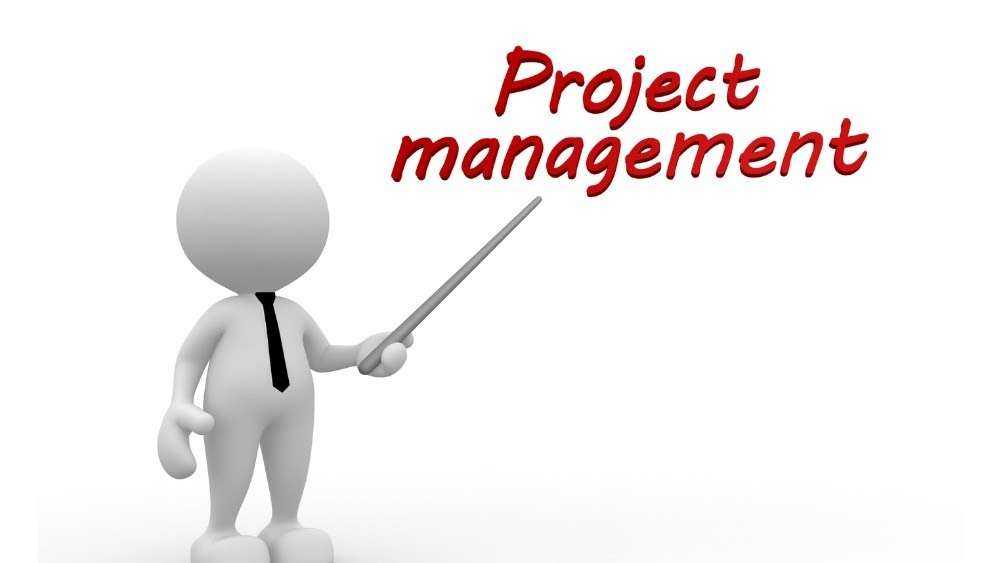 What is Project Management? – A Quick Overview
Project management applies methods, techniques, knowledge, skills, and experience to achieve specific project objectives within agreed-upon constraints.
Project management has final deliverables that must be completed within a particular budget and timeframe.
It also aims to manage and organize a project so that its stated deliverables and goals are met.
PM is vital to control and detect risks and careful resource management, prudent budgeting, and effective communication across numerous stakeholders and teams.
What are the Processes of Project Management?
A project management process is an administrative procedure for controlling and planning the project execution or delivery of services.
This process starts after the customer's permission, is based on the contract, and focuses on the overall project management and process's initial values.
The project management process necessitates a particular configuration that includes:
project management plan,
project management documentation,
project management methods,
information exchange (individual interviews, project meetings, project workshops, and so on), and
resources for project planning and implementation.
During the project management process, the following tasks should be completed:
project planning,
project introduction,
project realization,
project control,
assessment and analysis of project relevance.
Project management processes work hand in hand with the project life cycle.
What is Project Life Cycle?
Complex projects with many resources, a broad scope, and strategic relevance will necessitate a higher project management experience.
The project life cycle elaborates the stages that Project Managers must take to manage a project from initiation to completion.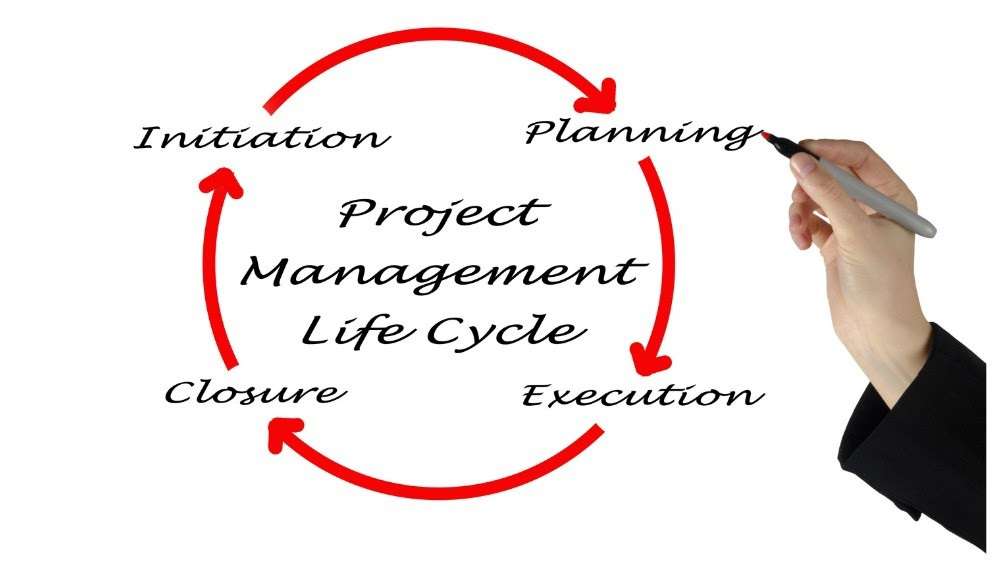 Managing a project, regardless of project scope or size, size is a challenging task.
There's so much that can go wrong, from planning the details to dealing with clients' ever-changing requests to providing deliverables on schedule.
It is easy to control the project and the quality of the product when it is divided into manageable project phases, each with its deliverables and objectives.
Just suppose you are in a position where you have to manage projects for your firm and feel overwhelmed.
It is best to study the primary process groups of the project life cycle stages regarding a project management template.
According to the Project Management Institute's (PMI) PMBOK Guide (Project Management Body of Knowledge), a project management life cycle comprises distinct phases.
These phases are also called process groups, that combine to make a project idea into a workable product; they are:
Project Initiation
Project Planning
Project Execution
Project Monitoring
Project Closing
We will describe all these process stages in detail below.
The initial phase is used for transforming an abstract notion into a concrete goal.
At this point, you must generate a business case and elaborate the project broadly.
To accomplish so, you must first evaluate and examine the necessity for the project and establish a project charter.
The project charter is an essential document that includes project limits, goals, budget, project manager appointments, projected timeline, etc.
Once you've determined the project scope and goals, the next step is to identify crucial project stakeholders, i.e., the people involved in the project.
After identification, create a stakeholder registration that includes positions, communication needs, designations, and impact.
While a definite project aim is created during this phase, a project charter does not include any technical details during the planning phase.
Consider the case of a car manufacturer tasked with making an electric vehicle; the manufacturer will not select the vehicle's capacity, design, and battery power during the commencement phase.
The only certainty is that an electric car will be manufactured within the budget and time constraints.
The project planning phase necessitates high-level caution because it lays out the project's direction.
Unless you use a modern project management methodology such as agile project management, the second phase of project management is predicted to use about half the entire project's duration.
The primary activities in this phase are preparing a detailed project schedule, identifying technical requirements, establishing goals/deliverables, and devising a communication plan.
There are numerous approaches for developing project goals, but S.M.A.R.T. and C.L.E.A.R. are the most common.
The SMART criteria make sure that the objectives you particulate for your project are thoroughly examined and analyzed.
It is a tried-and-true technique that allows Project Managers to set clear, attainable targets and lower risk.
The abbreviation SMART holds for Specific, Measurable, Attainable, Realistic, and Timely.
The 'CLEAR' strategy of goal planning is intended to entertain the changing character of today's workplace.
CLEAR can help you meet the requirements of today's fast-paced businesses, which need instant results and flexibility.
CLEAR is an acronym that abbreviates for Collaborative, Limited, Emotional, Appreciable, and Refinable.
The scope of the project is defined and elaborated during the planning stage.
There is also the ability to amend the project's scope if the Project Manager wants to approve the change.
Project Managers also make a work breakdown structure (WBS) for team management, which correctly visualizes the whole project in distinct sections.
Another critical aspect of the planning step is an accurate project timeline that includes every deliverable.
Using that timeframe, Project Managers can make a communication calendar and project communication plan with the essential stakeholders.
Another critical facet of project management that is included in the planning phase is project risk minimization.
The Project manager is in charge of interpolating historical data to recognize potential project management risks and developing a strategy to mitigate them.
A good management technique is a critical component that most PMPs ignore.
To avoid project delays and bottlenecks, you must be willing to make fewer alterations to the project as a project manager.
In the absence of a working management strategy, scope creep appears, causing significant challenges for the project team in the projects behind scheduled stages.
Resultantly, it's vital to reduce the risk of unanticipated changes as much as possible during this phase.
The project execution phase is where your team fulfills the project work.
And as a project manager, you should create effective and efficient project management workflows and carefully observe your team's progress.
Another project manager's job at this stage is to make sure that project stakeholders cooperate effectively and constantly.
This ensures that everyone is on the same page and that the project progress smoothly and without problems.
You can seek aid from the best project collaboration tools on procurement; they will make your life comfortable and easy and better your team's output and efficiency.
Project Monitoring and Controlling
The third and fourth phases of the project management process are not in succession.
The project monitoring and controlling phase process groups run simultaneously with project execution, guaranteeing that project deliverable and objectives and deliverables.
You should ensure that no one deviates from the original roadmap as a project manager by establishing Critical Success Factors (CSF) and Key Performance Indicators (KPI).
And in the course of the project management monitoring stage, the managers are also responsible for quantitatively monitoring the expense and effort of the process.
This tracking ensures that the project stays within budget and is also beneficial for future initiatives.
This is the final phase of the project management procedure.
The project closure stage denotes the completion of the project following the final delivery.
External talent is sometimes engaged on a contract basis expressly for a project.
The project manager is also answerable for terminating these contracts and submitting the relevant paperwork.
Most teams hold a reflection meeting after the project is completed to reflect on their mistakes and triumphs.
This is a practical approach for ensuring continual improvement within the organizations to enhance the team's total productivity in the future.
This phase's final responsibility is to review the whole project and write a comprehensive report that covers every detail.
All relevant data is stored in a safe location that project managers from that organization can access.
Importance of Project Management Processes
In recent days, employing cloud-based project management software has been a general method of keeping all project-related information.
The division of a project into numerous stages provides predictability to the endeavor.
It provides a framework within which to operate, making it feasible to plan and execute.
Previously, post-it notes sufficed and spreadsheets, but the needs of digital project management are vastly different.
To plan, organize, and track tasks, you will require the necessary project management tools.
To simplify teaching project management stages or phases, you'll need online project management software.
Here are some of the reasons why the project management process is a crucial part of projects today.
Project management is crucial because it guarantees that whatever it produces is correct and will provide real value to the relevant business opportunity.
Every client has some strategic goals and initiatives that may help achieve those goals.
Project management is a necessary event as one of a PM's key responsibilities is to make sure that all the projects are driven to fit very well within the broader context of the strategic frameworks of the client.
As a result, wise project management makes sure that project goals are linked with the strategic goals.
Project management also proves a big hit in creating a good business case and calculating ROI as it can help certify the provision of the right product, which will deliver the actual value.
Needless to say, as projects continue, risks may emerge anywhere, which may cause challenges or even alter the entire business plan.
Nevertheless, a project manager will have to guarantee the project itself is a part of that realignment.
In this case, project management will become critical since steps that deviate from the actual project management plan or fail to align with the requirements of the business will be chunked out.
Clear Objective and focus
Project management is critical as it guarantees a solid plan for achieving the strategic goals of the respective project.
When project management is entirely left to the team to figure out independently, teams may work without a transparent project management process and good briefings.
Projects often have fuzzy or unclear objectives, get insufficient focus, and leave the whole team unsure what they are supposed to be doing or why they need to do what.
PMs wisely break down the whole project into tasks for multiple teams instead of doing it as a whole.
By practicing this strategy, project managers position themselves to be devoid of such circumstances.
In this way, we can make sure completion of tasks in time without any hustle and bustle.
Realistic project Planning
Project management becomes necessary when it tends to guarantee accurate expectations related to when and how much can be done effectively in an efficient way.
If a robust or effective management plan is not in place, project delivery timelines and budget estimates can be made quickly.
Consequently, without the provision of competent project management, projects are completed late and are costly.
Therefore, efficient project managers need to work with teams, key stakeholders, and management to formulate reasonable and achievable milestones and timelines.
Too often, the hurry to deliver jeopardizes the essential processes and, as a result, the quality of the product is compromised.
Project management is something that you can never miss out on as it provides direction and project leadership.
A team without productive project management is like a ship without its rudder; it moves but lacks control, direction, or purpose.
Leadership enables and makes the team members give their level best.
Project management includes inspiration, roadblock removal, leadership, and vision.
Also, coaching and inspiring the corresponding team to meet the work requirements set by the company are the responsibilities of a leader.
This boosts the project performance to a noticeable level.
If you wish to ascertain whatever your company produces is constantly of high quality, you need proper project management.
Projects are primarily under a lot of time constraints as well.
Tasks can be underestimated, timeframes may get tightened, and processes are heavily rushed without a project management professional (PMP) who has the backing and can work as executive management buy-in.
As a result of the lack of quality management, production gets worse with time.
A genuinely dedicated project management guarantees that a project with the time and resources to initiate it can offer an output with a verified quality examined at every possible level.
Project management is critical because it ensures that risks are accurately managed and mitigated not to become difficulties.
Risk management is significant to the success of any project.
The temptation is to brush them under the rug, hope for the best, and never discuss them with the client should be eliminated.
Dealing with risk is where the value of project management shines, particularly in complicated projects.
A good project management strategy involves maneuvering project managers, examining all potential risks, quantifying them, and preparing a mitigation technique and a contingency plan.
To specify dangers early, it is compulsory to know the correct questions to ask.
Project management is essential because it ensures that the appropriate and accurate people do the right things at the right time – with the proper project management process being followed all around the project cycle.
Surprisingly, many well-known and prominent corporations have reactive planning processes that have not relied on basic project management principles.
However, reactivity, as opposed to proactivity, can regularly drive initiatives to enter survival mode.
When tasks become redundant, teams disintegrate, and planning becomes reactive, resulting in frustration and inefficiency.
Process and proper planning may make a massive difference as everyone on the team knows who is doing what, how, and when.
Proper process management streamlines procedures and inputs, clarifies responsibilities, and anticipates hazards.
Also, it establishes checks, baseline, and balances to ensure the project is always following the broader purpose.
Managing and Learning from Success and Failure
Project management is significant as it learns from past failures and successful projects.
Project management may assist you in overcoming negative habits, and it's crucial to avoid making the same mistakes again when finishing projects.
Retrospectives, project managers, or lessons learned, or use post-project reviews to assess what went well, what did not go so well, and what should be done differently for the upcoming project.
This results in a valuable set of documentation that will record "dos and don'ts" in upcoming projects, allowing the organization to learn from successes and mistakes.
Without this learning, teams are susceptible to making identical mistakes over and over again.
These retrospectives are excellent papers to consume at a project kick-off meeting to remind the team about failures like underestimating projects.
Also, triumphs such benefits of an exemplary process or the importance of keeping timesheet reporting up to date should also be discussed.
That's all we have for you on project management processes, and we hope you have gained so much from this piece.
In summary, without project management, clients and teams have to face chaotic management.
This could be a lack of funding, poorly defined objectives, excessive risk, unrealistic planning, and poor quality project deliverables.
Also, projects that are delivered late usually run over budget.
Excellent project management is crucial because project managers who have extensive training experience deliver results.
Project management processes foster motivated teams who comprehend the significance of their work and strive to do their best.
Finally, a project management-capable team ensures that the right stuff is delivered, which makes pleased clients and offers a meaningful return on investment.
DPM
Kiss flow of