Hello! Welcome to another informative and helpful piece on Project Management Institute, inc – PMI-CAPM Certification.
After reading this article, you will have a comprehensive understanding of everything necessary for the CAPM certification exam – including prerequisites, the application process, exam duration, and exam format.
This article will cover the following:
Come on board; let's take you on a ride!
What is CAPM Certification?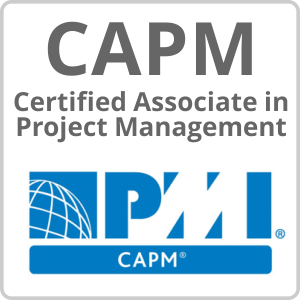 The Project Management Institute (PMI) offers many universally recognized certifications in project management, including the Certified Associate Project Manager (CAPM) certification.
The latter is an extremely valuable introductory credential for kick-starting a career in the project management field.
It is recommended that aspiring project specialists with project management-related duties boost their careers and add value to their resumes.
CAPM certification demands qualifying for a proctored exam online or a validated test center.
A CAPM-certified project manager will understand basic project management processes and skills to manage the project scope.
Also, you'll become familiar with risk management, scope management, quality management, and project integration concepts in project management.
The exam tests various areas such as project management core concepts, basic terminology, and fundamental processes.
How Valuable is PMI-CAPM Certification?
Research reveals that project management is a swiftly rising profession, with employers needing to hire almost 2.2 million fresh project-oriented vacancies every year in 2027.
CAPM certification will put hopeful individuals in the project environment on the fast track to avail this opportunity.
Regardless of what career stage you're currently at, the Certified Associate in Project Management (CAPM) certification will prove an asset.
It distinguishes you in the job market and enhances your efficiency and credibility while working on different project teams.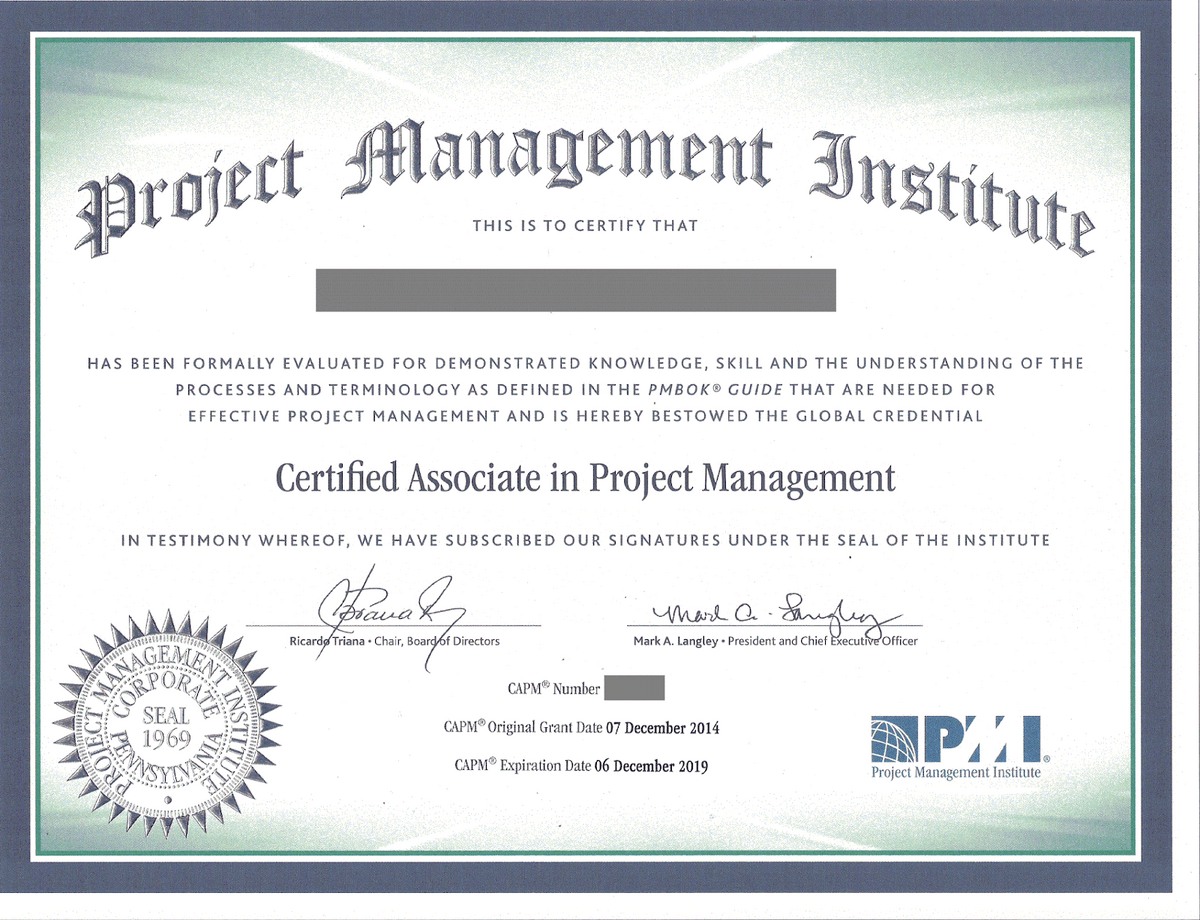 As per the PMI 2015 Pulse of the Profession report, organizations applying standardized practices obtain superior outcomes.
Also, CAPM highlights an individual's knowledge and understanding of the project management's distinguished worldwide standard.
It will help certification holders stand out and be self-assured to face employers.
Some more benefits for your career from having a CAPM certification include:
global recognition, i.e. better job and career opportunities in the global market.
increased career opportunities and a much better salary as compared to those who do not have this certification.

Moreover, individuals can also demand better pay once they possess the CAPM PMI.

credibility
enhanced knowledge about core project management concepts
exposure to fundamental tools and techniques
insights into the best project management practices
preparedness for the PMP (Project Management Professional) certification.
Who Needs The CAPM Certification?
Suppose you want to accomplish more significant projects, seek to attain more responsibility, and want to include project management skills in your current role.
In that case, you must consider the Certified Associate in Project Management (CAPM) Certification.
More specifically, professionals who can benefit from CAPM certification include:
Project Executives
Team Members
Project Management Aspirants
Project Leaders
Managers
Functional Managers
Everything you need to know about the PMI-CAPM exam
This section contains a detailed guideline about the essential information you need to know about PMI-CAPM certification.
The CAPM certification exam consists of 150 multiple-choice questions (MCQs), of which 135 are scored, and 15 are pretest/unscored, i.e., they do not contribute to the exam's overall score.
The standard examination method is CBT (computer-based testing), but PBT (paper-based testing) might also be used in certain situations.
The time limit for the exam is 3 hours (without intervals), and it is a closed-book format; however, interruptions are allowed if necessary but without time recovery.
The passing score is calculated via psychometric analysis.
The exam fee for members of the PMI is US$225.00.
The non-member exam fee is US$300.00.
Certification span/validity
CAPM certification remains valid for up to 5 years.
This means that candidates must retake the CAPM certification exam after every 5 years to uphold their credentials.
CAPM reexamination fee is US$150 for PMI members and US$200 for non-members.
Although there is no singly designated pass rate, it is recommended that aspirants must aim for scoring at least 75-80% correct answers.
To be part of those that pass the exam, enroll in project management training (CAPM course) with one of the education providers approved by the PMI.
However, you may need to also enroll in exam preps and take simulation tests or quizzes to prepare you for the exam adequately.
Now that we've covered the exam basics let's guide you through registering for a PMI CAPM certification.
1. Meet Eligibility Requirements
Two main prerequisites are required for appearing for the PMI-CAPM certification exam: minimum education requirement and relevant experience.
Educational Background/Qualification
Applicants must have a high school diploma/secondary degree/global equivalent certificate mentioning the following information:
Name of the academic institution
Year of graduation
Major subject
Candidates with an Associate's degree without prior project management experience will also be able to take the CAPM exam.
Project Management Education/Relevant Experience
The Project Management Institute needs this information to ensure that aspirants at least possess a fair amount of understanding and knowledge about the basic principles of project management.
This requirement can be fulfilled in two ways:
Participating in 1500 hours of appropriate work experience within a project team; to be valid, these hours should be among the non-overlapping project group(s) and should be recognized by the project team and abridged by the process group.
Enrolling in an official project management course lasting 23 contact hours; sources for acquiring relevant project management education include PMI chapters, training programs, training consultants/companies, distance learning companies, and university/college academic and continuing education programs.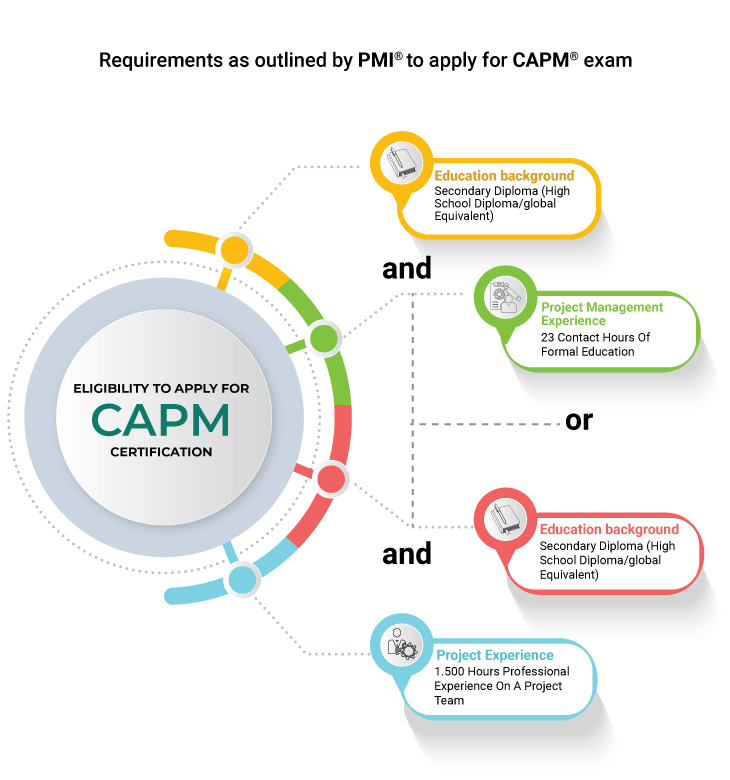 2. Fill Application Form
You can officially initiate the application process to fulfill the eligibility criteria mentioned above.
Next, collect the relevant information, log in to the PMI online certification system, and follow the guidelines.
Here's what and how to fill PMI-CAPM application:
Contact Information (email ID, residential address, contact number, etc.)
Educational Background (school, level of education, degree(s) attained, etc.)
Professional Experience (details of projects, portfolios, and programs you've been, qualifying hours, employment details, roles, organization details, references, experience outline)
Domain Education (courses completed, institutions enrolled in, qualifying hours, dates)
3. Application Review and Audit
After reviewing your application, the PMI once again confirms whether you satisfy the eligibility criteria and that your educational record and experience are valid and meet the guidelines in the certification handbook.
The review process usually takes five to 10 days, subject to what certification you have applied for.
On completion, you will receive an email with instructions and directions for proceeding to the next step.
For each certification, PMI arbitrarily selects a chosen number of audit applications.
This ensures that the experience and educational information detailed in the applicant certification documents are valid, enhancing the certification program's overall integrity and certification holders.
This generally takes about five to seven business days.
4. Payment Submission
After being notified that your application for CAPM certification has been accepted, you need to make the payment to advance to the final stage.
PMI's online certification system is the quickest and easiest method to do this.
5. Schedule Exam Date
Once the payment is made, you will receive a confirmatory email outlining exam scheduling instructions along with the eligibility code for setting up your exam appointment either through telephone or online.
In addition, complete details are mentioned in the certification handbook and among examination scheduling guidelines.
With PMI's 24/7 testing options for facilitating every aspirant's schedule, you can easily appear for the exam online from the comfort of your home or office.
All you need is:
to plan your online exam in advance since slots are limited
a computer with a webcam
a stable internet connection
a comfortable and quiet space without interruptions
The Project Management Institute will not reveal your passing score, and neither will it disclose how many questions you need to answer correctly to qualify for the exam.
Hence, a PMI-CAPM exam candidate will never know their actual score at all!
As mentioned previously, the PMI-CAPM exam is based on sound psychometric analysis, an updated technique of preserving the standards of passing candidates.
Since most exams are held on computers, the question sets of every candidate are different, meaning that the passing scores for every exam require adaptation as per the overall difficulty of that particular set.
Nevertheless, the final exam report does indicate a 'proficiency level' as described below:
Needs Improvement – less than 50% correct responses; an overall performance far below the required target; failure to achieve minimum qualifying requirements.
Below Target: correct responses are between 50% and 65%; overall performance is slightly below the required target; fails to achieve minimum qualifying requirements.
Target: correct responses are between 65% and 75%; is compulsory to meets minimum qualifying requirements.
Above Target: more than 75% correct responses; overall performance exceeds minimum qualifying requirements.
CAPM Certification Training Courses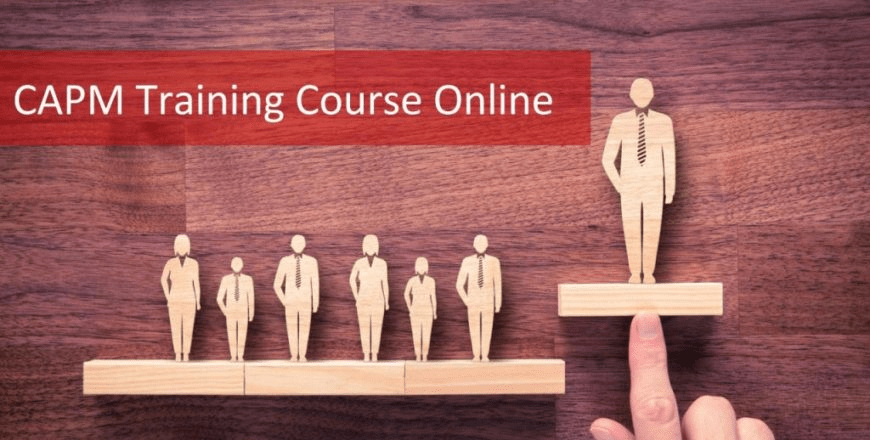 A CAPM certification course is designed for professionals with minimum experience in project management.
The structure of these courses provides individuals with an elementary understanding of the subject matter at hand.
CAPM training programs also provide individuals with the required knowledge and skills to qualify for the positions of associate project manager.
PMI offers direct project management certification training and various training programs conducted by in-person and online PMI-certified trainers.
Direct PMI Training: Their official online course is based strictly on technical skills and PMI standards for new practitioners. The fee is US$400 for non-members and US$350 for members.
Project Management PrepCast: This is a video-based training course that helps accomplish the skills, knowledge, tools, and techniques required to qualify for a CAPM exam. It also features an exam simulator.
GreyCampus: This is an instructor-led two or three-day boot camp that offers mentorship, support, and an exam simulator.
Simpli Learn: This is an online boot camp for new project managers that provide an overview of the principle project manager philosophies, as well as knowledge about the five process groups and 10 knowledge areas. An exam simulator is also offered.
CAPM vs. PMP – Which is the Better Choice for Your Career?
Now that we've covered all there is to know about CAPM; you might come across another certification during your career – PMP.
And you'll often hear people ask – "Should I go for CAPM or PMP"?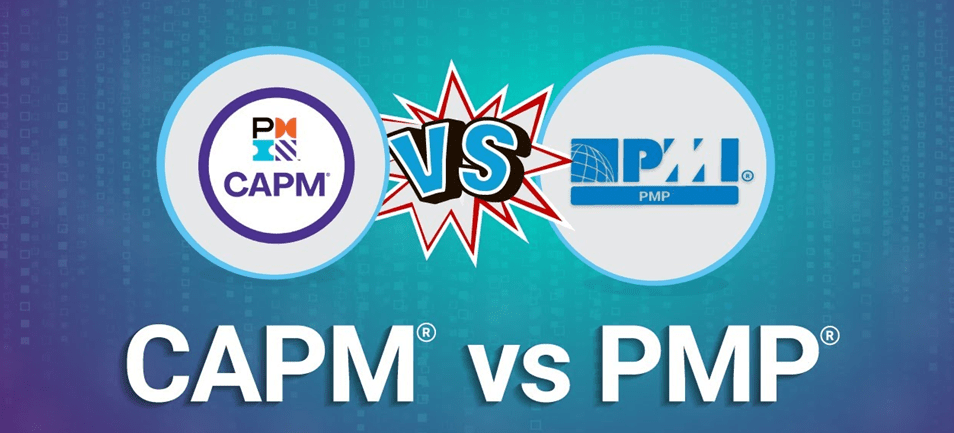 The Certified Associate in Project Management (CAPM) and Project Management Professional (PMP) certification are both expert credentials offered by the Project Management Institute (PMI).
They help boost credibility and provide professionals various opportunities to enhance their skills, manage and head large projects, and ultimately advance in their careers.
Knowing the differences between the two certifications is extremely important for aligning your chosen certification with your intended career goals.
Let us help you understand the significant differences between the two.
CAPM necessitates a secondary diploma and 1,500 hours of general work experience.
However, since those interested in earning CAPM certification do not need project management experience or a four-year degree, this certification is perfect for recent college graduates.
Even current students looking to boost their resume with a testimonial validates commitment to their career in project management can take the CAPM.
On the other hand, PMP certification does not need a bachelor's degree; hence job aspirants with a four-year degree hold a substantial advantage.
Moreover, candidates require a secondary degree with 7,500 hours of experience directing and leading PMP certification projects.
In contrast, those holding a four-year degree need only 4,500 hours of experience.
Lastly, PMP certification demands 35 hours of project management education, whereas CAPM requires a minimum of 23-hours.
Since CAPM is developed for entry-level project managers or individuals interested in kick-starting their project management careers, the CAPM exam is generally considered less difficult than the PMP exam.
Moreover, the CAPM exam content is improvised from the PMBOK® (A Guide to the Project Management Body of Knowledge), i.e., PMI's global standards for project management.
On the other hand, the PMP certification exam is suitable for individuals early in their careers and established professionals with slightly more advanced project management experience.
Hence, it is a bit more challenging. Similar to CAPM, the PMP exam also derives from the PMBOK Guide.
However, it may include questions intended to test whether an individual knows how to tackle real-world project management situations.
PMPs can obtain jobs in various industries in almost all countries.
Most employers look for a PMP certification when hiring project managers since the latter demonstrate adequate knowledge and skills mandatory for leading intricate projects.
CAPM certification is not as globally-recognized as PMP certification.
However, it is based upon and teaches candidates the PMI's project management framework and processes and will undoubtedly put them a step ahead of others.
Conclusion – Is CAPM Certification Worth It?
Project management is a reputable and fast-growing profession.
With an increase in job requirements and the latest developments in job technicalities, the role of a project manager has become highly adaptable and competitive.
Thus, employers seeking to hire the best experts will most certainly utilize CAPM certification as a criterion.