Greetings!
Welcome to our insightful and detailed Dermatologist Nurse article.
We guarantee that you'll be clear on the educational, certification, and experience requirements of How to Become a Dermatologist Nurse by the end of this well-researched article.
In particular, we will focus on the following:
What is a Cosmetic Dermatologist Nurse?
How to become a Cosmetic Dermatology Nurse
Cosmetic Dermatology Nurse duties
Therefore if you plan on embarking on a nursing career, consider working as a Skincare Nurse due to the high Aesthetic Dermatology salary and stable work environment.
Let's get started!
Introduction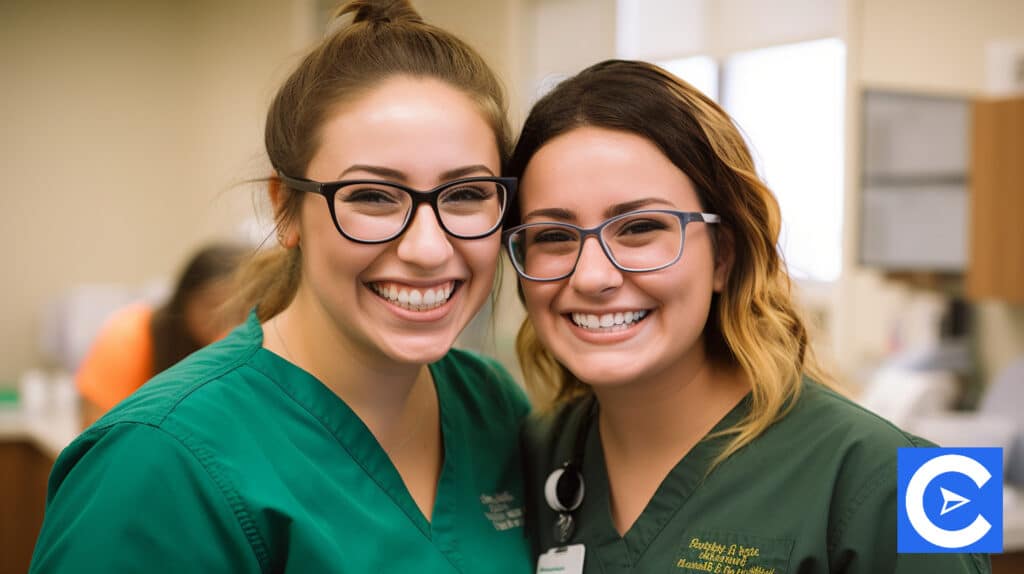 In 2020 there were over four million cosmetic procedures in the USA, according to a Statista report.
The same report concludes that the total number of surgical and non-surgical cosmetic procedures has grown by over 300% between 1997 to 2020.
These startling statistics prove that the Aesthetic Dermatology industry is exploding in the 21st century.
The rapid rise of Cosmetic Dermatology can be attributed to improvements in medical technology and advanced skincare training.
What is a Cosmetic Dermatology Nurse?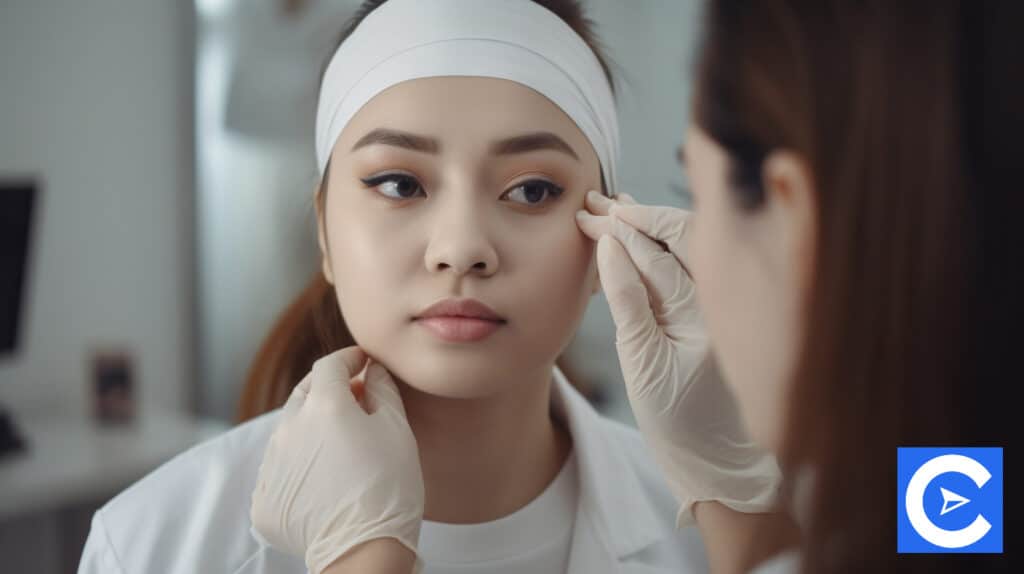 Cosmetic Dermatology Nurses are highly trained Registered Nurses (RNs) specializing in the care and treatment of the skin.
Cosmetic Nurses treat skin conditions and perform cosmetic procedures to repair, improve or modify their client's skin or other body parts for beauty purposes.
The typical cosmetic dermatology procedures that Dermatologist Nurses perform include:
Microneedling
Microdermabrasion
Chemical peels
Botox and filler injections
Brow lifts
Blepharoplasty
Laser treatments
Cosmetic Nurses also deal with skin diseases like eczema, psoriasis, acne, skin cancer, and Rosacea.
Now that we exactly understand what a Dermatologist Nurse does – let's look at the steps and processes of becoming one.
How to Become a Dermatologist Nurse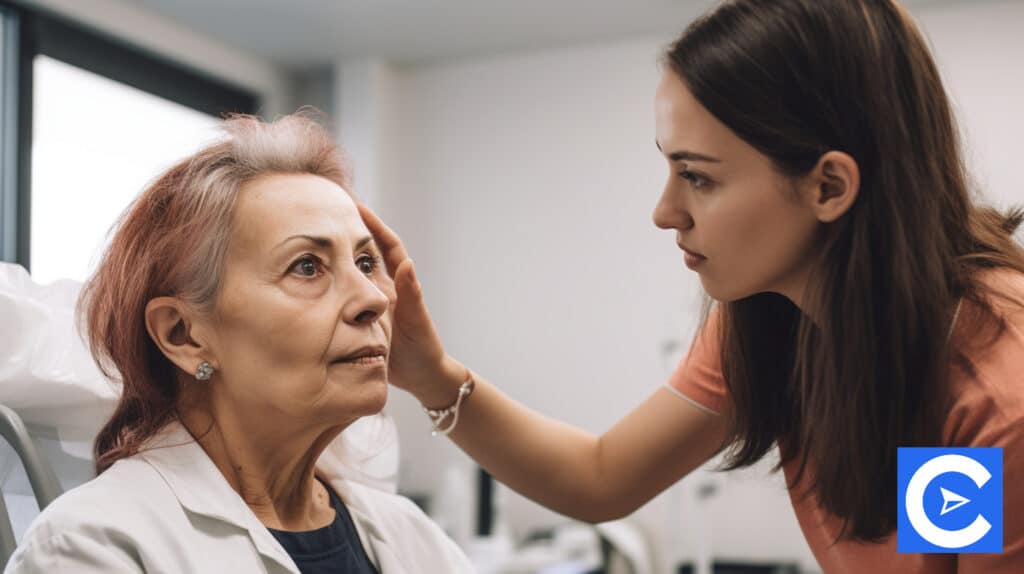 Working as a Dermatologist Nurse is an often long and challenging journey that requires lots of patience, determination, and courage.
You need to satisfy the following educational and certification requirements before becoming a Cosmetic Dermatology Nurse.
Educational requirement
The minimum educational requirement to practice as a professional Skincare Nurse is a degree in nursing.
The two main nursing degree types are:
1. Bachelor of Science in Nursing (BSN)
A BSN is a four-year bachelor's degree offered by authorized nursing training institutions tailored for the modern Registered Nurse.
With the BSN program, you will typically learn about:
Patient care technology
Research skills
Health promotion
Quality and safety of health services
The BSN degree is a popular choice for Dermatologist Nurses due to the in-depth nursing training and improved job opportunities.
2. Associate Degree in Nursing (ADN)
ADNs are usually 18 months to two years undergraduate degrees in nursing that equip learners with high-quality nursing skills and training.
The ADN students will typically cover:
Human anatomy
Health assessments
Pharmacology
Microbiology
Maternal nursing
The Associate Degree in Nursing is an excellent option for people who don't have the time or funds to pursue a four-year BSN degree.
3. Masters of Science in Nursing (MSN)
If you're planning to work as a Dermatology Nurse Practitioner or any other advanced dermatology nursing role, then a master's degree is necessary.
An MSN degree imparts advanced nursing training and skills to the students allowing them to offer more specialized and higher quality nursing services.
The MSN degree will typically cover nursing research, healthcare informatics, advanced pharmacology, nursing leadership, and management, among other essential topics.
The above education requirements are the bare minimum for a Cosmetic Dermatology Nurse or Practitioner.
To work as a Skin Nurse in more technical roles like surgical, pediatric, or photomedicine dermatology requires specialized training.
Certification requirements
Apart from the compulsory education requirements, the Cosmetic Nursing profession also demands some certification requirements.
Here are the two main types of certifications for Cosmetic Nurses:
NCLEX RN certification
The National Council Licensure Examination (NCLEX-RN) is a national certification exam that tests the training, skills, and competency of RNs.
All Registered Nurses in the US and Canada must pass this critical nursing certification examination from the National Council of State Boards of Nursing (NCSBN).
The five hours, 145 multiple choice question NCLEX RN certification exam will test you on:
Effective care environment
Psychosocial health promotion and maintenance
Basic care and comfort
Physiological integrity
Reduction of risk potential
Psychological integrity
Students who successfully pass the NCLEX RN exam are awarded the NCLEX RN certification, a gold standard in the nursing career.
Dermatology Nurses Association Certification
Cosmetic Nurses can improve their professional validation by earning the Dermatology Nurse Certified (DNC) and Dermatology Certified Nurse Practitioner (DCNP) designations.
Both the NDC and DCNP are offered by the Dermatology Nursing Certification Board (DNCB), which is a professional Dermatological Nurses Association.
You will need to pass a written exam after meeting the eligibility requirements, including holding a valid RN license and having two years of dermatology nursing experience.
Earning the DNC and DCNP designation improves your professional portfolio and allows you to compete for high-paying dermatology RN jobs.
Steps to becoming an RN Dermatology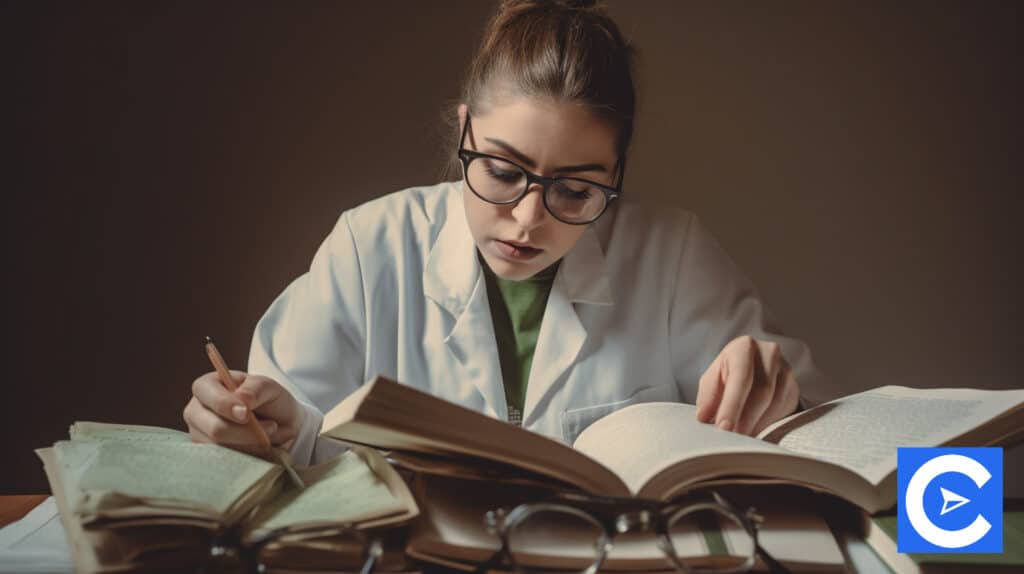 Becoming a Skin Nurse follows a sequential four-part process.
Here are the main steps in your Dermatology RN journey:
1. Enroll in nursing school
Nursing training is critical for any type of Dermatology RN irrespective of their Dermatology specialization.
The two most common nursing programs are the Associate Degree in Nursing (ADN) and the Bachelor of Science in Nursing (BSN) programs.
These nursing programs equip you with the fundamental skills and training necessary to carry out your Nurse Dermatology roles efficiently and safely.
The two most popular nursing training offered in nursing school are the ADN and BSN degrees
2. Pass the NCLEX RN certification examination
The National Council Licensure Examination (NCLEX RN ) is a certification exam that validates the skills and training of RNs in the US and Canada.
Passing this critical exam from the National Council of State Board of Nursing (NCSBN) is an essential and necessary credentialing step in your Derm Nursing journey.
3. Gain relevant experience
A critical component of a thriving Dermatology practice is gaining high-quality dermatology experience.
Most employers prefer to work with Dermatology RNs with at least two years of hands-on dermatology experience.
Some professional dermatology certifications, including the DNC and DNCP, require at least 2000 hours of dermatology experience.
You can acquire the relevant experience by working in a dermatology clinic, plastic surgeon's office, Spa, or burn unit.
4. Earn professional certification
As a Nurse in Dermatology, professional certification is a critical and necessary step.
Dermatology certification enriches your professional portfolio and allows you to favorably compete for high-paying Skin Nursing jobs.
Consider getting a Dermatology Nursing Certified and Dermatology Nursing Certified Practitioner designation from the Dermatology Nursing Certification Board.
Roles of a Cosmetic Dermatology RN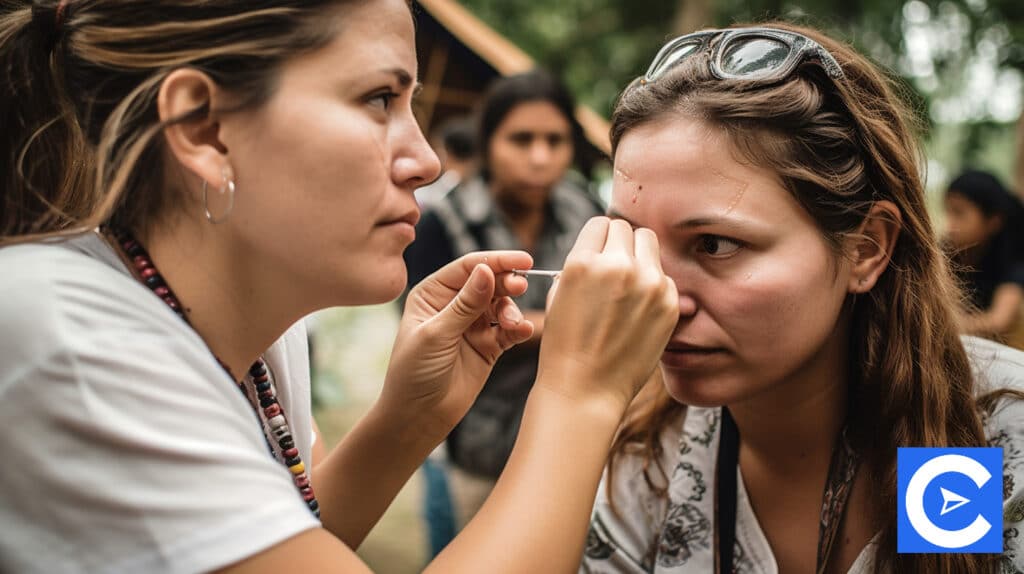 The skin, our body's largest organ, suffers much trauma and wear in our everyday lives.
From sunburns to harsh cosmetics, our skin is constantly exposed to harmful agents.
The Derm Nurses are the best line of defense for skins against these harmful and dangerous physical and environmental agents.
Skincare Nurses are responsible for assessing, diagnosing, treating, and educating us on proper skincare practices.
Continue core responsibilities and duties of a Cosmetic Nurse.
Here are the fundamental roles and responsibilities of Skin Nurses:
1. Perform skin procedures
Cosmetic Dermatologists are responsible for performing both cosmetic and medical procedures on their patients' skins.
Some of the typical cosmetic procedures that Derm Nurses perform include:
Botox and filler injection
Chemical peels
Microneedling
Dermabrasion
Microdermabrasion
Dermatology RNs also help Dermatologists and Plastic Surgeons perform medical procedures, including:
Cryosurgery
Topical therapy
Photodynamic chemotherapy
Skin biopsies
Curettage and excision
2. Perform skin assessments
Dermatology RN is responsible for performing a thorough skin assessment and highlighting problem areas and possible solutions.
Skin Nurses often use diagnostic testing and modern skin equipment like lasers and light microscopes to diagnose their patients' conditions.
3. Chart patients history
RNs in Dermatology is responsible for collecting and charting their patient's medical history, including vitals, prescribed drugs, and medical procedures.
Charting a patient's medical record is critical for dermatology teams to create effective treatment plans and track a patient's progress.
4. Perform skincare training
Nurses in Dermatology are highly trained and skilled professionals that serve as influential skincare educators to their patients.
Derm nurses teach their clients about:
Alternative skin care regimes
Natural alternatives to skin products
Proper skin care practices
Signs and symptoms of severe skin diseases like skin cancer
5. Provide comprehensive nursing care
Skincare Nurses are responsible for providing effective pre and post-operative patient care.
Based on their fundamental nursing training that emphasizes patient care, Derm Nurses provide:
Wound care management
Sterile dressing change
Administering IV drips and feeding tubes
Monitor patients vitals
Prepare and maintain treatment logs
6. Administer medication
Skin Nurses help calculate correct dosages, mix ratios and help administer skin medication to patients.
Since the skin is a susceptible organ, Derm Nurses must get the correct quantity and quality of skin care products to prevent accidents.
Additionally, RN Dermatologists also help inject and administer oral medication to their patients.
Dermatologist Nurse job outlook
The skincare industry is expected to blow in the next couple of years as the modern man becomes more aware of proper skincare treatment.
According to Qualiket Research Company, the demand for Dermatology Nurses, products, and services will grow by 19.9% between 2021 and 2027.
Some of the factors contributing to the rapid growth of the Dermatology Nursing profession include:
Stable work environment
High Cosmetic Dermatology Nurse salary range
Improved RN training program ex remote and online program
Increase in skin diseases (skin cancer, psoriasis, acne)
Improvement in skin technology and training
The steady increase in Derm Nurse salary and the conducive working environment of this nursing practice makes working as a Skin Nurse a viable and lucrative career.
Conclusion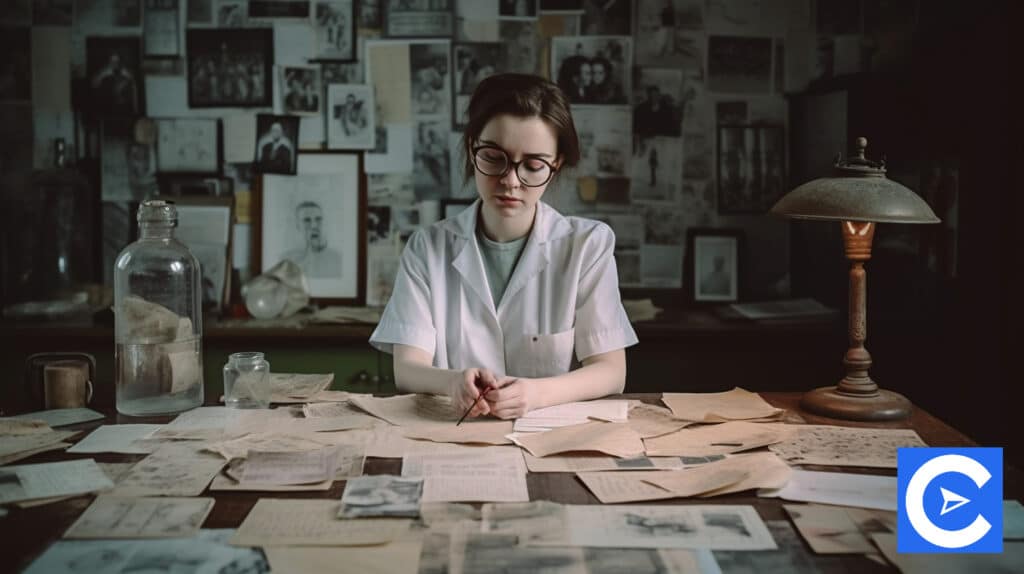 Whether you plan to work in private practice or other dermatology office jobs, the Skincare Nursing profession is an excellent choice.
High Cosmetic Dermatologist salary, excellent working conditions, and high job satisfaction make Dermatology nursing one of the best nursing specialties.
We hope that this interactive and well-researched Dermatologist nurse article will provide a clear road map towards becoming a highly successful and competitive Skin Nurse.
Please continue reading for in-depth answers to our reader's frequently asked questions.
Good Luck!
FAQs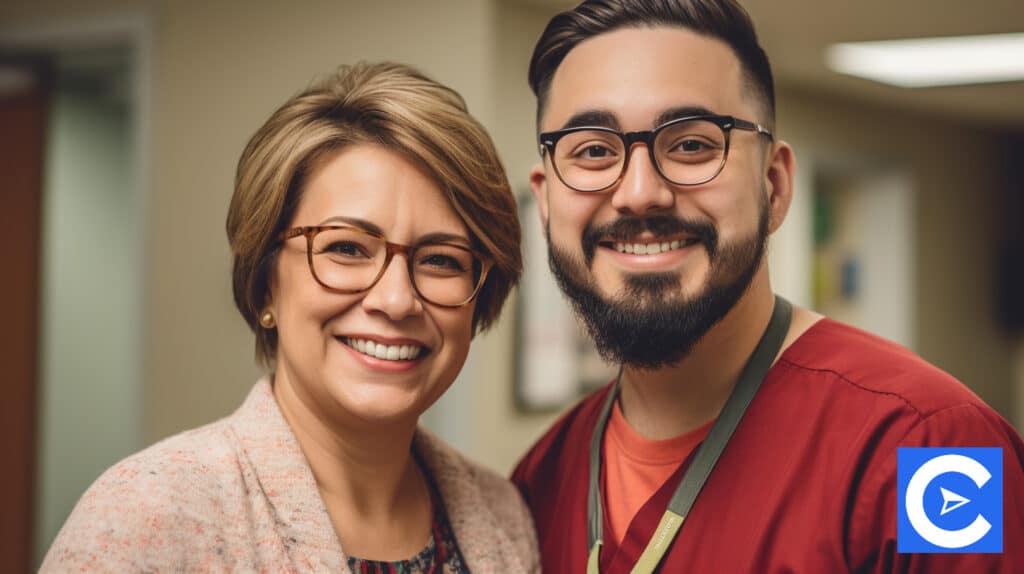 Is Dermatology Nursing stressful?
According to nursejornal.com, Dermatology Nursing is a stable and stress-free nursing job because Skin RNs:
– Work predictable hours, usually 8 am to 5 pm
– Rarely encounter medical emergencies
– Usually perform low risk, non-invasive procedures
– Work in comfortable and relaxed environments
– Receive above average compensation
What is an Aesthetic Nurse?
Aesthetic or Cosmetic Nurses are highly trained and qualified RNs specializing in offering high-quality cosmetic and skin enhancement services. A Cosmetics Nurse does the following:
– Injecting botox and fillers
– Performing skin rejuvenation procedures (micro-needling, dermabrasion, microdermabrasion)
– Laser skin treatments
– Liposuction
– Tattoo removal
– Cosmetic surgery
What do I need to know to be a Dermatology Nurse?
Things to know before becoming a Dermatology RN:
– Education requirements
– Skin Nurse certification requirements
– Average Dermatology RN salary
– Different careers in Dermatology
– Duties and responsibilities of a Derm Nurse job
– Qualities of an effective Dermatology RN
– Skills and competencies of a Derm Nurse
Can you become a Dermatologist with a nursing degree?
A Dermatologist is a highly trained medical doctor specializing in treating various skin, hair, and nail conditions. Unlike a Nurse Dermatologist who attends 2-4 years of nursing school, a Dermatologist typically attends eight years of medical training, including four years of medical school and internship.
Do Dermatologists work in hospitals?
Dermatologists work in various settings, including hospitals, burn centers, and skin clinics. A Dermatologist working in a hospital is usually responsible for:
– Prescribing skin medication
– Consulting and diagnosing a patient's skin conditions
– Performing skin procedures and treatments
– Conduct skincare training
– Recommend diagnostic testing like skin biopsies
What does a Dermatology Nurse do?
Derm Nurses are responsible for:
– Evaluating and assessing a patient's skin conditions
– Chart patient's medical history
– Assist plastic surgeon/dermatologist during skin procedures
– Administer medication
– Provide skincare training
– Collect diagnostic samples
– Perform patient intake and discharge
– Provide pre and post-operative nursing care
What is it like to be a Dermatology Nurse?
As a Skin Nurse, you must be familiar with different cosmetic procedures and common skin conditions. As part of a larger healthcare team, you must also demonstrate excellent interpersonal and communication skills and have a thorough grasp of nursing principles.
What is a Skin Nurse called?
A Skin Nurse, also Dermatology RN or Derm Nurse, is a highly trained, professional Registered Nurse responsible for skin, hair, and nail care. Skin Nurses often work in plastic surgeons' offices, burn units, skin clinics, and hospitals and provide various aesthetic and skin treatment services.
How to get into Dermatology?
If you aspire to work in a Dermatology-related career, here are the steps:
– Enroll in an appropriate training program (nursing or medical school)
– Earn professional qualifications and certifications
– Apply for an operating license if necessary
– Gain real-life industry experience
– Actively apply for jobs in the dermatology field
Where do Nurse Dermatologists work?
Skincare Nurses can secure Dermatologist Nurse jobs in a variety of settings, including:
– Hospitals
– Private practice
– Health Spa
– Cancer centers
– Burn units
– Plastic surgeon's office
– Outpatient skin clinic
– Dermatologist offices
Skin Nurse in these settings provides high-quality dermatological services to clients.
References