Hey everyone!
Welcome to the most comprehensive guide on the top Health insurance companies to work for in the U.S.
After reading this guide to the end, you'll have a headstart in your job search for companies that offer attractive workplaces, financial stabiity, terms, culture, and environment.
Furthermore, we'll provide you tips to help you know what to look out for when searching for a job at a health insurance company.
Ultimately, this article covers:
Without further delay, let's dive straight into it.
What Makes a Good Health Insurance Company
Prospectives often go into the job market, eager to land their first or subsequent job, without contemplating the characteristics that make a good company.
Whether it's unlimited holidays or a good paycheck at the end of the month, there's always an aspect that can lure prospects to an organization.
The same applies when looking for work at a health insurance company.
As a Health Insurance professional, there are specific organizational characteristics you should consider when choosing to work for a particular health insurance company.
We'll go over a few of them below.
For many people, the primary reason for getting a job is to have a source of income and reach financial stability.
One way of obtaining financial stability from your job is by evaluating whether the company runs on a profitable model.
Now well, most companies won't exactly put their financial reports on display for the public to analyze.
However, you can review their earnings, have a look at their Management or even their market leadership to determine if they're doing well.
Also, most Health Insurance companies earn revenue from premiums obtained from Health Insurance plans and by investing those premiums into other interest-generating assets.
So if you're able to assess these, by all means, do so.
Just ensure you're entering a health insurance company that's likely able to pay you, and should they be faced with a recession or the like, the number of layoffs won't be substantial.
Good reputation amongst customers
At the top of the list of what makes a good Health Insurance company is a good reputation.
A good insurer works with the primary goal of satisfying customer needs – which naturally translates to a good reputation for its leadership, Management, and overall employees.
Remember to ask yourself if the insurer has a good reputation before leaping to work for them.
A good insurance company ensures customers are offered the best-priced premiums by laying out effective underwritings.
Underwritings guide the insurer on amounts to charge customers with the goal of not setting monthly premiums too high that customers are overcharged or too low that the business ends up assuming risk.
A Health Insurance company with good underwritings is likely to price its risk fairly, resulting in customer premiums contributing to revenue rather than the company spending exorbitantly on payouts.
A Health Insurance company that can earn effectively ultimately sustains its employees and other processes and assets.
In addition to offering quality health plans that result in exceptional medical care, the best Health Insurance companies ensure that their product offerings keep pace with ever-evolving lifestyles.
Not only lifestyles but also technological advancements to meet their evolving customer needs is a great way to spot a good firm.
One way of tracking if a company offers quality products is to look at their National Committee for Quality Assurance (NCQA) ratings.
NCQA ratings range from 0 to 5, where 0 is the lowest rating and five is the highest, with the score depicting quality based on customer experience, quality care, and plan administration.
Establishing whether a Health Insurance company is innovative regarding their product offering can be done by simply reviewing their website and different plans types.
Essentially an insurer's primary product is its insurance claims.
Customers choosing a policy expect their claims processed immediately it's filled, undergo the necessary validation checks, and make a payout.
The more efficient Health Insurance companies are with their claims process, the more likely customers will be satisfied with their services – giving the Health Insurance company a competitive advantage.
Now that you know what makes a good Health insurance company, you may be in a better position to search for these qualities when looking for suitable companies to work for.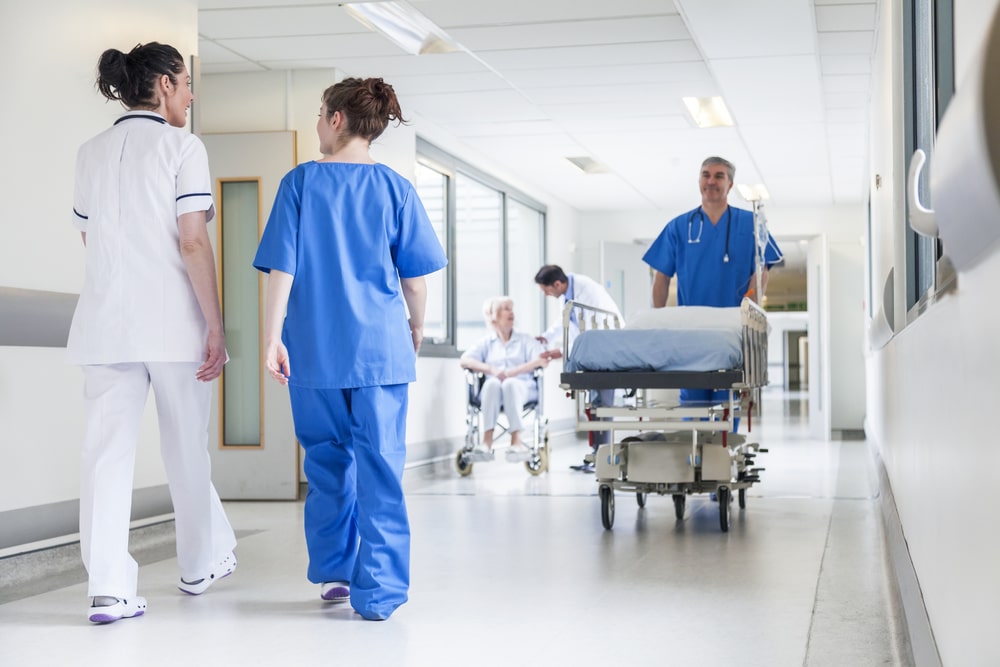 To make your research a tad easier, we've gone on ahead to list the best Health Insurance companies in the U.S.
These health insurance companies do well in most of the elements we highlighted previously and have good customer reviews.
The Best Health Insurance Companies in the U.S.
A good health insurance company typically rates high when it comes to financial profitability, a good reputation with customers, good underwritings, product quality, and claims services.
Although no company will be perfectly formed, the companies we've listed below hold valuable elements that employees seek when looking for health insurance jobs.
We believe these are companies that will provide career fulfillment – making them good choices for workplaces.
Best for Medicare Advantage: Aetna
Established in 1853 as a life insurance company Aetna is the third biggest Health insurance provider in the U.S. and has put in the work to attain a good reputation and financial strength over the years.
According to AM Best, a credible financial rating bureau, Aetna is rated 'A' excellent concerning its creditworthiness and turns in a revenue of about $3.5 billion, placing it in a stable financial condition.
Aetna offers Medicare supplement plans in all 50 states.
Aetna also offers Medicare Advantage plans in 30 states, Medicare Advantage prescription drug plans, and a combination dental, hearing, and vision Medicare product across many states.
Worth noting is that 36 of their Medicare Advantage plans received top NCQA ratings, with their plans in Connecticut and Maine being exceptional.
The downside of Aetna is that they do not sell individual insurance plans if that's something you might want to sell, nor do they work with Independent Insurance agents.
Best for the Tech Savvy: United Healthcare
When it comes to attracting the future consumer, United Healthcare does well with its broad offering of digital healthcare services, such as shopping for healthcare on an apple watch.
Its ability to embrace digital advances provides a positive outlook regarding new revenue opportunities and efficiency, always beneficial to employees.
Despite costing more than the average health insurance, it's a top choice for customers.
Impressively, two of their private United Healthcare health plans scored 4.5 in overall NCQA ratings while nine other plans scored 4.0.
Additionally, it also offers a special open enrollment period for policyholders to apply for plans under the affordable care act (ACA), meaning their clients will have access to cheaper options too.
Furthermore, United Healthcare has various health insurance products for employers, individuals, Medicaid, and Medicare beneficiaries.
Best for Nationwide Coverage: Blue Cross Blue Shield
With one out of three Americans having a policy with Blue Cross Blue Shield, you'd be working for one of the biggest Health Insurance providers in the country.
A significant reason why Blue Cross Blue Shield is so saturated in the market is that its a parent company of 35 insurance companies, including Anthem, Highmark, and Wellmark.
Another positive element of the company is that it seemingly shows commitment to growth.
In 2019, they earned low to moderate NCQA ratings; however, in 2021, they improved by achieving moderate to high NCQA ratings.
While the company consists of several attractive elements to make it a contender for top Health insurance companies, their main letdown is that some of their subsidiaries, like Anthem, have bad customer satisfaction ratings.
Best for Comprehensive Coverage: Humana
Humana is a Wellness and Health Insurance company that offers a wide array of health benefit plans such as Dental insurance and other coverage options related to vision and crowns.
The company also has plans for people living with chronic conditions and needing care outside hospitals.
According to AM Best, the company is financially stable.
Furthermore, a glance at their website shows hands-on customer service, including the options to liaise with customers through social media, mobile apps, and an online platform.
The only downside of Humana is that they do not offer individual insurance plans.
Best for HMOs: Kaiser Foundation Health Plan
This private insurance provider boasts many accolades, including a perfect NCQA rating of 5 on its Mid-Atlantic States private insurance plan and 4 – 4.5 ratings on several other plans.
Kaiser operates in eight states (Virginia, Georgia, California, Maryland, Washington, Hawaii, Colorado, Oregon- and Washington D.C), offering employees flexibility in location.
Additionally, they are an insurance company of choice as they offer competitive insurance health maintenance organization (HMO) plans characterized by low to no deductibles and low copays.
Best for the Midwest: HealthPartners
HealthPartners is an insurance company under Group Health Plan Inc. which sells insurance plans in Iowa, Wisconsin, South and North Dakota, Minnesota, and Illinois.
While they do not sell plans in various locations compared to some of the other companies on this list, their product quality score makes up for it.
Upon reviewing their NCQA scores, they generally attained 4.5 – 5 across different plans, making them a competitive choice amongst clients.
According to Glassdoor, HealthPartners' employee ratings range around 3 out of 5 concerning work-life balance, cultures, values, and career opportunities which makes them an above-average place to work.
Best for Wellness Support: Harvard Pilgrim
Despite this new England company only selling plans in three states in America (Maine, Massachusetts, and New Hampshire), a 4.5 rated plan on two of them and a 4.0 rating on the one gives it a good reputation.
As we've already established in this guide, a good reputation is a critical attracting point for future employees.
Another significant element of Harvard Pilgrim is their plans are offered together with United Healthcare helping their policyholders access an extensive network of doctors and hospitals.
Overall, their health benefits include wellness support programs, behavioral healthcare, emergency care, and preventative care to mention a few.
Best for New York: Capital District Physicians' Health Plan
Like many Health insurance companies on this list, Customer satisfaction ranks high at Capital District Physician's Health Plan.
Additionally, their private plan has a perfect NCQA rating, giving us the impression that their product quality is high.
Apart from their quality, other notable aspects of the Capital District Physicians' Health plan are that they operate in 29 New York counties and that all their health plans are strictly physicians directed.
Best for Global Coverage: Cigna
Despite offering competitive health, dental, and supplemental plans globally, Cigna's U.S. offering deserves special mention.
This international health insurance company is served by 1.5 million healthcare professionals worldwide with 17 million customers and access to doctors in 30+ countries.
With six of its plans earning 4-star ratings from NCQA and their Illinois/Indiana, Ohio, New Jersey, and Virginia operations receiving top ratings for customer service.
Their services include mental health, behavioral, and wellness programs, dental insurance plans, medicare advantage, part D plans, supplemental plans to mention a few.
Their common insurance plan types are EPO, PPO, and HMO.
Based on an Indeed employer review, Cigna scored moderate to high concerning work-life balance, pay and benefits, Management, and Job security and advancement.
Overall, it is fair to note that although they may rank high amongst national quality ratings or based on member experiences, these companies may not necessarily be suitable for you to work.
An ideal employee organization fit will ultimately come from your personal goals, discussed in the previous section.
Things to Consider Before Choosing an Insurance Company
To determine which Health insurance company is best for you, here are some things you should consider concerning your career goals.
Insurance agent vs. Insurance company
Before plunging into sending in that job application, you should think about your job interest's in the health insurance industry.
For example, if you're interested in becoming a Health agent who can work independently, what companies would accommodate your job interests?
Reaching out to companies to alert them of your availability to do business will rely on whether the company offers insurance products that you want to sell.
On the other, if you want to work for an insurance company, you're accepting that you, for the most part, are willing to work according to their terms.
However, this means that the insurance company will stipulate what you sell and when you sell.
In a nutshell, choosing an insurance company to work for should always come down to the job interests you have.
Often, Health insurance jobs are associated with a poor work-life balance.
Due to the amount of cold calling and overall sales and marketing work that agents need to undergo to obtain clients, professionals in the industry often spend many hours at work, with little to no time for personal life.
That being said, look for a company that navigates work shifts to your preference; it might be an excellent place to start when finding a Health insurance company to work for, that suits your priorities.
If you are thinking of joining a Health insurance company as a health insurance agent, some of the top things you need to think about are the type of payments they offer and how they align with your financial goals.
In most cases, health insurance companies pay their professionals in commission, while a few give professionals employment status offering them a base salary.
Depending on your monthly commitments, being paid in commission might not always translate to meeting your financial targets, while earning a base salary may be limiting your earning potential.
Think about the payment type that suits your needs best and consider this when applying for a job.
While it's common for people to settle for employment with any company when searching for a job, it's crucial for you to research the type of company you may want to work for.
This research should include how that company may assist you in fulfilling your career goals before you accept the offer.
We've been able to highlight the positive elements of some of the best health insurance policies available in the country.
Also, you now know how they may help you perform better at your job, we hope that you are better informed and equipped to land the specific health insurance job you deserve.
Good luck!