The Best Work Cufflinks
Cufflinks have made a recent resurgence in the corporate world.
Once relegated to European aristocracy, cufflinks are now worn in all levels of the corporate structure, from C-suite executives to entry-level positions.
We are going to discuss below the best work cufflinks that you can purchase from Amazon.
These cufflinks will not only enhance your style, but make you appear more presentable and professional.
What Are Cufflinks?
In the most basic sense, cufflinks are a tool to fasten shirt cuffs closed.
Cufflinks are an alternative to buttons which are directly sewn into the cuff of a button-down shirt.
Whereas these buttons are sewn directly onto the cuff of a shirt, cufflinks are separate objects which are purchased individually.
As with the buttons on a shirt, cufflinks can come in a variety of materials, shapes, sizes, and styles.
However, cufflinks offer a wider variety of looks and fashion for the wearer.
Although optional, cufflinks are typically considered more formal than their button counterparts.
How Do Cufflinks Work?
Cufflinks are, unsurprisingly, extremely easy to fasten on and off.
A cufflink is fastened onto the cuff of a shirt by inserting the cufflink through the holes on the opening of the cuff.
Once inserted, the cufflink will be "swung" into a locked position, holding the cuffs together.
Eight Different Types of Cufflinks
Cufflinks can come in a variety of different materials, shapes, sizes, and styles.
Depending on the situation, event, of formality, different cufflink designs can be chosen.
By far, the most common cufflink design is the bullet back and toggle closure cufflinks.
These are popular due to their ease of use and security.
Whale back closure cufflinks are another popular cufflink style.
It features a straight post with a flat attached at the end.
This post flips flat against the post and back again to lock.
A smaller and lighter weight cufflink is the stud or button cufflink.
These feature a fixed backing, typically made from the same material as the front.
These are by far the most secure cufflinks but are also the most difficult to fasten.
Chain cufflinks are another popular style.
They are more traditional, and an original style compared to the rest.
The ends are made of the same material, with a loose chain connecting the two sides.
Ball return cufflinks are a newer style and can be seen as more appealing than the normal bullet ones.
They are simple to put on and take off and provide some looseness for breathability.
Locking cufflinks are also a more modern take on cufflinks.
They are inserted into the cuffs of the shirt and folded to lock into place.
These cufflinks are secure and easy to use.
Silk knot cufflinks are a more informal style and tend to be a bit more affordable.
These cufflinks are made of yarn and are typically made of an array of different colors.
These cufflinks can also be great for wearing on a daily basis at the office.
Lastly, are fabric cufflinks, which are also worn at less formal events and occasions.
Similar to silk knot cufflinks, but typically have rounded metallic edge.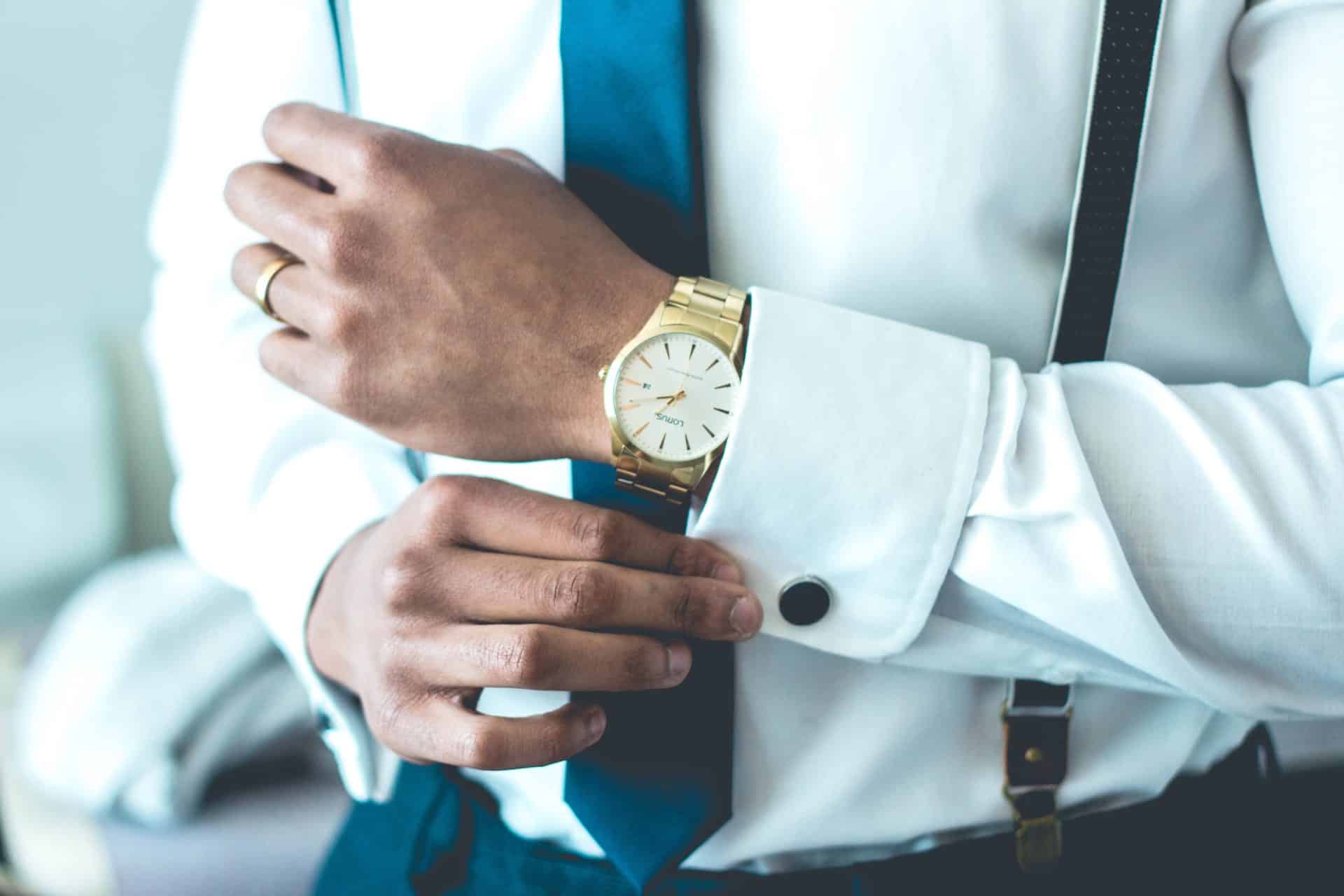 The Best Work Cufflinks to Buy on Amazon
The Best Work Cufflinks to Buy on Amazon
Please note, some of the product links below are affiliated with the Amazon Associates Program.
This program provides The Corporate Connoisseur with a small commission on any purchases made via those links.
This is at no additional cost to you and helps to keep this site free, honest, and bias free.
Baban Deluxe Steampunk Vintage Watch Movement Cufflinks
If you're a fan of watch movements and interiors, then the Baban Deluxe Steampunk Vintage Watch Movement Cufflinks are the perfect cufflinks for you.
These cufflinks take actual movements from early wind-up watches, providing you with a unique sense of style and fashion.
Kenneth Cole Reaction Men's Cufflinks
Kenneth Cole's Reaction Men's Cufflinks are some of the most professional and modern cufflinks on the market.
With eight different and unique styles, these cufflinks feature a sleek, clean, and modern front-end design.
Made of 100% metal, these cufflinks can be worn for nearly any formal or informal occasion.
LBFEEL Rhodium Plated Blue Globe Earth Cufflinks
The LBFEEL Rhodium Plated Blue Globe Earth Cufflinks are definitely a crowd favorite.
These cufflinks feature a replication of the world globe and can be spun while worn on the cuff of a shirt.
These cufflinks are a bit more informal but are a great gift or present for anyone who values cufflinks.
A & L Personalized Two-Tone Stainless-Steel Cufflinks
If you're looking for a unique, personalized cufflink, look no further than A & L's Personalized Two-Tone Stainless-Steel Cufflinks.
These cufflinks, when ordered, can be customized to feature your initials or any other sentimental information.
With a more formal look and style, these cufflinks are great as a gift or to add to your own wardrobe.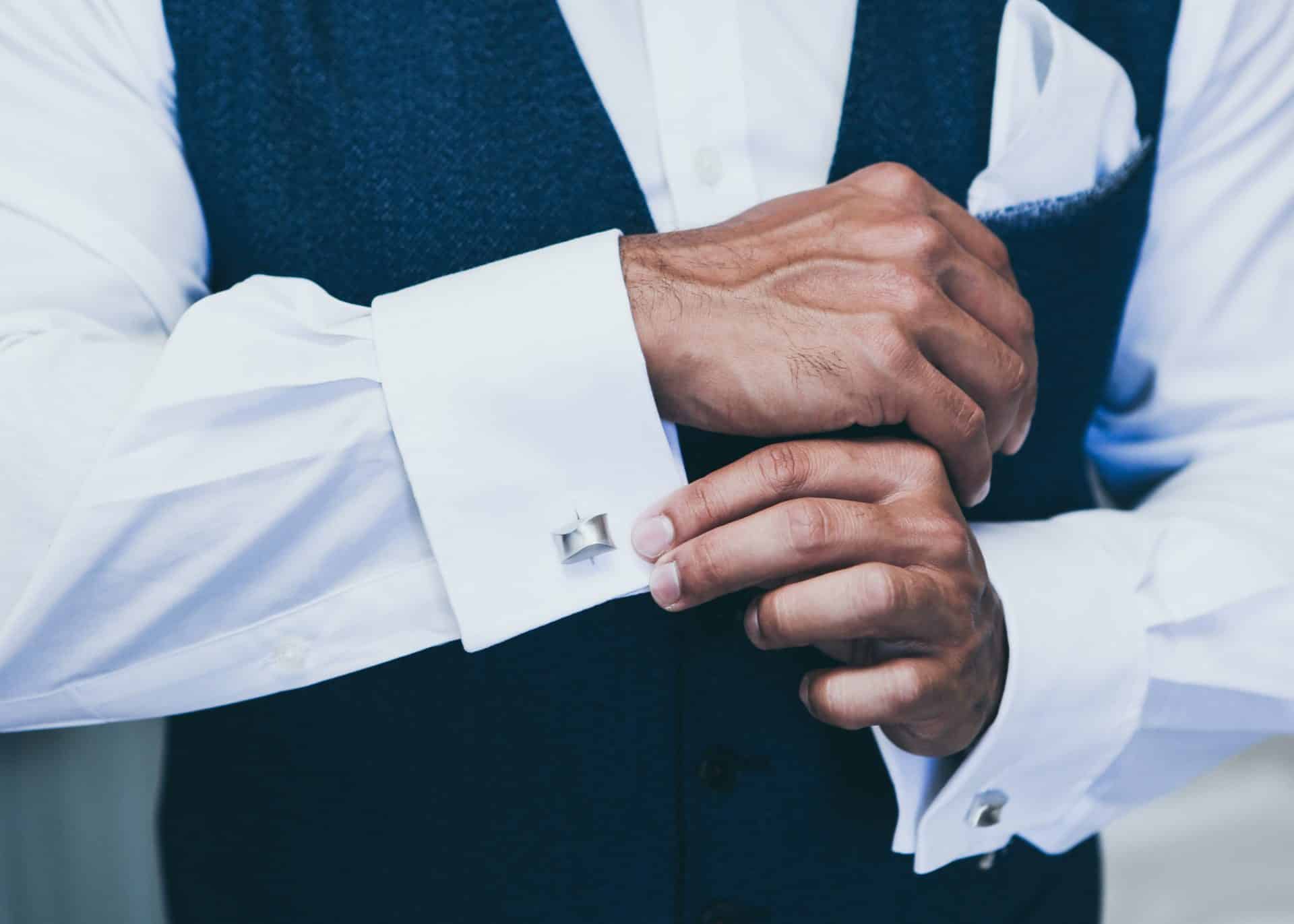 Mont Blanc Iconic Lines Black Onyx and Stainless-Steel Square Cufflinks
For the ultimate in luxury, fashion, and professionalism, look no further than Mont Blanc's Iconic Lines Black Onyx and Stainless-Steel Square Cufflinks.
These cufflinks are the epitome of formality, with a stark contrast between the black onyx and stainless-steel material.
A must have for anyone who takes their cufflinks seriously.
Stacy Adams Men's Square Silver and Black Cufflinks
Another formal design, this time presented by Stacy Adams, these square silver and black cufflinks feature jarring lines, crisscrossed throughout the square frame.
With a piece of jewelry placed towards the far end corner, these cufflinks help you to look more professional and presentable at any occasion.
Conclusion
Cufflinks are an essential design piece and ornament for any career professional.
Helping to extenuate your wardrobe, cufflinks have made a resurgence in recent years and are becoming more popular.
Cufflinks, once seen as a symbol of wealth, are now being worn for both formal and informal events.
The best work cufflinks we discussed are generally more formal and professional.
These are cufflinks that can be worn to work and will help you to appear more professional.
Whether you are simply trying to upgrade your wardrobe or make a long-lasting impression, these cufflinks will help you reach your full potential.
Additional Reads