Hello and welcome to yet another exciting piece on Chartered Financial Analyst examination results.
After reading through it, you will have a better understanding of the CFA exam results, the passing scores, and how to prepare better and pass the three levels of the CFA exam.
In this article, we shall look at:
So, let's continue!
Understanding Your CFA Exam Results
After passing the CFA Program exam, you must have the facts you need to pursue your career, study for the next exam level, retake the same level, or explore alternative options.
Your score report contains critical information that you can utilize to make an informed decision.
Many things have an impact on your exam score.
Your genuine ability, or how well you know the content, is the most significant of these.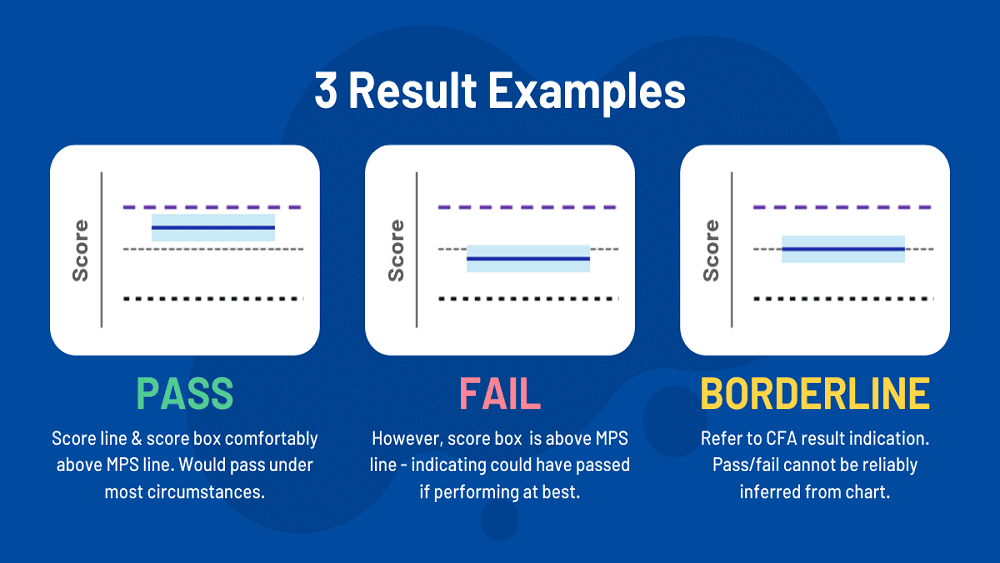 You'd be able to evaluate your genuine ability if you could answer an endless number of questions under ideal conditions.
Because this isn't possible, other factors may positively or negatively impact your score.
According to the CFA Institute, candidates can make truthful claims regarding their exam achievement, including sharing exam results on social media.
The CFA exam is designed to demonstrate proficiency, not gauge relative performance.
As a result, comparing individual and aggregate results should not infer higher performance.
Please keep in mind that such a statement must be factual and specify the year you obtained the results.
Please keep in mind that aggregate percentile ratings are provided so that candidates can see how they stack up against the competition.
CFA Scoring System Overview
Machines assess the multiple-choice questions on all CFA exam levels, with a 10% audit reviewed by humans.
CFA charterholders judge the essay section of Level 3, often known as "Constructed Response".
During the first week of grading, several levels of charterholders and a "grader of graders" grade all of the examinations, but they also examine each other's work to maintain uniformity.
The mid-fifty percent of exam scores are graded again in the second week.
If there is a significant difference in grading, the examinations are graded a third time.
The tests are then given an MPS (Minimum Passing Score).
The MPS is used to determine whether or not a candidate has passed or failed the CFA test.
The MPS fluctuates yearly and is determined by CFA charterholders on the CFA Institute Board of Governors.
Approximately six weeks following the exam completion and grading, the Board of Governors determines the MPS for Level 1 and Level 2 during this scoring period.
The MPS for Level 3 is established roughly seven weeks after the exam is completed and graded.
A candidate is given a conclusion of "Pass" or "Did not pass".
A performance summary on each section of the exam and the maximum possible points for each topic are included.
The score is divided into three categories: below 50 percent, between 50 and 70 percent, and greater than 70 percent.
It's not easy to become a CFA charter holder.
The Level 1 test is purposefully designed to be challenging, but only for a good cause.
The Board of Governors sets the bar high to ensure that only individuals with complete and in-depth knowledge of the subject matter advance to CFA Level 2, and the exam pass rate reflects this concept.
Unfortunately, only 38 percent of candidates who take the CFA Level 1 exam pass it on average.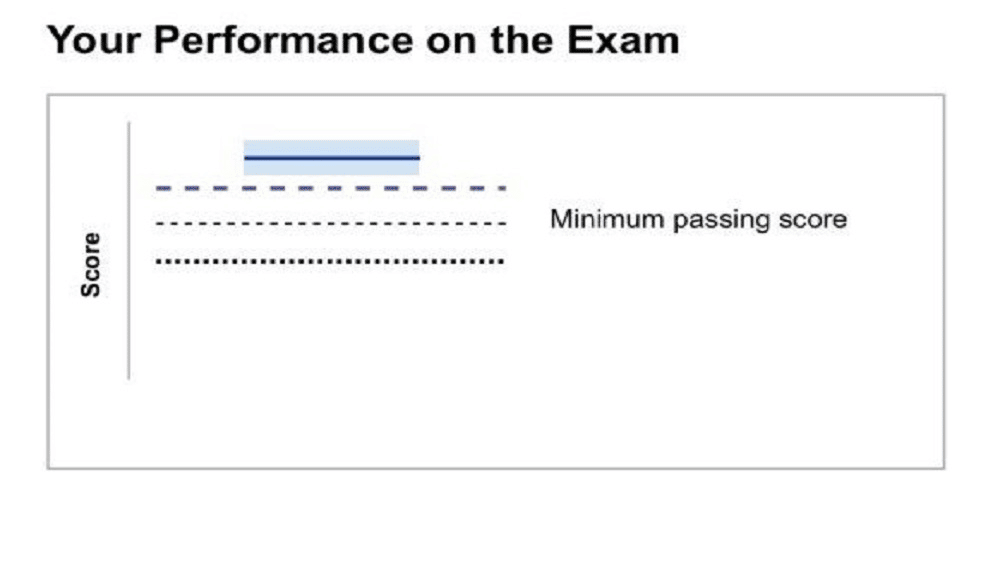 To pass the CFA's second level, you'll need a score of at least 65 percent, though depending on the year's weighted grading, any number under 70 percent can be a pass or fail.
The MPS will be determined by the Board of Governors, who will also assess whether each candidate is within the passing range.
You should have a fair chance of passing the CFA second level if you do well on the multiple-choice questions.
Level 2 of the CFA is frequently regarded as the most difficult of the three portions.
The second level exam is passed by roughly 43% of students on average.
The first portion may appear more difficult because it has a lower pass rate; however, this is not the case.
Only the most competent people appear for the Level 2 exam since the Board of Governors purposefully sets the MPS so high for Level 1.
When determining the Minimum Passing Score for the Level 3 exam, it is frequently set at 60 percent.
Therefore, you'll need to get around 60% on each Level 3 exam's testing sections, both the morning and afternoon sections.
As a result, if you only score around 50% in the morning portion, you'll need to score around 70% in the afternoon to make up the difference and offer yourself the best opportunity of passing the Level 3 exam with a score above the minimum passing score (MPS).
The CPA exam's Level 3 exam has the highest pass rate.
The test is passed by 56 percent of test-takers who make it to Level 3.
Because a considerable percentage of the questions require answers in essay format, this test area proves to be challenging for many candidates.
Having passed levels 1 and 2, you should devote substantial time to learning how to answer essay questions quickly and efficiently and brushing up on master topics such as portfolio management.
CFA Level I/Level II exam results should be available 8-10 weeks after the exam window closes, and Level III exam results should be available in about 10 weeks.
After testing and the exam window closes, CFA Institute undertakes a detailed review of exam questions and candidate performance to determine the minimum passing score (MPS) that demonstrates basic subject matter competency.
Hundreds of CFA charterholders will participate in an essay grading session for Level III grading.
The Board will then approve the Minimum Passing Score of Governors.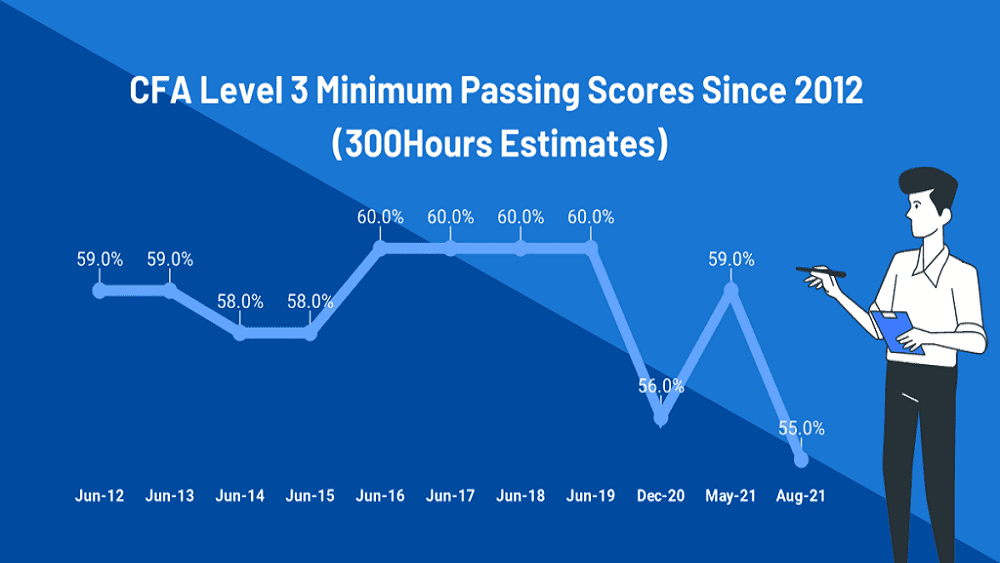 To ensure that results are presented accurately to all tested candidates, rigorous quality control methods and data quality review activities are undertaken.
CFA Candidates will get periodic notifications to keep them informed about the status of their exam results.
In addition, the CFA Institute will post new information on its website as soon as they are available.
Breakdown of the CFA Exam Result
How a candidate's exam performance is published has altered in recent sittings at CFA Institute.
The new CFA exam results style provides various information on overall performance, performance compared to the minimal passing score, performance compared to other candidates, and performance by topic.
This breakdown, when used correctly, can be a valuable tool for arranging your studies for the future.
CFA Exam Results Passing Score: An essential piece of information is the CFA exam's minimum passing score, shown by a dashed line.
Your exam score will be displayed as a solid blue line.
If your score is higher than the minimum passing score, you progress to the next level or complete your membership application.
Conversely, if your score falls below the passing mark, the report contains a wealth of other information that you may and should use to build your CFA exam retake strategy for the next attempt.
CFA Exam Confidence Interval: The confidence interval for the CFA exam reflects the range in which your score could have been affected by favorable or unfavorable testing variables and is depicted by a light blue shade around your exam score.
For example, a 90 percent confidence interval is shown by the light blue coloring surrounding your exam result.
The score you'd get if everything went perfectly on exam day—you felt beautiful, you got the right questions, and the candidate next to you didn't have any annoying habits to distract you.—is at the upper end of the confidence interval.
The bottom of the confidence interval essentially denotes the inverse.
It is the grade you'd get if the exam assessed your weakest areas and you were having a terrible day on the exam.
CFA ExamPercentiles: The 90th and 10th percentiles are the last elements of the comprehensive score report for the CFA exam.
Only 10% of candidates scored in the 90th percentile or higher.
So it's safe to say you smashed it if your mark is anywhere near the top.
Ninety percent of candidates scored higher than the 10th percentile on the other end of the scale.
If you find yourself there, it's a warning that you need to devote much more study time or radically change your study strategy.
How to Optimize Your Scores
The most common reason for persons failing the CFA exam is a lack of time.
Due to the sheer volume of information, you must retain, it's a challenging exam to pass if you didn't put in the hours.
A lack of question practice, on the other hand, is almost as widespread.
Many applicants spend four months reading the study materials, a few weeks practicing questions, and a mock exam or two.
This approach will undoubtedly leave portions of the syllabus that you have studied but have not yet practiced enough questions.
The exam will be painful as a result of this.
Moreover, if you don't know how reading is usually assessed on exam day, you're likely to be confronted with unexpected and thus tricky questions.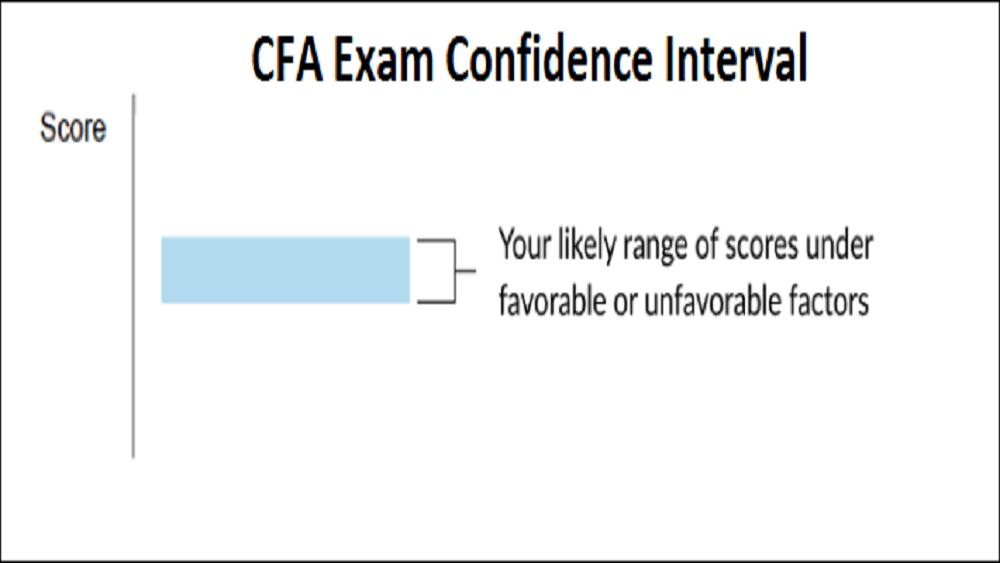 Therefore, our recommendation is:
Starting on day one, if you have a two-hour study session planned, you should dedicate an hour of it to practice exams.
After that, the last month of your life should be nearly entirely dedicated to mock tests.
Though the Chartered Financial Analyst exam is challenging, it's not that difficult to prepare for.
If you take a few days off from work and devote them to studying, you should be able to get ready for it with little difficulty.
On the other hand, if you spend a lot of time preparing for it, you should know most of what's on it and have no trouble passing.
My recommendation is CFA Institute's own CFA Program Curriculum, which covers every subject in their curriculum in great detail; I'd imagine anyone spending enough time with these materials should do well in getting ready for the CFA exam.
Though it isn't easy, you can do it if you commit enough effort and determination.
Interpreting the CFA Exam Result