One of the best ways to show employee appreciation and increase employee morale, is to recognize an employee on their birthday.
Birthdays are an important date for many employees, and remembering, decorating, and celebrating an employee's birthday is a great way to show them you care.
There are a plethora of differing ways on how to decorate a cubicle for a birthday, including balloons, streamers, banners, and other birthday specific gifts and items.
We're going to include a whole slew of items, which you can mix-and-match, to make your colleagues special day even more enjoyable.
Birthday Cards
While not exactly part of the design element, a birthday card, signed by everyone in the office, is a great way to show thoughtfulness and appreciation on a birthday.
The card should be neutral, with a simple message.
You don't want to get any cards which may be deemed offensive, mean, or insincere.
Wishing a coworker or colleague a happy birthday is highly dependent on the type of relationship you both have.
If it is a strictly working relationship, then a simple "happy birthday!" works well.
However, if you have a closer, more platonic relationship, then you can go for a more personal message.
We have a list of great birthday messages you can wish your coworker.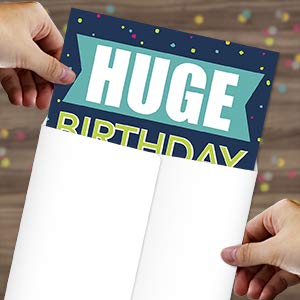 Previous
Next
Previous
Next
Pre-Packaged Birthday Decorations
In recent years, more and more companies have begun to offer pre-packaged birthday decorations.
These decorations are pre-made and follow a similar theme.
This makes the process of decorating, setup, and gathering much easier.
The only downside of these pre-packaged birthday decorations, is that it is difficult to find designs which are unique or personal for the birthday person.
However, if you're short on time or need to pick something up quickly, this is one of the best ways to help you decorate a colleagues cubicle for their birthday.
Zelaar Gold Happy Birthday Balloons Banner Set with Confetti Balloons
Previous
Next
Previous
Next
Previous
Next
Birthday Streamers
Birthday streamers are one of the easiest ways to decorate a cubicle for a colleagues birthday.
They are relatively inexpensive, can be hung up quickly, and add a colorful flair to any cubicle space.
Birthday streamers can be hung from either the ceiling or from one end of the cubicle to the other.
Previous
Next
Previous
Next
Birthday Balloons
No birthday would be complete without birthday balloons.
Balloons are fun no matter what age you are, or how old you're turning.
Whether you opt to go for helium filled balloons or not, they will be sure to be played with for the entire day and no birthday decoration is complete without them.
Previous
Next
Previous
Next
Birthday Hats
Nothing like getting in the birthday spirit with some birthday hats.
These hats will help everyone feel more festive and part of the celebration.
Birthday hats are great because they can be used multiple times and bring attention to the celebration.
Previous
Next
Birthday Glasses
Birthday glasses are some of the silliest decorations, but can really help get your colleagues and coworkers in a festive mood and spirits.
These glasses look funny on just about everyone and coupled with the birthday hats, you'll definitely have a party going!
Previous
Next
Birthday Cake
The last thing you'll want to bring is a birthday cake.
You should definitely try to find out what your colleague's favorite flavor is, as that will add a nice personal touch to the cake.
In addition, you should make sure that none of your colleagues have any allergies which could be found inside the cake.
As more and more people have certain peanut and nut allergies, you'll want to take every precaution you can so that no one gets sick.