Hello readers!
We are here with yet another informative article to keep you updated about the range of a Health Insurance agent salary in various states of the US.
By the end of this article, you will understand how much salary do health insurance agents make, their commission structure, and the factors that impact an insurance agent's salary.
Here are the key points covered in this article;
Without further delay, let's get started!
How Much Do Insurance Agents Make?
While some employers require a college degree, others are fine with a high-school diploma as well.
The starting salary of an insurance agent averages about $29.58USD per hour.
The insurance agent can receive salary plus commission or only sales commission depending on their employer.
They may start low, but their earnings increase as they gain experience.
According to SalaryExpert, Reno, Nevada, paid an average salary of $33,952 per year as of December 2021.
However, the earnings can be categorized from $36,234USD/year to $61,516USD/year (Average), to $77,226USD/year (Senior).
Research shows that life insurance agents earn around 4% more in Reno than someone with the same experience and qualifications working in other locations of the U.S.
How Much Does an Average Life Insurance Agent Make?
Although the market is highly competitive, smart agents can earn a six-figure take-home salary.
Even an average licensed health insurance agent having a high-school degree can make twice as much as the national average income.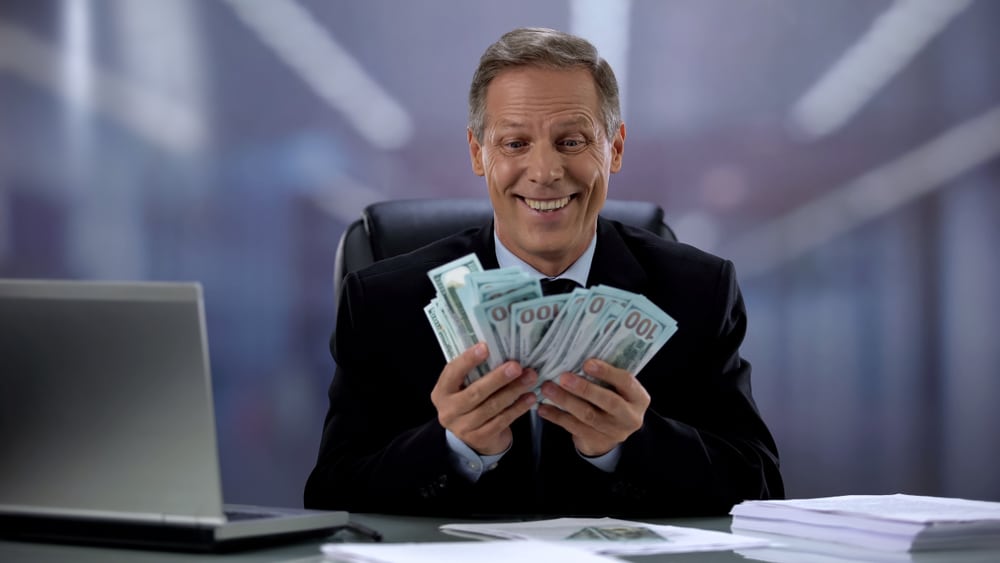 Entry-level licensed health insurance agent's salary averages approx. $38,000 yearly, but once you reach a mid-level in your career path, you can be making $63,000 yearly.
As you excel in your career and get a license, you can expect a handsome salary of $104,000 per year.
Factors Determining an Insurance Agent's Salary
The average licensed health insurance agent's salary is not what every individual in this occupation makes.
The following factors affect an insurance agent's salary.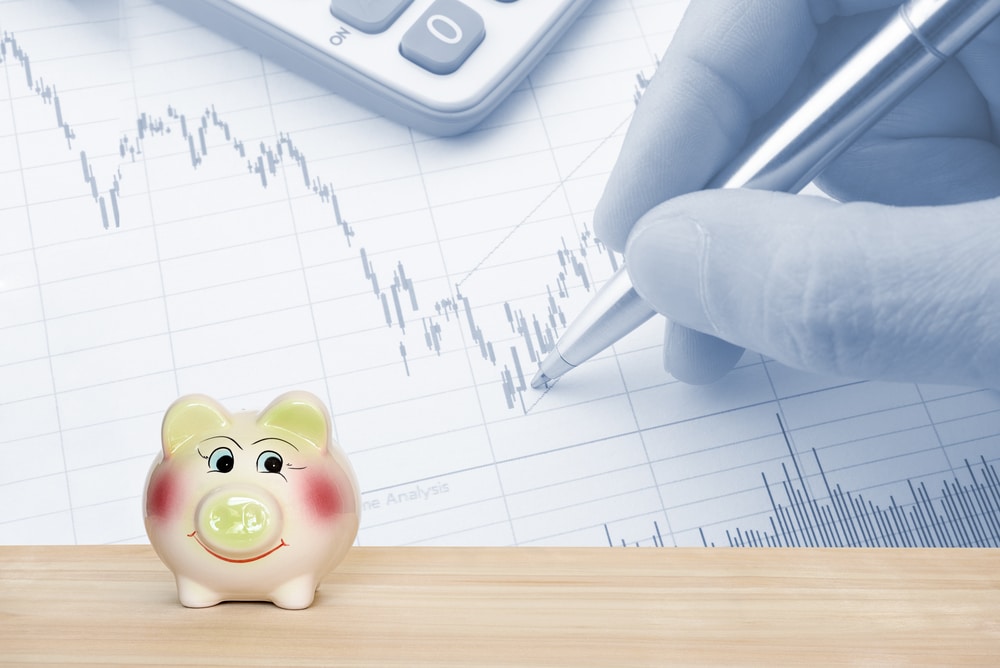 Your earnings can vary based on whether you are a captive agent or an independent agent.
Captive Agents
These agents are bound to sell only one company's insurance products.
Although the company helps in lead generation, it is difficult to achieve sales targets.
Independent Agents
These agents are free to sell various policies from multiple insurance companies.
More experienced insurance agents opt to work as independent agents.
The independent health insurance agent salary was estimated to be an average of $50,600 per year, according to the U.S Bureau of Labor Statistics in 2018.
Now the national average salary of an independent agent is $72,813 in America.
The salary scale varies according to the location and company.
The type of insurance you sell can determine how much you will make.
Life and Health Insurance Policy
These policies allow the agent to take a huge percentage when the customer signs them. The agent earns a commission on the policy renewal as well.
Home and Auto Insurance Policy
The agent can potentially grow his income in these policies as they get a percentage on the policy's premium and policy renewal.
The public health status, accident rates, cost of living, and the population rate of an area are variables that can directly influence the healthcare insurance agent's salary.
Let's take a closer look into the health insurance sales agent salary by state.
National Average Salary
This graph shows the health insurance agent's salary over the years.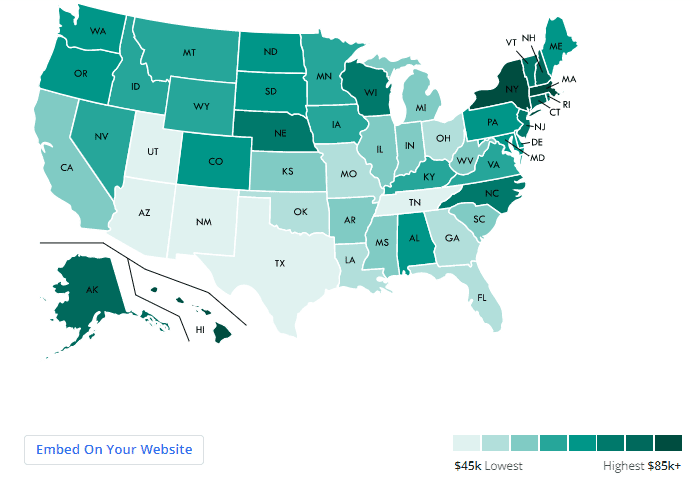 The national average salary is $40,052 for a health insurance agent in the United States, although it varies state-wise.
Let's take a closer look into the salary structure of various states.
Insurance agent salary in California
The average salary in California is $58,076 with an hourly rate of $27.92.
An entry-level insurance agent can earn $47,365, whereas a licensed insurance agent can earn from $53,436 to $66,000.
Health Insurance agent salary in Florida
The average salary in Florida is $52,550 and $25.26 per hour.
The top earners make around $94,658 per year in Florida.
Health insurance agent salary Texas
In Texas, an agent can earn $45,687 as an average salary, taking $21.96 on an hourly basis.
This is 5% lower than the average salary of agents working in the other states of the U.S.A.
Insurance agent's salary Charlotte NC
The lowest salary in North Carolina is $23,583 per year, while the highest an agent can earn is $99,101 annually.
The salary per hour approximately comes up to $19.
Licensed Health insurance agent salary Georgia
An average salary of $52,285, is drawn by insurance agents every year in Georgia.
This makes $25.14 as hourly wages.
4. Structure of Commission
In this point, we will discuss how much do health insurance agents make on commission?
The volume and percentage of commissions strongly influence an agent's earnings.
An independent agent generally earns a higher commission; whereas, the captive agent receives a smaller percentage of commission.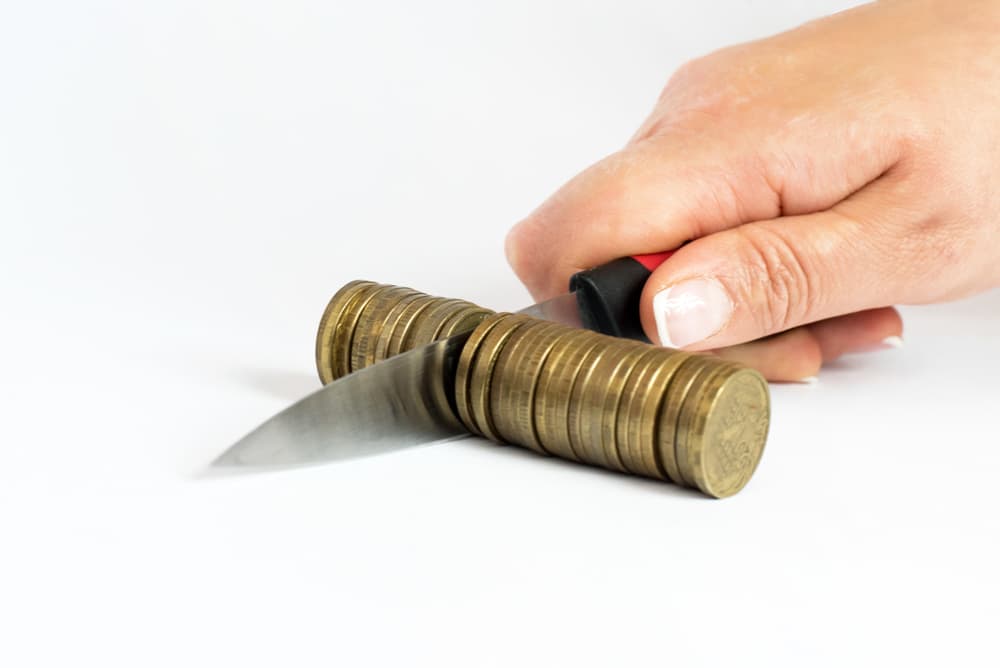 An average insurance carrier provides captive insurance agents around 5-10% commission.
The independent agent makes about 15% commission out of a new policy.
The amount of commission depends on the policy's tenure in years and is segregated between the first-year commission and the renewal premium.
For example;
Commission Structure
Commission in Traditional Policies*

Tenure of Policy (years)

First Year

Renewal Premium

5

15

7.50

6

18

7.50

7

21

7.50

8

24

7.50

9

27

7.50

10

30

7.50

11

33

7.50

12 or more

35-40%

7.50

*%age of premium Source Industry
This job requires on-job training and hands-on experience more than a higher educational qualification.
A high school diploma works perfectly fine as beginners shadow other agents to learn the trait.
However, agents must be licensed by the state they practice in.
Agents may require different licenses to sell various kinds of policies.
The last factor affecting the health agent's salary is the payment outlook.
The insurance agents have a better payment and employment outlook than other occupations in the U.S.
The demand for this position is expected to stay steady as there will be a continuous need for companies to search and obtain new customers.
It is predicted that the position of an insurance agent will grow by 10% by the year 2028, whereas the salary potential will increase by 16% in 2026.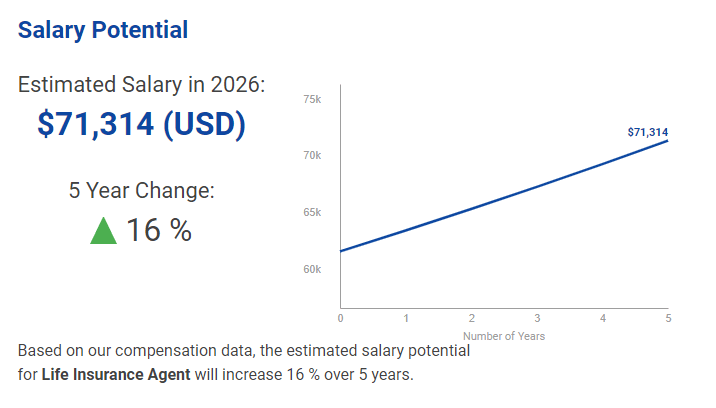 How Much Does an Insurance Agent Make an Hour?
According to the latest job data nationwide, it is estimated that the average per hour salary for newbies starts from $16 on the lower end and reaches up to $31% per hour.
As of Dec 10, 2021, in the U.S, the average hourly pay for a life insurance agent in the U.S is $38.33 an hour.
When seen according to percentile, most Life Insurance Agents range between $24.04 (25th percentile) to $47.84 (75th percentile).
Accident and Health Insurance Agent Salary
One of the top recruiters has recorded salaries as high as $120,000 and as low as $15,500.
A life and health insurance agent's salary in the United States is $57,234.
How Much Does a Licensed Insurance Agent Make?
In the United States, the national average salary of a licensed insurance agent ranges from $40,232 to $41,000 annually at entry-level.
However, these figures vary according to the area.
The highest take-home salary of a licensed insurance agent is $61,993 to $63,000 per year.
On an hourly basis, a licensed agent earns $30.65.
Compared to auto insurance, selling health insurance is a more lucrative career.
What is Florida Blue Health Insurance?
Florida Blue (Blue Cross and Blue Shield of Florida), is a Guide Well company having a reputation of 75 years in providing insurance to the residents of Florida.
Its mission is to help people and communities achieve better health.
The company has a customer base of more than 5 million across the state and holds a national license to provide customized health plan administration and other services.
It is a not-for-profit health solutions company having its headquarter in Jacksonville.
This company is an independent licensee of the Blue Cross and Blue Shield companies.
CMS has awarded FHCP Medicare HMO, and Florida Blue Medicare plans with a 5-star rating for two consecutive years in 2019 and 2020.
Florida Blue health insurance agent salary is $18 to $29 per hour.
The average national salary for an insurance agent in the United States is 9% lower than the average salary at Florida Blue, estimated to be $55,502 for the same position.
In 2021 the maximum eligible income for a single household is $51,040, and for a family of four, it is $104,800.
Health insurance agents' salaries vary by city and are also dependent on the type of insurance products you choose to sell.
However, health insurance agents make a decent earning from commissions and independent agents earn higher on commissions than captive agents.
Make your next career move the best move ever by choosing a career as rewarding as a healthcare insurance agent.
So while you help people achieve their personal and financial goals, you can excel in career and income.