How To Clean A Suit
A suit is one of the most important wardrobe pieces.
It is a timeless piece of fashion and exudes confidence, professionalism, and maturity.
While many companies are beginning to shift towards a more relaxed and casual dress environment, there are some notable exceptions, especially in the banking, consulting, and financial industries.
Learning how to dress in a suit is one of the best life skills you can have.
Your suit is an expression of yourself and how you view yourself.
It is also an investment and can help you to stand out and look sharp, whether at a personal or professional event.
Whether or not you wear a suit daily or once-a-year, knowing how to clean a suit without dropping it off at the dry cleaners is an invaluable skill to have.
While dropping off a suit at the dry cleaners is an easy solution, a recent study indicated that the average businessperson spends nearly $500 to $1,500 a year on those services.
Per the infographic below, dry cleaning services on suits around the world range from as low as $2.20 in Indonesia to nearly $52 in Norway.
Your money could be better spent elsewhere, which is why it is so important to learn how to clean a suit.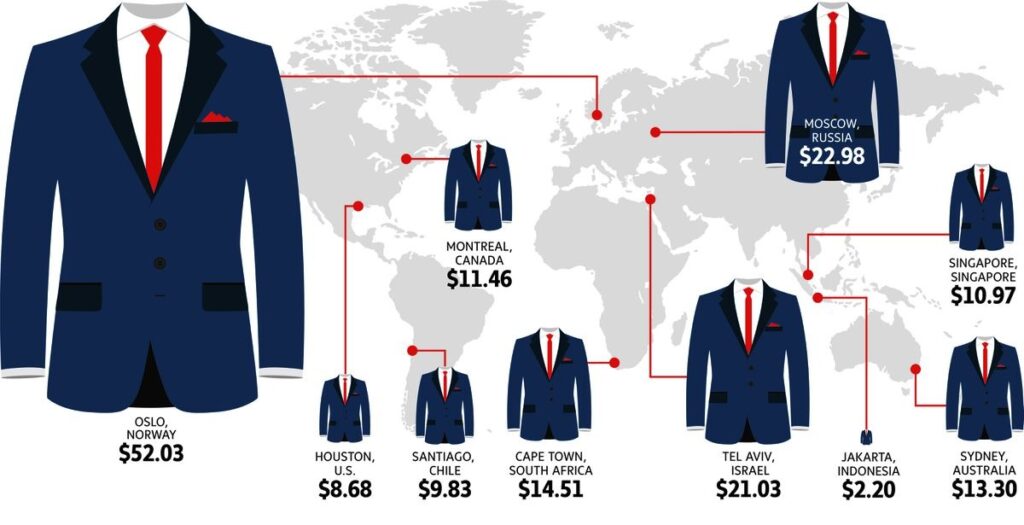 The Spot Treatment
For simple specs of dust, dirt, and smudges, a simple spot treatment will work to clean the suit.
This can be done by utilizing a damp washcloth and blotting the affected area.
The washcloth should be dampened with cold water.
So long as the stain is surface-level and has not infiltrated the inner areas of the suit, then the spot treatment will work on cleaning it.
In The Washer (10 Easy Steps)
Another effective method to cleaning a suit is running it in the washer.
Now, you don't want to simply throw your suit in the washer and turn it on, this is a process but will ensure that your suit is cleaned and isn't ruined inside the washer.
Flip the suit inside-out
2. Place the suit inside a mesh bag.
Preferably, the mesh bag should give the suit enough room to move around, it should not be airtight.
3. Place thee mesh bag inside the washer
4. Set the washer to cold water
5. Set the washer setting to wool/delicate and add in any suit cleaner you may have.
6. Once the washer is done, remove the suit from the mesh bag and turn it to the correct side
7. Hang your suit on a hanger
8. Give the suit a couple of hours to dry
9. Use a steamer to get rid of any wrinkles, you should start from the outside and move slowly towards the inside.
Don't pull or tug at the suit as to not ruin it.
10. Voila, your suit is as good as new!
A Suit Brush
A suit brush is a wooded brush with either synthetic or animal fibers.
It is primarily used on wool jacket or suit.
Using a suit brush can significantly extend the life and quality of your suit.
While wearing a suit, it attracts dust, particles, and debris from the elements.
By using a suit brush, you gently clean and remove those particles and debris.
Ideally, you will want to use a suit brush both before and after wearing a suit.
You should go in a gentle, slow, and methodical pace.
It should be a downward movement, starting from the top of the suit.
When To Go To The Dry Cleaner?
While the above methods are great, there are times when you will have to bite the bullet and take your suit to the dry cleaner.
If you wear your suit infrequently, then this shouldn't be too much of a hassle.
However, if you wear a suit often, you're going to want to know when to take your suit to the dry cleaner.
Generally, if your suit begins to have a foul odor or has irremovable particles or debris, then it is best to take it to a dry cleaner.
This is particularly true if your suit begins to have deep layered stains, which are difficult to remove from the surface.
A dry cleaner is a professional service, that will have experience in cleaning a suit fully.
You don't want to take a suit to a dry cleaner too often, as the harsh chemicals used can ruin a suit.
Once returned, be sure to pull off the plastic wrapping around the suit, as it is not a good material for it.
If you're unsure of a good dry cleaner around you, and don't want to trust online reviews, then give them a call and ask about their methods for cleaning a suit.
Although you may not be an expert, a good dry cleaner will be able to explain their methods.
You may also ask if the dry cleaner does their work in-house or sends their clothes to an off-site facility.
Conclusion
Learning how to clean a suit is a fine art and a process.
However, ensuring that your suit is clean, odor-free, and presentable will make you appear more professional and buttoned-up.
If you're looking to dress-to-impress, then a suit is a great option and one that can never go wrong.