Hello there, welcome to another exhilarating read on Labor and Delivery Nurse!
Today, we'll walk you through every aspect of the Why and How to become a Labor and Delivery Nurse.
We'll cover the careers in Labor and Delivery Nurse, salary and job prospects, why you should consider becoming an L&D Nurse, and how to get into Labor and Delivery nursing.
We'll take you through:
What is a Labor and Delivery Nurse?
Job descriptions of LD Nurse
Salary and career outlook for L&D Nurse
Interesting Labor and Delivery Nurse facts
No matter how many times a mother has gone through Labor and Delivery, it is physically and emotionally draining.
An L&D nurse is there to make things bearable.
Let's get started right away!
What is a Labor and Delivery Nurse?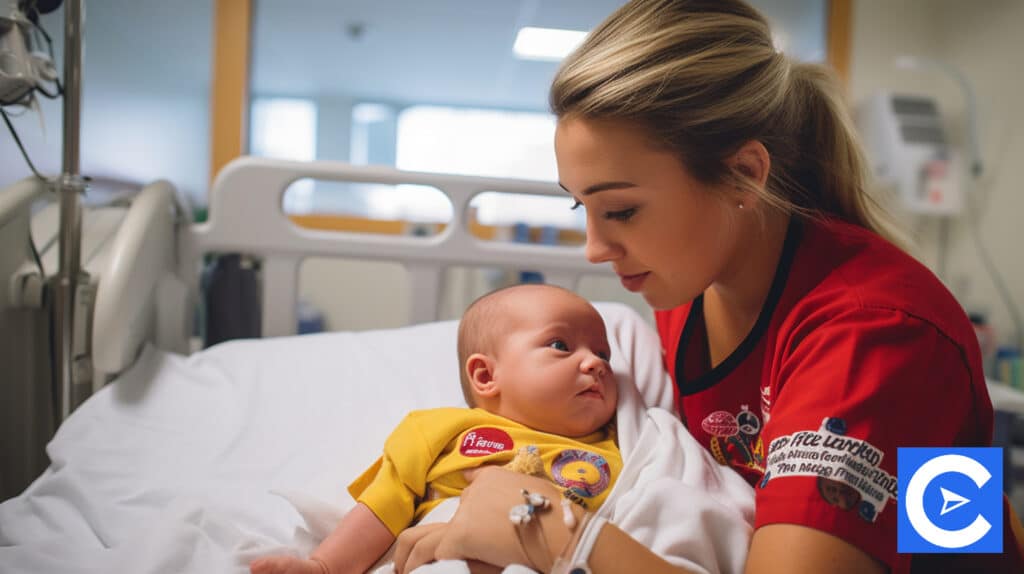 Labor and Delivery (L&D) Nurses are on hand for every stage of the delivery or birthing process and postpartum care, from admission to discharge.
L&D Nurses start off as Registered Nurses (RNs) and then progress to APRNs (Advanced Practice Registered Nurses) such as OB/GYN Nurse Practitioners, but they eventually pursue specialty training to assist women in childbirth.
Unlike many other RN occupations, where you can provide a wide range of patient care, Labor and Delivery Nurses have a very particular role: they work with women who are ready to give birth.
In most cases, while most Labor and Delivery Nurses work in clinics or hospitals, birthing centers are sprouting up all over the country.
The good news for anyone considering a career as a Labor and Delivery Nurse is that the role will always be in demand, whether in a birthing center, clinic, or hospital.
You can pick this gratifying and exciting nursing career path by getting experience as a Registered Nurse and then concentrating on L&D.
Labor and Delivery Nurse Job Description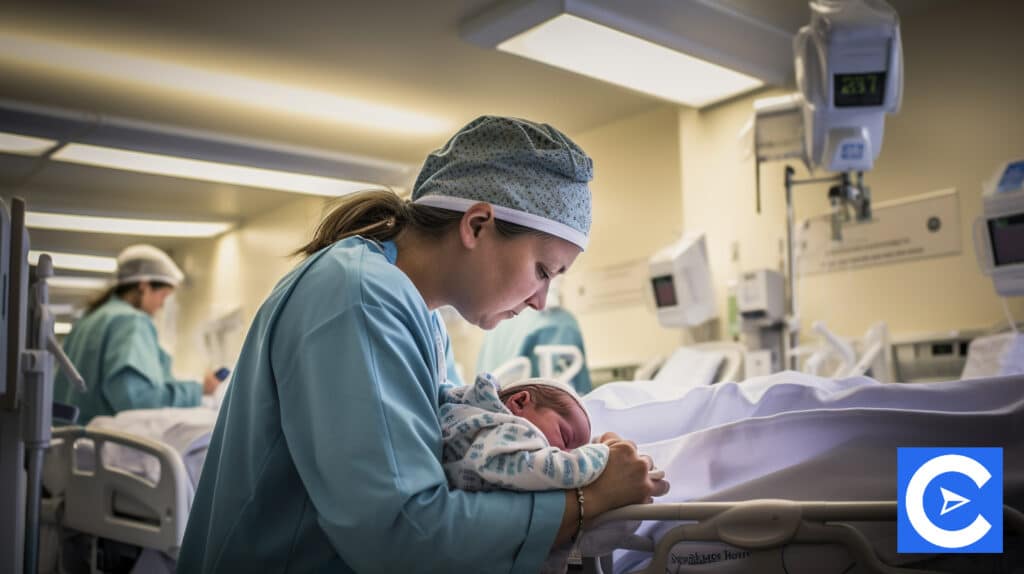 L&D Nurses work with a small number of neonatal patients each day, dealing with any unexpected developments that may arise and also monitoring their progress.
Their work doesn't end there.
They look after the moms from delivery through the period of recovery from giving birth until they are discharged from the birthing center or hospital.
For mothers who have a medical issue or who give birth through C-section, this care is more complicated.
An L&D Nurse's key tasks include the following:
Fetal monitoring before and during Labor and Delivery
Monitoring both the baby's and mother's vital indicators, such as blood pressure and fetal heart rate
Keeping track of the time between every contraction
Detecting and aiding with the resolution of issues
Assisting with the administration of epidurals and drugs
Assisting in the induction of labor
Providing support to new mothers throughout the Labor and Delivery process
In addition, there is a lot of encouragement, hand-holding, and soothing going on in the delivery rooms. And this is provided by the L&D Nurse
Where Do Labor and Delivery Nurses Work?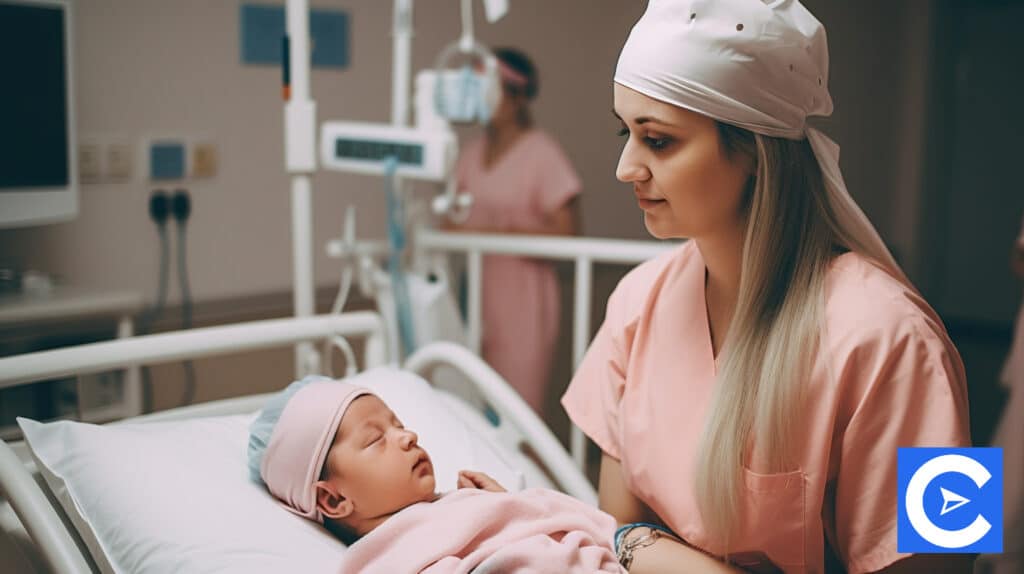 The majority of L&D nursing positions are in hospitals or birthing centers.
Birthing Centers
Birthing centers are medical clinics that take a holistic approach to childbirth.
L&D Nurses work as Doulas or Midwives in this setting, and they are not required to have the same degree of medical certification as Registered Nurses.
On the other hand, a Labor and Delivery Nurse's skill set is transferable and valuable.
Patients' homes
L&D Nurses can assist in home births as Doula or Midwives, bringing their knowledge to a home environment and supporting child and mother through the birthing process, similar to their duties in birthing centers.
Hospitals
Hospitals employ the vast majority of L&D Nurses.
While in the hospital, L&D Nurses serve as Neonatal Nurses, Nurse Midwives, Delivery Room Nurses, and Circulating Nurses as the need arises.
Delivery Room
Monitoring the progress of the labor, encouraging and assisting the mother, bringing in specialists, or otherwise intensifying care are all part of the L&D Nurse's job while in the delivery room.
Maternity Ward
Vital signs are monitored, newborns and mothers are cared for, and the family is educated on baby care.
Careers in Labor and Delivery Nurse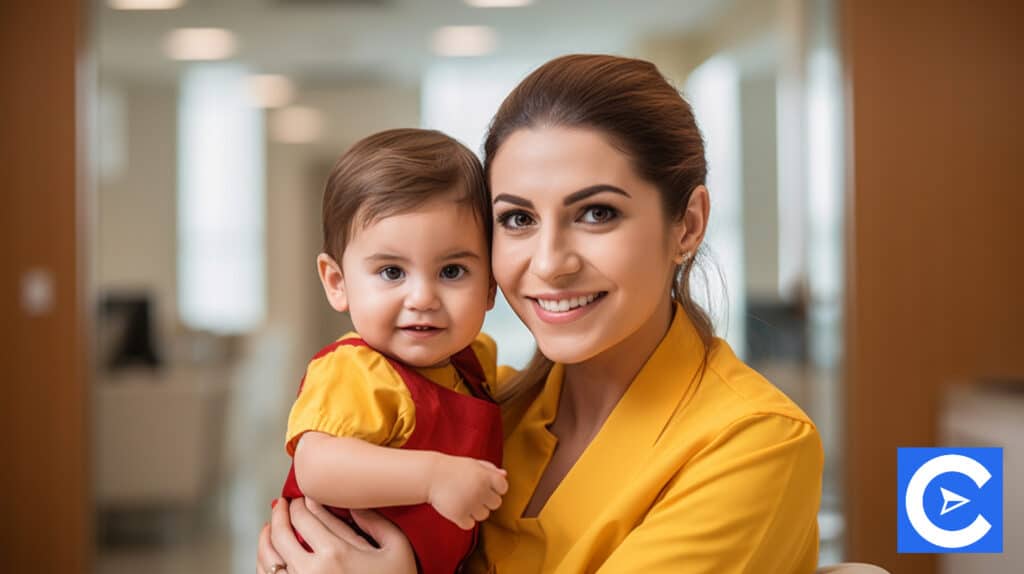 In Labor and Delivery RN, there are many types of nursing jobs to pick from that deal with the care of newborns and expectant mothers.
Some L&D jobs include attending medical school and completing a fellowship and lengthy residency programs, while others simply necessitate completing four years of nursing school and passing the NCLEX-RN exams (National Council Licensure Examination), while others demand getting an MSN.
Here are some of the careers in L&D nursing:
Obstetrics Nurse (OB Nurse)
Obstetric Nurses help Obstetricians deliver infants in hospitals' labor and delivery wards.
Sterilizing instruments, preparing delivery rooms, and caring for newborns are just a few of an Obstetric Nurse's duties.
An Obstetrics Nurse will also assess the baby's vital signs after delivery.
The Nurse then cleans and puts the infant in a warm blanket.
An Obstetrics Nurse must be a Registered or Licensed Practical Nurse.
Licensed practical nursing programs last one to two years, while Registered Nurse programs require a bachelor's degree or an associate degree.
The median Obstetrics Nurse salary was $63,500 as of May 2011.
Obstetrician and Gynecologist
Obstetricians are doctors who only treat pregnant mothers and their babies.
Doctors that specialize in female reproductive health or Doctors in obstetrics and gynecology must complete forty-eight months of undergraduate study, forty-eight months of medical school, and forty-eight months of nursing specialty training.
Obstetricians conduct surgical C-sections on high-risk pregnancies and advise patients on lifestyle and diet to achieve a healthy pregnancy.
With annual salaries ranging from $35,600 (first quartile) to $125,000 (third quartile), the majority of Obstetrics Gynecology Nurse' salaries in the United States are now between $35,600 (first quartile) and $125,000 (third quartile), with top earners getting $232,600 yearly.
Neonatologist
These sets of healthcare providers specialize in the care of ill newborn babies, generally due to premature birth.
Early-birth Neonatologists collaborate with Nurses and Obstetricians in the delivery room.
Premature babies may require immediate breathing assistance from a Neonatologist in the delivery room.
The babies are taken to the Neonatal Intensive Care Unit until they are well enough to go home.
The average salary for Pediatric Neonatologists is $224,600.
In addition to medical school, Neonatologists must finish a thirty-six months pediatric residency and a thirty-six months neonatology fellowship.
Neonatal Nurse
During the first 28 days of a baby's life, Neonatal Nurses assist Pediatric Neonatologists with unwell newborns.
Neonatal Nurses look for signs of discomfort, monitor newborns' vital signs, and administer medication when and as needed.
Most Neonatal Nurses are Nurse Practitioners, which takes seventy-two months of schooling.
The average salary for Neonatal Nurses is $100,400.
Labor and Delivery Nurse Requirements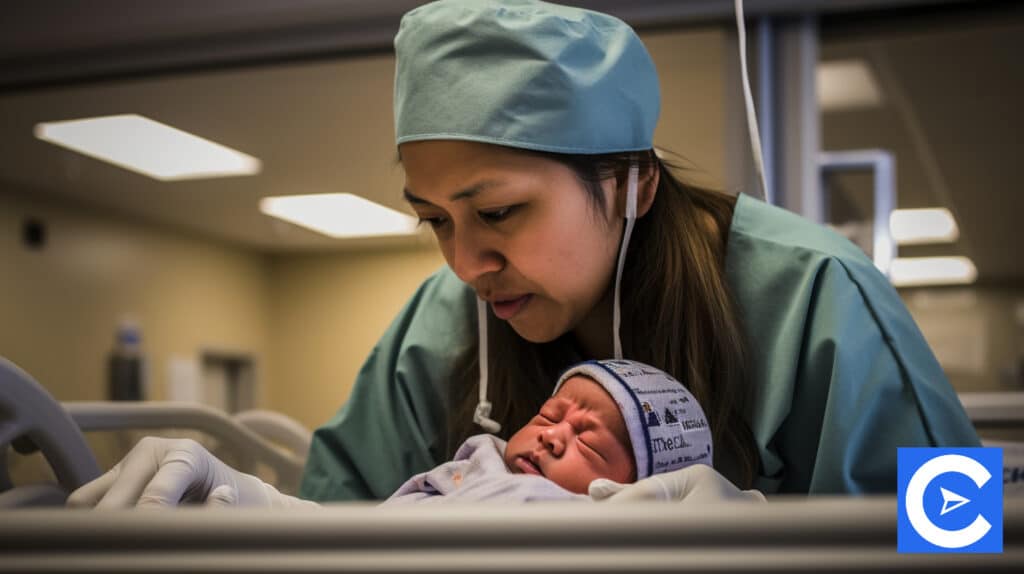 Certified Labor and Delivery Nurse Education Requirements
A bachelor's degree in nursing is required for all Maternity Nurses.
Some institutions prefer applicants who have a twenty-four months Associate Degree in Nursing from technical schools or community colleges, while others prefer applicants who have a bachelor's degree in nursing from a forty-eight-month university.
Although many institutions offer elective courses in obstetrics, neonatal nursing, and related subjects, there are no degree programs, particularly for maternity nursing.
To proceed into supervisory positions or to care for severely unwell newborns, Maternity Nurses frequently need an advanced degree.
A Neonatal Nurse Practitioner Master of Science program is available at some Universities, nonetheless.
Some of the coursework expected to be completed by the L&D Nurses are basic life support (BLS), newborn resuscitation, and advanced cardiac life support (ACLS), among so many others.
Right after school, Maternity Nurses must pass the NCLEX-RN exam administered by the National Council of State Boards of Nursing to obtain a Registered Nurse license.
Several organizations, such as the NCC (National Certification Corporation), offer optional certification in certain parts of maternity nursing to some Nurses.
It provides certification in areas such as inpatient obstetric nursing, fetal heart monitoring, newborn pediatric transport, and other related fields.
Labor and Delivery Nurse Skill Requirements
Maternity and postpartum Nurses must have patience, compassion, and good communication and people skills, in addition to strong clinical knowledge and technical skills.
Those who offer nursing care for both the newborn and the mother frequently teach the mother everything from nursing to how to properly put the baby in the crib.
They must be skilled in offering therapy alternatives or treatment and identifying the indicators of postpartum depression.
They specialize not just in a new mother's physical health but also her mental health.
Baby Delivery Nurses who help with labor and delivery must be able to work under pressure and respond swiftly if issues emerge.
Labor and Delivery Nurse Experience Requirements
While some hospitals hire new Labor and Delivery Nurse graduates, others prefer Maternity Nurses who have worked in neonatal or adult settings.
Some institutions, for example, prefer applicants who have worked with adult patients for two to three years before moving to the maternity unit.
Aspiring Maternity Nurses can also obtain experience through internship or residency programs given to nursing students and recent graduates.
These programs usually feature one-on-one mentoring as well as plenty of opportunities to assist in the delivery room or nursery.
To continue growing in your job path, become a member of an organization.
To learn from your peers, uncover employment prospects, and support the field, join a Labor and Delivery Nurse organization.
Organizations like:
AWHONN (Association of Women's Health, Obstetric, and Neonatal Nurses): Through research, education, and advocacy, this organization works to improve and promote the health of babies and women, as well as strengthen the nursing career profession
American Association of Critical-Care Nurses (group of Nurses that specialize in critical care)
Job Outlook for Nurses in Labor and Delivery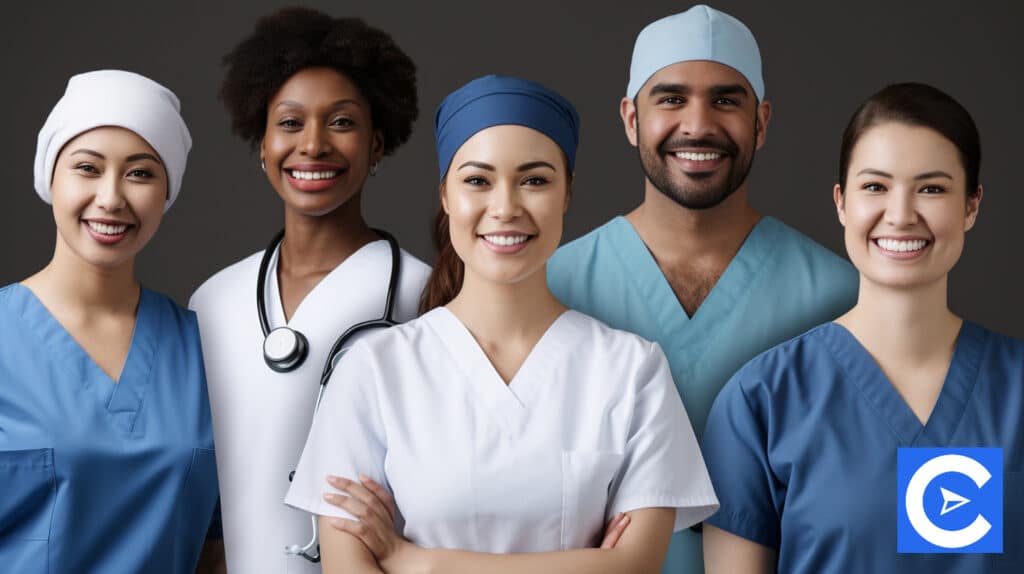 Delivery and Labor Nurses are always in high demand.
L&D Nurses are critical members of the medical profession, protecting the health and safety of mothers and their newly welcomed children, with around 3.79 million babies born in the United States in 2018.
Job stability and prospects are high, with the US Bureau of Labor Statistics expecting a 10-12 percent increase in Registered Nurse employment between 2020 and 2030, averaging around 210,350 positions per year during the decade.
The average income for a Labor and Delivery (L&D) Nurse in 2020 will be around $63,100, with a range of $45,100 to $88,100.
The type of employer you work for, years of experience, the demand of the nursing program in your area, and the cost of living can have a big impact on how you are compensated.
Furthermore, whether you choose to specialize in L&D, such as pursuing additional schooling, or focusing on high-risk neonatal care, can affect your annual salary.
Labor and Delivery Nurse Facts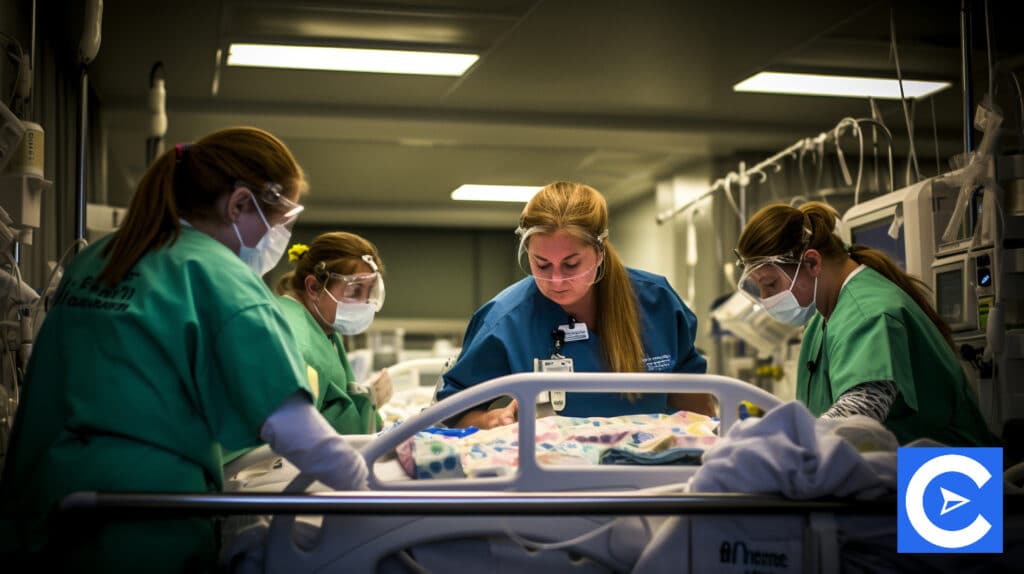 An L&D Nurse's perspective and a mother's point of view are diametrically opposed.
It's all part of the everyday routine for Registered Nurses (RNs) to be asked for ice cubes to chew on or to be shouted at for not checking in sooner.
Going into labor is anything but regular for mothers.
To distinguish between the two, we've penned down essential labor and delivery nursing information for you.
Here are several from the Nurse's perspective:
They Meet All Kinds of Mothers
As a Labor and Delivery Nurse, you'll see a wide range of pregnant women.
This includes jailed women, teen patients, momzillas, and senior mothers.
The most unexpected finding is that there is no straightforward method to predict how people will react to childbirth.
Nurses have witnessed smaller women deliver massive infants with little effort, as well as minor instances evolve into two-day marathons.
Creating Strong Bonds
Women are frequently astonished to learn that the Doctor is only brought in during the last few moments of their lives.
While some Doctors will check in on their patients on a regular basis to see how they're doing, the majority of the time, Nurses will notify the Doctor when the patient arrives and when they're ready to deliver.
As a result, mothers look to the L&D Nurse for help.
Nurses are their champions in the room, and they frequently stay past their normal 12-hour shift to see labor through to its conclusion.
Teamwork is Paramount
While the attending OB-GYN makes the final decision, nursing students are frequently startled by the amount of agency L&D Nurses have in the delivery room.
It takes a team to deliver a baby, and the LD Nurse has been with the mother since the beginning, except the delivery goes beyond their shift.
When a Nurse calls, they are acting as an advocate for their patient, not demanding orders.
L&D Job is the Most Rewarding and Difficult Job in the World
Being a part of the start of a new family is a unique and lovely event.
Sadly, not all fairy tales end happily ever after.
Every year, the CDC (Centers for Disease Control and Prevention) reports roughly 699 maternal pregnancy-related deaths.
These are related to the numerous difficulties that might occur during childbirth, which is the most stressful natural experience a person can have.
It's difficult to be a part of something so fulfilling while still knowing that not everything will turn out well.
The rest of the family is devastated when a child or woman dies during childbirth, and Nurses know the agony doesn't end there.
The loss of a mother or a child can be traumatic for a person for the rest of their life.
L&D nursing is one of the most rewarding careers you can have when things go well.
But challenging is an understatement when things don't go as planned.
Conclusion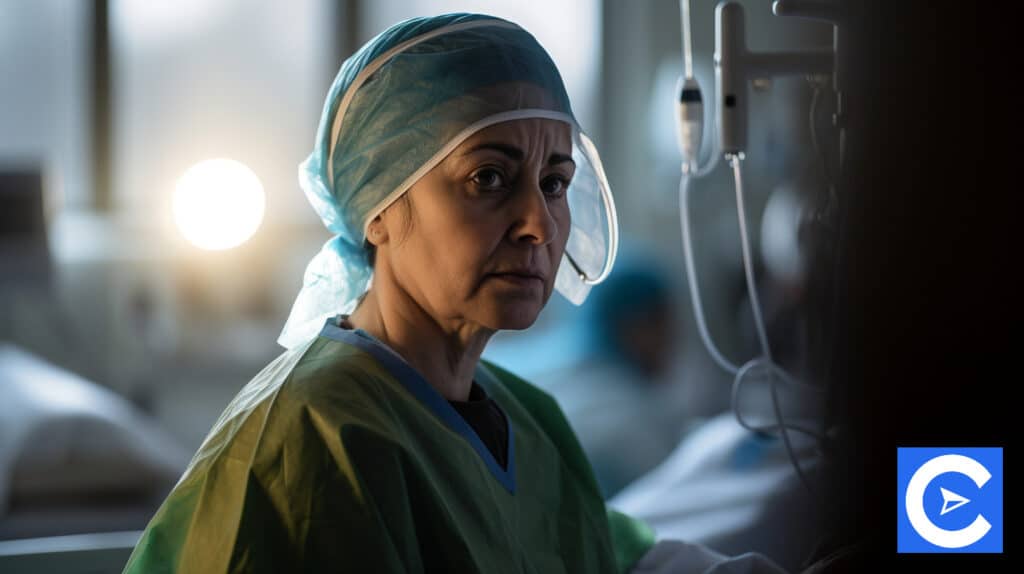 Labor and Delivery Nurses (LD Nurses), also known as Perinatal Nurses, provide support and care to women prior to, during, and after childbirth.
They are in charge of ensuring that the patient's emotional and medical requirements are satisfied during the entire birthing process.
Giving women the information and confidence to care for their kids at home is one of the most fulfilling Labor and Delivery Nurse rewards.
L&D Nurses are essential in informing new parents about newborn care, such as feeding and understanding infant cues.
FAQs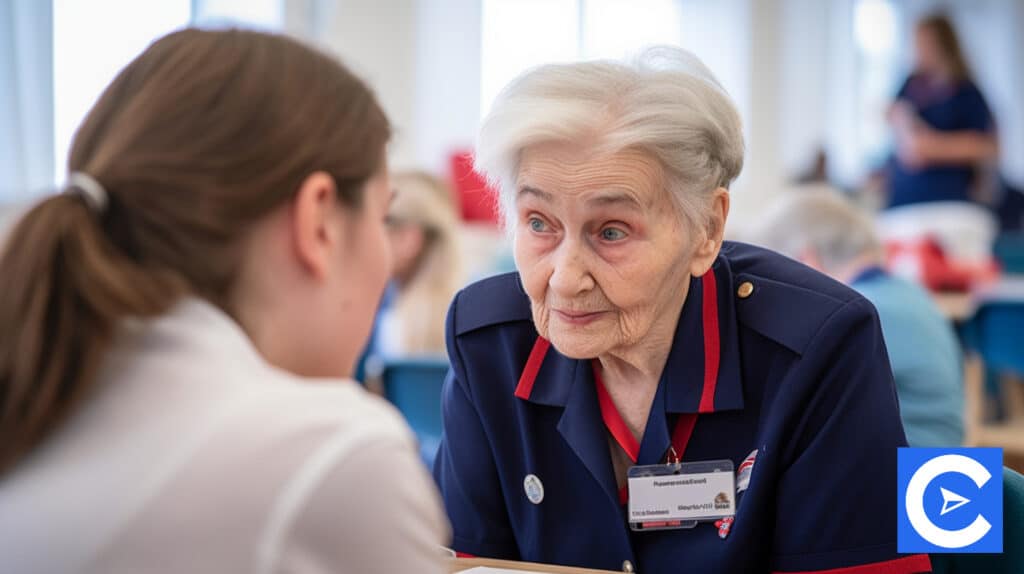 What Does a Labor and Delivery Nurse Do?
Delivery and Labor Nurses provide primary support to OBGYNs by administering medication, monitoring patient vitals, and building a trusting relationship with expectant moms.
What are Labor and Delivery Nurse Responsibilities?
Before, during, and right after birth, a Labor and Delivery Nurse looks after women and their babies. A Labor and Delivery Nurse will keep an eye on moms and babies, give postpartum care, and teach new mothers how to look after their babies.
Is Becoming a Labor and Delivery Nurse Worth it?
Labor and delivery nursing is one of the most in-demand Nurse specializations. Giving birth is a terrifying experience. Even the toughest woman can lose hope and want to give up after so many hours of labor. However, if you appreciate watching a new life join the world, working as an L&D Nurse is a worthwhile endeavor.
Is Being a Labor and Delivery Nurse Hard?
It's not easy to work as a Labor and Delivery Nurse. Taking care of new parents during one of their most vulnerable periods demands a great deal of competence, knowledge, and patience.
Is Labor and Delivery Nurse the Same as Birth and Delivery Nurse?
L&D Nurses and Birth and Delivery Nurse are both Registered Nurses (RNs). However, a Birth and Delivery Nurse has more advanced certification and training. Birth and Delivery Nurses can help expectant moms at any point during their pregnancy, not just during labor and delivery.
What is a Birthing Nurse?
What is a Birthing Nurse? A Birthing Nurse is a woman who works as a Nurse in a hospital. As a Midwife, she is a skilled healthcare provider who assists healthy women during labor, delivery, and postpartum care.
Can a Male Nurse Work in Labor and Delivery?
Male nursing students were usually spared from rotation on the labor and delivery ward until about ten years ago, and there are only around 26 men who work completely with women giving birth nationwide in the United States now.
Can Nurses Deliver Babies?
Labor and Delivery Nurses have a particular job: to assist in the delivery of healthy babies and the safe passage of mothers through the process. In essence, Nurses that help deliver babies are performing what some may regard as the most essential nursing task: bringing new life into the world.
Do Labor and Delivery Nurses Do C Sections?
An emergency or scheduled cesarean section is required if labor does not progress to vaginal delivery. The L&D Nurse will help in the Operating Room  (OR) during a cesarean section. While in the Operating Room, they act as Circulating Nurses.
How Much Does a Labor and Delivery Nurse Make?
In the United States, an L&D nurse earns an average salary of $2,109 per week and $12,530 in overtime per year.
How to be a Labor and Delivery Nurse?
A Bachelor of Science in Nursing (BSN) or an associate's degree in nursing (ADN) is required. It is also essential in order to obtain a license. Passing the RNC-OB (inpatient obstetric nursing) test is one way to achieve this. In the subject of nursing, there are numerous specializations.
Is Labor and Delivery Nursing Hard?
It's not easy to work as a Labor and Delivery Nurse. Taking care of new parents during one of their most vulnerable periods demands competence, knowledge, and patience.
How Can I Get a Labor and Delivery Nurse Certification?
Labor and Delivery Nurses must possess over 1999 hours of delivery experience and clinical labor, twenty-four months of experience in the specialty, and recent work in the specialty to be eligible for the RNC-OB. After paying over $324 and completing a 180-minutes test with 175 questions, the certification is granted.
What is Labor and Delivery Nurse Definition?
As a Labor and Delivery (L&D) Nurse, you'll assist in moms' and newborns' prenatal, postnatal, and postpartum care. Your patients will rely on you for knowledge, reassurance, and assistance as they navigate a delicate new life, a new family member, and a completely new experience.
What is a Labor and Delivery Nurse Called?
Labor and Delivery Nurses (L & D Nurses) are also recognized as Obstetric Nurses (OB). They are an essential sect of the care team that looks after the expectant woman and her baby.
References