Average Office Toilet Paper Use
Well then, this definitely isn't the sexiest post we've ever written.
However, we've heard refrains from our readers concerning the quality of their office toilet paper.
These comments have stated that their office has low-quality toilet paper, that there never seems to be enough, and that some people happen to use too much.
Without getting into too much detail on personal preference and the usage of toilet paper, we did think that this was important enough to discuss.
Toilet paper is a modern luxury and one that is essential to the health of the population and staff.
Toilet paper is also one of the most controversial topics and issues.
Poor quality toilet paper can leave staff and guests disgruntled and can make any business appear cheap to their employees.
When it comes to employee morale, nearly everything within the walls of an office are important.
The small and the large items will help to keep your employees happy, engaged, and satisfied.
This will help to increase employee retention and help to reduce turnover costs.
It is of utmost importance, as an employer, to consider all the needs of your employees.
With most staff members spending upwards of eight hours in the office, the amenities within it should be accommodating and comfortable.
From the office lights, to the computers provided, employees should feel welcomed and secure in their office space.
Use of Office Toilet Paper
Studies have shown that the one convenience item which is used the most is toilet paper.
Toilet paper can be used for a multitude of differing uses, including for nose care, makeup removal, cleaning of the hands and face, and to wipe down dirty surfaces.
In addition to normal, expected use, toilet paper is one of the most versatile items in the office.
It is used by all members of the office and is nearly readily available at a moment's call.
For this reason, there is a certain expectation from the toilet paper provided in the office.
Employees expect to have a certain level of comfort when it comes to their bathroom needs.
By providing cheap, flimsy toilet paper in the office, employers risk alienating their staff and causing levels of resentment.
One Ply vs. Two Ply vs. Ultra-Toilet Paper
In researching this topic, we found that there appears to be three main categories of toilet paper.
Single, double, and ultra.
These categories are ranked from worst to best, with users preferring ultra over the former two.
However, when it comes to choosing office toilet paper, it does not always correlate with the clear preference.
Single, or on ply, toilet paper is the safest option to avoid damage to the plumbing.
Although most office buildings are equipped to handle difficult plumbing situations, this may be a valid reason to opt for a single ply roll for the office.
Although a single ply of toilet paper is cheaper than either the two or ultra-one's, many individuals will opt to use more rolls per use.
This leads to the cost effectiveness of the roll being reduced.
In addition to the frustrations caused, it may simply be better to opt for the two or ultra-rolls.
Two ply toilet paper is thicker than their one ply counterparts.
It is made of two plies of tissue, stuck together, allowing for a softer, more absorbent mechanism.
Generally, two ply toilet paper contains half the number of sheets versus a one ply roll.
Most users are happier and more satisfied with two ply toilet paper than one ply.
Ultra-toilet paper is the new player in the game.
It is produced using newer technologies, wherein the air is blown into the fibers during the drying process.
This allows the toilet paper to be fluffier, thicker, softer, and more absorbent.
Toilet Paper Use – On Average
It is difficult to make a full determination on an individual's toilet paper usage.
However, on average, approximately 57 sheets of toilet paper are used by a single person.
Per trip, a single user will average approximately 8.6 sheets.
Most people end up using about 20,000 sheets of toilet paper per year, or roughly 100 rolls.
This can be translated further into about 50-pounds of toilet paper per year, per person.
When it comes to calculating the average number of toilet paper rolls needed for an office, you should err on the side of caution.
While the average use per trip, per person, is 8.6 sheets, it is better to round up to an even 10.
In looking through popular toilet brands, most manufacturers provide between 300-375 sheets per roll.
This means that a single roll should last 30 individual trips.
If we continue to look at averages, the average number of times that an individual goes to the bathroom is between 4-10.
Looking at the high-end of the spectrum, if an individual uses the bathroom 10-times in a 24-hour period, they will go to the bathroom approximately every 2.4 hours.
This means in an eight-hour workday, most individuals will use the bathroom between 3-5 times.
Again, simply looking at the high-end of the spectrum, we would expect an average person to use approximately 50-sheets of toilet paper per day.
That means that you should factor in one roll of toilet paper, for every 6 employees, per working day.
Best Toilet Paper for Your Office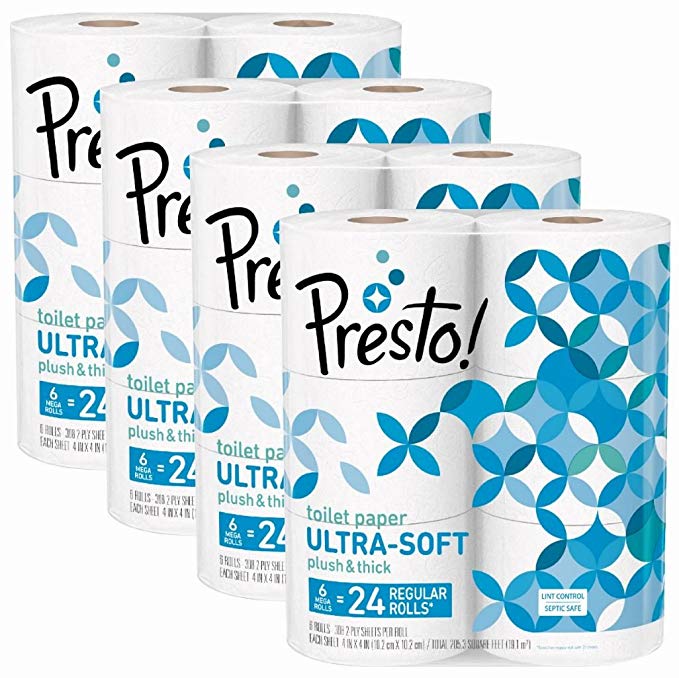 Includes 24 Mega Rolls (4 Packs of 6 Mega Rolls) with 308 2-ply sheets per roll
24 Mega Rolls = 96 Regular Rolls (based on a regular roll with 77 sheets)
4.6 stars with over 13,000 reviews.
Made with pulp sourced from sustainably managed forests and controlled sources
Priced at $22.25 on Amazon or .30 cents per 100 sheets.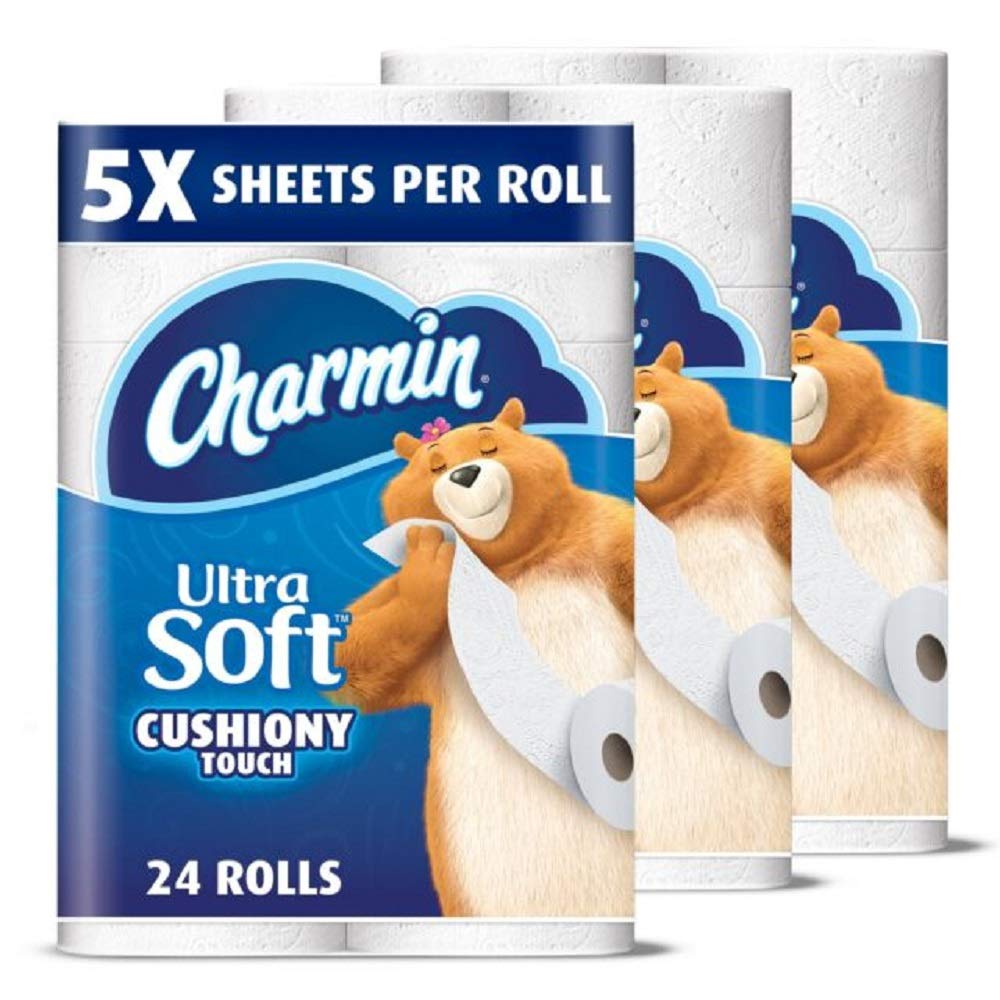 Pack contains 24 Rolls (363 sheets per roll) of Charmin Ultra Soft Family Mega Roll toilet paper
Charmin's irresistibly soft toilet paper with a unique cushiony touch
More absorbent so you can use less vs. the leading bargain brand
4.7 stars on Amazon with over 2,600 reviews
$31.49 on Amazon or .36 cents per 100 sheets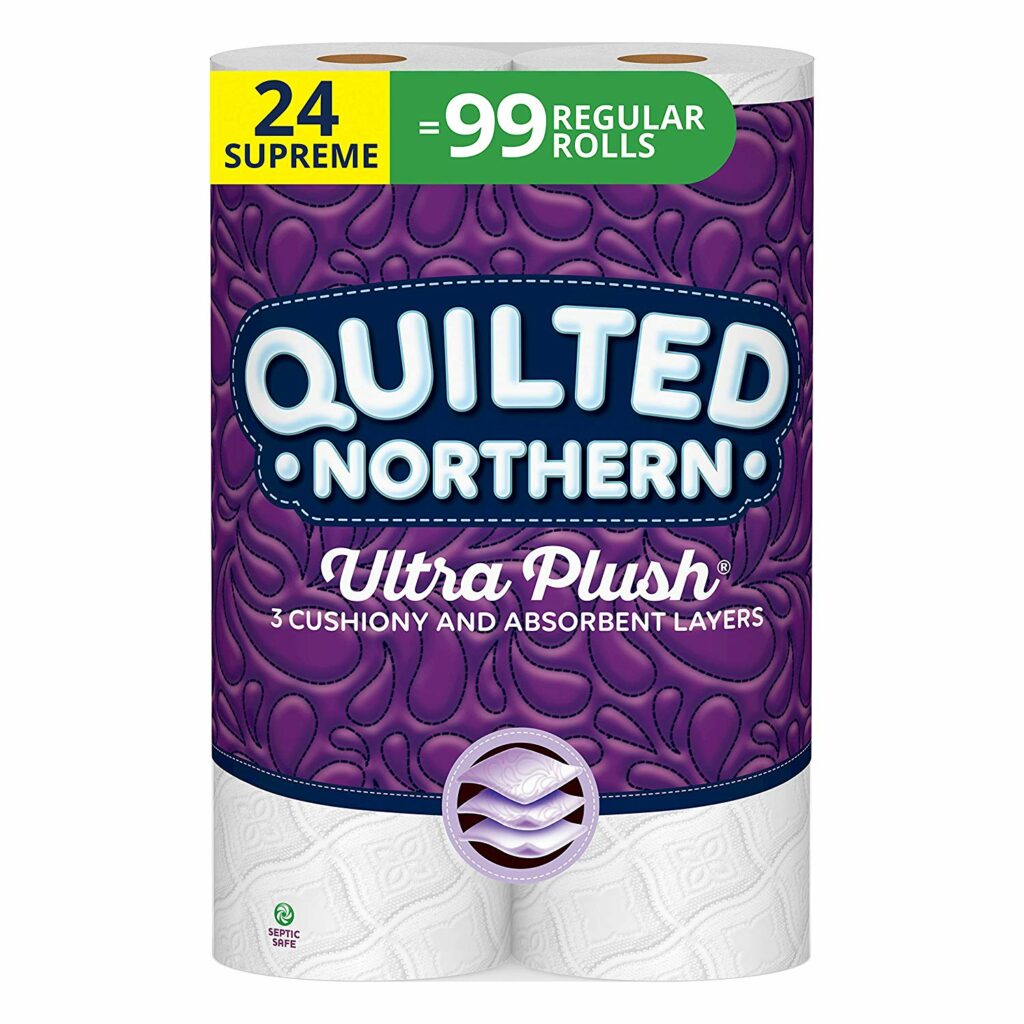 Premium bath tissue delivers Softness with 3 cushiony, absorbent layers
Luxurious embossed texture for Ultimate comfort
Quilted Northern Ultra Plush toilet paper is 3X thicker and 3X more absorbent than leading value Brand
4.5 stars on Amazon with over 8,500 reviews
Priced at $27.99 on Amazon or .37 cents per 100 sheets.