Hey everybody, welcome to yet another informative guide to the SIE study plan. We have a free SIE study calendar/blueprint for you to download.
Other free SIE study materials: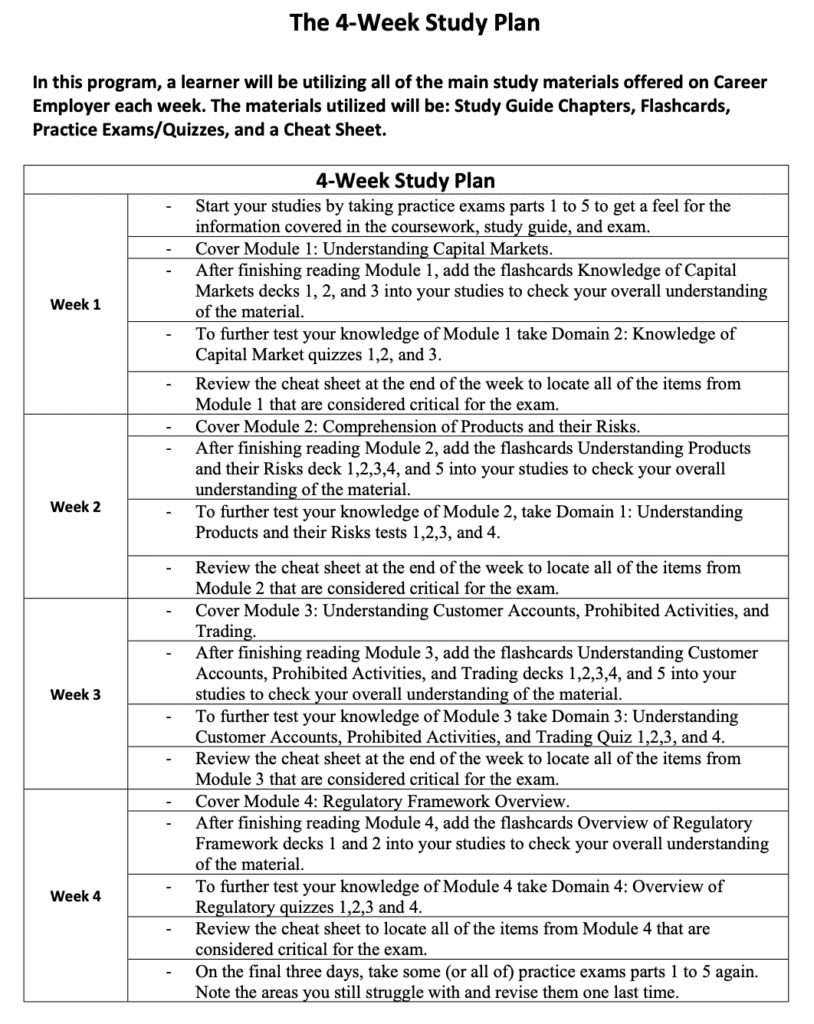 In today's article, we'll discuss what it takes to create a good SIE study plan, how long it takes to study for the SIE exam, and tips to help you stick with your study plan.
In brief, we'll talk about:
How long does it take to study for the SIE exam?
How to create a good SIE study plan
Pro tips to help make the most of your SIE study plan
If you don't have a study plan yet, download PDF SIE study calendars for various time frames: one month, three months, six months, and 12 months.
These study calendars will help you cover SIE topics within the specified time frames.
That said, let's jump straight into the SIE study calendar downloads.
How Long Does It Take to Study for the SIE Exam?
The securities industry essentials exam has 75 questions, of which you must answer 53 questions correctly to pass.
That means you can only fail 22 questions.
Hence, you must dedicate enough time to ensure you've covered the SIE content outline from back to back.
So, how long will it take you to cover the SIE study materials and ensure enough preparation?
It depends.
Your preparation time depends on whether you have background knowledge or professional working experience in finance, accounting, or economics.
Exam takers with a background in these areas already have foundational knowledge.
Hence, it's easier to grasp the basic security content covered in the four sections of the SIE curriculum: Knowledge of Capital Markets, Understanding Products and Their Risks, Overview of Regulatory Framework and Understanding Trading, Customer Accounts, and Prohibited Activities.
That means they'll take lesser time to prepare.
These first-time exam takers may take around one month, spending 1 to 2 hours a day studying.
The duration is prone to be shorter if they spend more hours per day.
Spending 6-8 hours per day studying cuts the study duration by half.
That means two weeks is enough.
Test takers with little knowledge of finance take longer to prepare for the SIE exam.
These learners can expect to study for two months if they spend 1 hour daily on exam preparation.
Spending 3-4 hours daily reduces the study time to 3-4 weeks.
You can download our SIE study plan to guide your test prep.
To utilize the preparation time effectively, you must plan your study.
The rules and regulations are the most tricky part of the SIE exam.
They require most of your time.
So, dedicate ample time to memorizing and studying them.
Write down rules that are not sticking and go through them for 30 minutes every day.
Do the same for formulas.
Memorizing them will go a long way towards helping you hit the passing score.
Don't stop there.
Your preparation will be much easier if you look up terms you are unfamiliar with so that you can memorize things you understand.
And lastly, apart from going through your prep course study materials, you need to thoroughly review practice questions to have an overview of what the actual exam looks like.
It will also help you verify how much content you've retained.
How to Create a Good SIE Study Plan
FINRA SIE exam comprises 85 multiple-choice questions, where 75 questions are scored.
To pass this exam, you must score 70%.
The best way to ensure you hit that mark is to create a watertight study plan to help you cover every inch of the study materials.
That said, here is how you can create a good study calendar that will help you with the revision until the exam day.
If you want to create a study plan, consider all your commitments.
Write a schedule highlighting everything you do daily, from workouts to SIE studies, to commuting to eating.
Test your schedule by adhering to it for a week and see if it best suits your lifestyle or if there are adjustments you should make.
During this week, note where you need to adjust.
Determine the study times that work best for you.
Is it weekends, mornings, or evenings?
Adjust your schedule the following week, depending on the observation you've made.
Time Allocation for Each Section
Now that you've tested your timetable and are aware of the time you are most proactive, it's time to seriously consider how much time you will dedicate to the SIE course.
USA Today says students spend around 17 hours per week studying and doing their homework.
For SIE, reliable sources report that it takes around 20-50 hours to prepare for the SIE exam adequately.
That translates to around two months.
Now, you can decide to break this time into one hour per day, which translates to 6 hours of study if you commit six days a week and 5 hours if you dedicate five days.
You can also choose to commit 5-6 hours every weekend.
The time you commit depends on how much you already know and your other commitments.
You also want to put your goals in mind.
The more time you commit, the sooner you'll complete the SIE content and delve into practice exams to sharpen your knowledge.
When allocating time for self-study, consider how the different sections are weighted.
Prioritize Certain Materials
A study plan will be effective if you allocate time according to the difficulty level of the different topics.
You can prioritize the most challenging parts of the SIE course first.
You may also resort to starting with the basic information that will form a foundation for the more challenging concepts.
Another option is to start with the topics that are weighted heavily.
This FINRA exam will require you to start with the basic information and progress to the more challenging ones.
The general concepts will give you the basics of the proceeding topics.
You can then delve into the details of the coursework.
Once you've covered everything, review the areas you might have missed or marked for review.
Your study calendar should give you ample time to thoroughly comb the materials and review as many practice tests as possible before the exam.
Other study tools like flashcards, study mnemonics, and study guides are also great tools to help with covering the SIE materials.
As you allocate time for the SIE material, ensure to integrate breaks within your study period.
Breaks boost your retention capacity and make you more productive.
Ideally, you should have 5 minutes break every hour.
You can take a walk outside, stand, have a snack, check your social media, and so on.
A break helps your mind rejuvenate.
When you get back to studying, you will be more receptive to the new information you'll be assimilating.
Balance Study and Practice Time
The tricky part about creating a study plan is breaking your time to accommodate quizzes, reading material, and taking notes.
You want to absorb as much information as possible and still be able to test just how much you are retaining.
The best practice is to first cover the material and once you feel confident, delve into the test prep.
SIE exam prep courses usually have question banks with dozens of practice exams you can review.
Make the most of these resources before the exam day.
They'll help you identify loopholes in your study.
You can then dedicate more time to the areas of the course that you are weak in.
Redo the practice tests until you are confident in yourself.
Your SIE study plan is not cast in stone.
So, as you wind up your preparation, you should adjust it to accommodate the rising need to focus on particular areas more or take more prep quizzes.
Pro Tips to Help Make the Most of Your SIE Study Plan
Having a study plan is one thing and sticking to it until you report to the testing center and take the exam is another.
Even the best SIE study plan will be a complete waste of time if you don't make the most of it.
So, here are tips to make your self-study worthwhile.
Consider Time Management When Studying
Straight up, time management is a crucial element in studying.
How you manage your time will play a huge role in how much you cover in your exam preparation.
If you spread 20 hours over four weeks, it's better than consolidating all those hours in two days.
Studying for a few hours every day is more productive, and you tend to retain more.
On the flip side, studying for hours on end is counterproductive.
Your concentration depreciates.
Once you've bought your study package, whether live online or self-study, figure out the speed that will work for you.
Do not book warm.
Settle on The Best Time to Study
The next thing would be to settle for the study time that you are most active.
This is important if you want to pass the exam on the first try.
The time you choose to study will determine how much you cover.
If you study when you are exhausted, there are high chances that you won't grasp much.
You'll go in circles and fail to cover the SIE content.
So, if you are a morning person, stick to studying when you wake up.
Evening people are best studying at night.
Other best study times include before bed, on weekends, or after dinner.
The goal is to find a time that works for you and stick with it.
Be realistic when settling for the time that best fits.
That means if the best time for you, for example, is before bed, you want to moderate your study so that you don't stretch your bedtime.
Get a Comfortable Study Space
Another crucial element is the study space.
Your study space can make or break your SIE study plans.
Settle for a quiet, comfortable place.
Consider things like lighting too.
If it's at home, let your family members know your study spot and time so they can give you the time you need.
Have all your study materials in the dedicated study area.
Once you sit down, you won't break your studies to pick other materials.
This dedicated study area should also be free of distractions.
If you have a phone, switch it to flight mode.
You can also switch the Wi-Fi off.
Prepare Physically and Mentally
Making the most of your study plan doesn't only involve studying.
Other elements, such as physical and mental health, are crucial.
Consider meditating for a few minutes before studying.
You can play jazz or classical during study time to relax your mind and help you focus better.
You can also study with background music and keep the volume low so that it does not distract you from your studies.
Maintain your energy levels by taking nutritious food.
Avoid sugary stuff because of sugar crash.
Also, avoid fatty foods because they'll slow you down.
Information overload is counterproductive.
Don't suffer from burnout just so you complete SIE content within a specific time frame.
Try effective study techniques like taking breaks.
If that's not working, sleep or focus on something else altogether.
Take your mind off by watching a movie, pursuing one of your hobbies, and so on.
That break will help you feel better.
SIE exam is one of the Financial Industry Regulatory Authority's tests with the highest pass rate of 82% overall.
The pass rate for first trial is 74%.
That means it's one of the FINRA exams that is easy to pass if you put in the work.
Using a study plan will help you in the SIE exam prep to a great length.
You can download our study plans depending on the timeframe you have to prepare for the exam.
From there, stick to the pro tips to make the most of your study calendar.
That way, you stand a higher chance of passing the SIE exam.
What is the best way to study for the SIE exam?
Start your studies early. First, check the SIE study guide to find out how much you need to cover. From there, you'll need to create a study plan and stick to it. SIE exam is the foundation for other FINRA licensing exams. So, read to understand.
Is the SIE exam hard to pass?
SIE exam is moderately difficult. It's particularly challenging for aspiring registered representatives without background education in finance. However, no matter your level, you can pass the exam if you take the preparation seriously. Dedicate time every day to cover part of the SIE material until the exam day.
How long does it take to complete the SIE exam?
The SIE exam has 85 multiple-choice questions. The exam takes 1 hour 45 minutes, which translates to around 1 minute for every question. You can test your time management using practice questions. If you repeatedly complete practice tests within time, you'll also complete this licensing exam on time.
Is there a study guide for the SIE exam?
Yes. The SIE exam has a study guide. FINRA has an online study guide that breakdown the four sections of the SIE exam. There are also several providers with the SIE study guide. The study guide gives test takers the content outline. It further breaks down the topics within the different sections.
What are the different sections of the SIE?
The four sections of the SIE exam include:
– Knowledge of Capital Market
– Understanding Products and Their Risks. The products include direct participation programs, equity securities, real estate, treasury securities, investment trusts, etc.
– Understanding Trading, Customer Accounts, and Prohibited Activities
– Overview of Regulatory Authority
References
Securities Training Corporation