Greetings and welcome to Career Employer.
In today's article, we share a free Series 65 study plan.
We have four study calendars for different timeframes; one, three, six, and twelve months.
The study calendars are in PDF and you can download it below.
Other free series 65 study materials: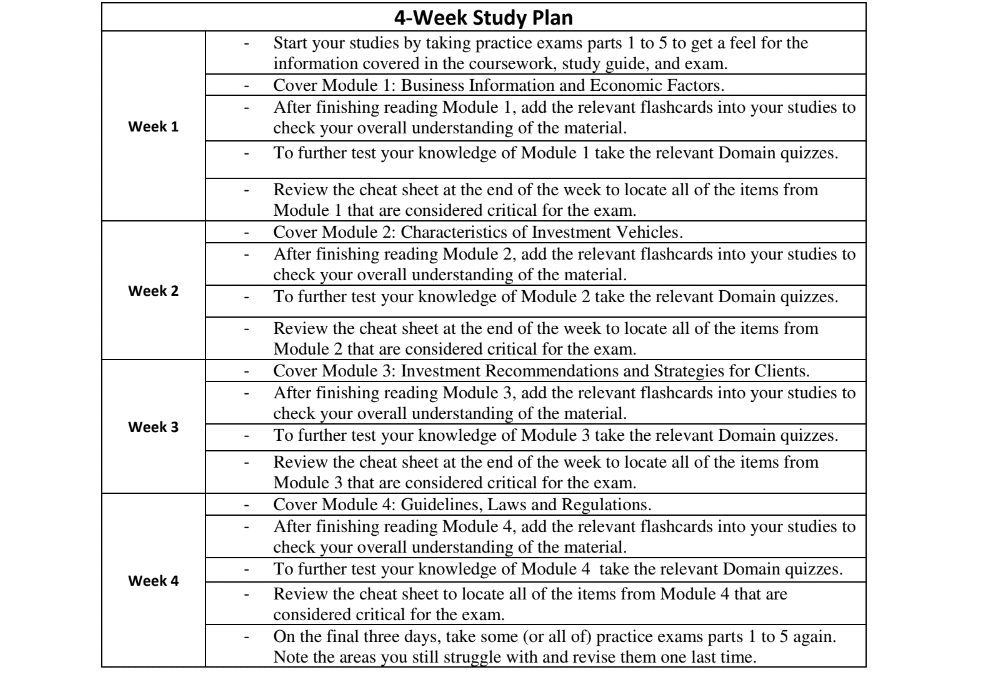 We'll also give you a breakdown of how long it takes to study for the Series 65 exam.
Further, we have tips to help ensure you make the most of your study plan.
And suppose you choose to create one yourself.
We've given your expert insights into creating an effective study calendar.
Here is a breakdown of what we'll talk about:
How long does it take to study for the Series 65 exam?
Making a Series 65 study calendar that works
Pro tips to help you stick to the Series 65 study calendar.
Let's get started.
How Long Does It Take to Study for the Series 65 Exam?
The Uniform Investment Adviser Law Examination is one of three North American Securities Administrators Association (NASAA) administered by the Financial Industry Regulatory Authority (FINRA).
Like the other two, Series 66 and 63, the Series 65 exam questions require you to analyze the questions critically to identify key elements that will help you choose the correct answer.
Most of the questions are situational.
That means you must have an in-depth understanding of the subject matter.
You won't pass the first time if you base your test-taking on memorized facts.
Hence, when it comes to how long it takes to study for the Series 65 exam, we recommend you analyze your learning style and gauge the average time you take to prepare for other securities exams.
With this info, you can better decide the time you need to cover the Series 65 exam content from back to back.
You can opt for our Series 65 study plans to help you cover the exam content in four weeks, three months, six months, or a year.
That said, here's an overview of how long it takes to study for Series 65, according to different sources.
Hopefully, this information will help you settle on what works for you.
According to the Agent Broker Training Center website, the study time is 50 hours.
These hours are purely dedicated to reviewing the study materials, especially the text, to have a foundation of what the exam covers.
You'll need an additional 16 hours of classroom training.
This can be on-demand video lectures, live online training, or physical classes.
The CPA Training Center recommends 40-60 hours of exam prep.
Other sources recommend 20-30 hours of test prep and around 16 hours for practice exams.
Financial professionals who work full-time can expect to spend 6-8 weeks.
If you commit the right amount of study time, you may be lucky enough to ace the final exam the first time.
Making a Series 65 Study Calendar That Works
Becoming an investment adviser representative will require a commitment from you.
Part of that commitment is passing this series exam.
For that to happen, you should have a study schedule that helps you thoroughly cover the prep course study materials.
So, here are tips to help you make one yourself.
Identify Key Events and Schedule
Before you jump into creating a study plan, identify any upcoming events that require your input during the exam prep period.
This includes important occasions like birthdays, anniversaries, weddings, and other job and family commitments.
Identify the dates and block them.
This will help you have a clear picture of the actual time you have at hand.
You can start creating a study calendar now.
Create a Daily To-Do List
The next step is to create a to-do list of the Series 65 exam content.
The exam tests test-takers on four topics.
The study materials you'll use to grasp the exam's content vary.
You'll need to review the study guide, cheat sheet, flashcards, and mock test questions.
All these materials will help you learn and understand the Series 65 exam better.
Thus, you'll have to outline the topics you'll cover and how you'll use the different study tools to reinforce the lesson learned.
Establish a Weekly Rhythm
Once you've established the time you have at hand, you can break down your study time to cover all the exam topics.
Start your studying by identifying tough topics that are hard to understand.
As you continue your studies, identify the knowledge gaps and put in more effort.
You can spend a few minutes in every study session to address your weak areas.
Ensure you create a rhythm such that the weekly sessions flow smoothly.
Pro-Tips to Help You Stick to Your Series 65 Study Plan
A Series 65 exam schedule is a great way to cover all the topics tested in the exam.
But to get the most out of your study plan, you must stick to it.
So, how do you do that?
Here are key pointers that will help you follow your Series 65 study plan until the exam date.
Make Concrete Study Plans
If you've resorted to creating a study plan on your own, you better plan all the topics across the time you have available until the Series 65 test date and ensure you've clearly outlined the tasks for each day.
Such a study calendar has a solid structure that pushes you to diligently cover the study sessions daily.
Starting with a vague timetable is a recipe for failure.
You can't leave your exam prep until you feel like it or have time.
Lack of a concrete plan will lead to a pill up for when you have the time.
Before you know it, the Series 65 exam is around the corner, yet you've barely covered anything.
So, have a well-laid-out plan that gives you an overview of what you need to study and when you need to study it.
A good study plan keeps you on your toes.
You can track your progress.
It will also make it easy to cover what needs to be done in good time.
Whether you've created a study calendar on your own or using an already made one like ours, ticking off topics you've covered is a great way to track your progress.
Further, you'll feel more satisfied as you tick off what you've covered for the day.
What is even more satisfying is the consistency you'll discover with every tick.
It will inspire you to do the same the following day.
The satisfying feeling of accomplishing your goal will motivate you to keep going, even when you don't feel like it.
Further, once you've covered different Series 65 study materials, you should also tick and comment on the areas you need to review more.
Particularly, flashcards, the study guide, and practice tests are excellent ways to review the Series 65 licensing exam questions.
Make sure you also mark your progress on these materials.
It's easy to dismiss a study session if something comes up and you can't study as planned.
Although such circumstances may derail you, you must not fall behind.
Don't skip topics just because something came up.
Instead, make up for the lost time in the evenings or weekends.
You can also plan intensive study sessions on the days following the skipped session.
Put effort into ensuring you are back on track as soon as possible.
Adjust the Study Schedule If Need Be
As always, a study calendar is not cast in stone.
You need to leave room for flexibility.
Review how your Series 65 studies schedule unfolds and adjust different sections to fit your availability.
If work comes and you won't be able to go through the Qbank as planned, squeeze in the test bank review over the lunch break or early mornings before work.
You can also resort to doing a lot ahead of a busy work week.
In other words, ensure you can manage your study timetable even when life happens.
Don't Neglect Your Social Life
It's easy to forgo every other thing in life and simply commit 50-60 hours over 2-4 weeks to prepare for the actual exam, which is impressive.
But you need to balance your social life with the Series 65 prep time.
Study but also take breaks.
You can take a walk, do physical activities, or listen to music.
You can also decide to step out and go shopping or play games.
Your brain needs to rejuvenate.
Reward Yourself for Work Well Done
A reward is the best way to motivate your brain to do more.
So, if you've followed your timetable through and through, reward yourself.
If you've completed your exam preparation over the period dedicated to it, pat yourself on the back.
You deserve a reward if you consistently score higher marks on every practice test.
And finally, if you hit the passing score on your first attempt, you definitely deserve to celebrate.
Learn to appreciate your efforts.
That's all we had for you today.
You can download our Series 65 study plan and start your exam preparation in good time.
We've also shared tips to help you stick to the study plan until the end of your exam preparation.
Further, if you feel that creating your own study calendar is the way to go, we've put together pointers to ensure you create one that fetches the best results.
That said, all the best in your Series 65 exam preparation.
Series 65 Study Plan Frequently Asked Questions
How long does it take for the Series 65?
The Series 65 exam takes three hours to complete. You can take toilet breaks during the exam, but the time will continue to count. The exam has 140 questions. That means one question takes around a minute and two seconds. Learn to pace yourself using practice questions.
What is the best way to study for Series 65?
– Dedicate 50-60 hours towards the exam preparation.
– Sign up for the Series 65 prep course.
– Create or download a study calendar
– Review the text cover to cover
– Leverage study guide, cheat sheet, and quizzes
– Take full-length practice exams
Where can I study for Series 65?
There are several Series 65 exam prep providers. You can prepare for the exam using study materials from:
– ExamFX
– Securities Institute of America
– Securities Training Corp
– Kaplan Financial Education
Most of the study tools are self-study packages. So you can study at your own pace.
What are the benefits of taking Series 65?
The Series 65 license qualifies registered representatives to become investment adviser representatives. IARs offer investment advice and charge a fee for their services. The exam equips financial professionals with securities regulations, investment, and ethics knowledge. The license is a requirement for most investment firms when starting.
What are the requirements for Series 65?
The only requirement is that test-takers should be 18 years and above. This FINRA exam doesn't need sponsorship. You can take it as self-sponsored or get sponsorship from your firm. To earn the license, you must meet the passing score, which is 72%.
What are the topics covered in Series 65?
Series 65 exam covers four topics, including:
– Economic factors and business information
– Investment vehicle characteristics
– Client investment recommendations and strategies
– Laws, regulations, and guidelines, including prohibitions on unethical and business practices
Each topic has a specific number of questions in the exam.
References