Hi, and welcome to yet another informative guide on the Series 63 study plan.
This article is the second in our Series 63 articles series.
In this article, you'll find a downloadable Series 63 study calendar for different timeframes: one, three, six, and twelve months.
Other free series 63 study materials: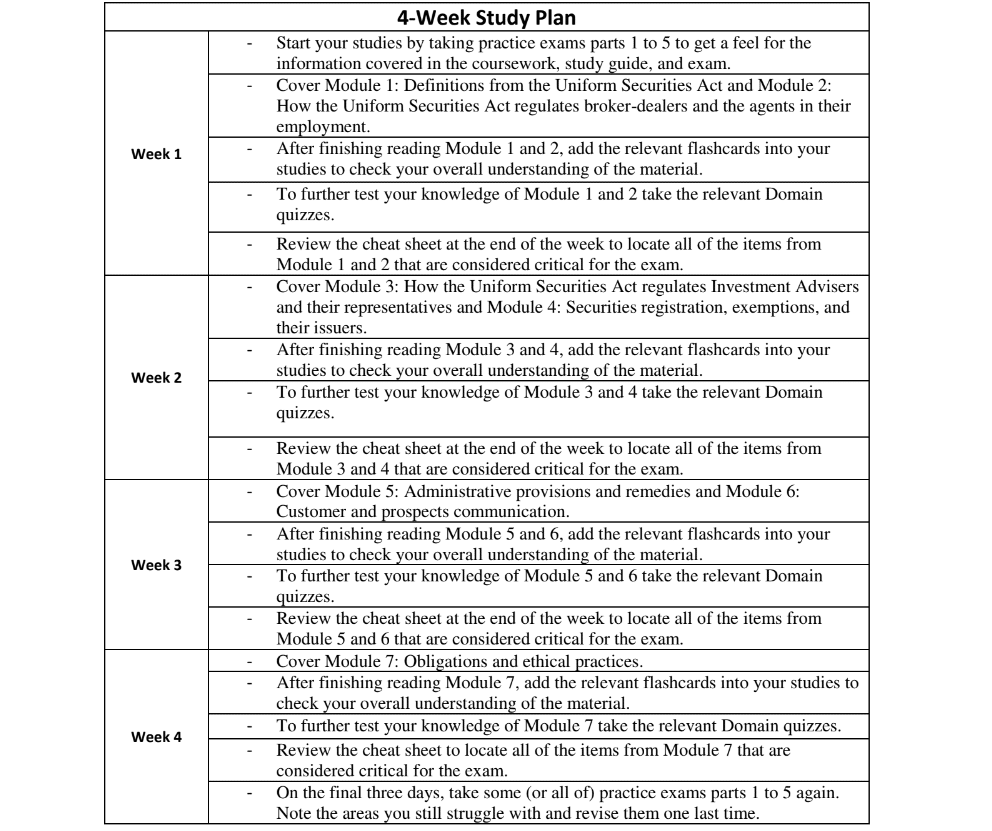 The calendar you download depends on the time you have for exam prep.
Apart from these study calendars, we'll delve a little deeper and focus on how long it takes to study for the Series 63 exam and the habits that can help you stick to the calendar until the exam date.
In a nutshell, we'll cover the following:
How long does it take to study for the Series 63 exam?
Study habits that can help you stick to the Series 63 study plan
Tips for creating an effective study plan
Without wasting time, let's get started right away.
how long does it take to study for the series 63 exam?
The Series 63 exam has 65 multiple-choice questions that you must answer in 75 minutes
This exam is not tough as the Series 7 exam.
However, test-takers must take their time to prepare because of the limited exam time.
So, how much time should you dedicate to Series 63 exam prep?
The prep time varies from one person to the next, depending on several factors.
But, most exam-takers spend around 30-40 hours preparing for the Uniform Securities Agent State Law Examination.
The majority spread the study hours across ten days.
That is to say; many registered representatives take less than two weeks to take the exam.
Now, important to note is that although the majority are ready for the exam in a matter of days.
Some candidates take a few weeks, say 4-6 weeks.
Sometimes, companies give their employees up to two months to study and take the exam.
The bottom line, however, is that the study time for this licensing exam varies widely.
All you need is an effective study calendar to plan your time effectively.
And our Series 63 study plan can help you cover the Series 63 exam content in record time.
All you need to do is pay special attention to all the study materials, particularly the practice exams.
Since they mimic the exam questions to a large extent, you'll familiarize yourself with the tricky questions and know what to expect.
You must also dedicate ample time to Series 63 flashcards and the study guide.
Dedicating around 30 minutes every time you are studying to review these two study materials will go a long way in helping you pass the final exam.
Study Habits that can Help You Stick to the Series 63 Study Calendar
Now that you have a rough idea of how much time you'll dedicate towards Series 63 exam prep, it's time to help you make the most of your Series 63 study calendar.
What habits can help ensure your test prep time produces the best results?
Keep reading to find out.
The good news is that we've already done this for you.
Our downloadable study plan is tailored for different study time frames, from one month to one year.
Yours now is to ensure you stick to the Series 6 study plan.
Suppose our study plan doesn't fit your schedule, go ahead and create one that works best for you.
The key is ensuring you have specific hours each week to prepare for the exam.
On that note, avoid situations that will force you to cram everything towards the Series 63 test date.
Studying at the Same Time
Planning study time will allow you to create a consistent study routine.
When you know you need to dedicate three hours after work toward your exam prep, you become emotionally and mentally prepared, ultimately increasing your productivity.
Further, the same study time daily makes your study schedule part of your life.
It will become second nature until you take the series exam.
On the rare occasions that something comes up and you can't stick to your study calendar, make sure you compensate for the time.
It's easier to put off your studies at the slightest convenience.
If you are not careful, it will become a habit that will cost you dearly.
To be on the safe side, no matter how tight your schedule is or tired you are, ensure you stick to your study plan, even if it's just for a few minutes a day.
The passing score for the Series 63 exam is 72%, and you'll have to wait 30 days to retake it if you fail.
So, why not give your best from the get-go?
Another important study habit is having a designated area with all the Series 63 study materials you need.
This area should be free of all destruction, including electronics and your family members, so you can focus on your studies.
Just like studying at the same time, having a designated study area prepares your brain to get to work, boosting your productivity.
You can opt for your local library, study room, or bedroom.
Whichever option you settle for, ensure you use the same place.
Occasionally, you can change your study area.
A new place stimulates your mind, increasing your motivation to learn.
Tips for Creating an Effective Study Plan
As a registered representative, there is a lot to learn in the financial securities industry.
While today you are preparing for the Series 63 exam, tomorrow you may be preparing for another FINRA exam.
You'll be better placed to plan out your studies if you know what it takes to create an effective study plan.
Hence, the reason we are determined to walk you through the steps it takes to create a study plan that fetches results.
Stay with us as we give you tips to create a study plan.
Limit Study Time to 2 Hours
Research has it that after 2 hours, the human brain slows down.
That means your ability to concentrate decreases.
Thus, when creating your own study plan, break your study time into short bursts.
The longest sessions shouldn't run beyond 2 hours.
Further, ensure you have breaks between sessions to rejuvenate your mind.
It's recommended you take a 10-15 minutes break after an hour of study.
Use the Pomodoro Technique
This technique is perfect for people who prefer to study in short bursts.
The technique recommends 25 minutes study sessions followed by 5-10 minutes breaks.
You'll have four such sessions, then take a longer break to relax the brain and find the motivation to go at it again.
You can use your phone timer, but if it distracts you, use a desk clock timer.
Utilize Odd Hours for Studying
You can relegate your Series 63 studying to the study schedule in your calendar.
But you can also leverage the short breaks at work or home to review the study materials.
Say you are driving to or from work; you can listen to a Series 63 podcast.
When using the bathroom, you can go through the digital flashcards or review the Series 63 study guide.
Lunch breaks are also excellent opportunities to go through the study materials.
Balance Activities in Your Schedule
Most financial professionals who pursue Series 63 exams have many things on their plates.
Most of the time, they are full-time employees with families.
Not to mention hobbies, interests, and other personal commitments.
That means, when creating the study calendar, it's crucial to balance the day-to-day life with the Series 6 exam prep.
Sleep, job, family, and hobbies are just as important as passing the Series 63 exam.
So, ensure a balanced lifestyle as you prep for this qualification exam.
Tell Others About Your Schedule
As mentioned, FINRA securities exam test-takers have many commitments.
Thus, it's best to share the Series 63 study plan with family members to make studying distraction-free.
You can also have a copy of the study calendar on the fridge.
Further, you can email friends the calendar, so they know when you are available.
Suppose you get an invitation to an event when you are busy, even after sharing your schedule.
Muster the courage to say no or request a reschedule.
It's the only way you'll have ample time to prep for the final exam and hopefully pass on the first attempt.
There you have it—everything you need to know about the Series 63 study plan.
The study plan puts into perspective how much you need to cover within a specific timeframe.
Your goal is to stick to the study plan until you take the exam.
How long you take to prepare for this exam depends on the time you have at hand.
The Financial Industry Regulatory Authority administers its securities licensing exams at testing centers.
So, ensure your study schedule covers all the exam content until the exam date.
You'll not be allowed to enter the exam room with any study materials.
Series 63 Study Plan FAQs
How long is Series 63?
Series 63 is administered by FINRA, although it's North American Securities Administrators Association (NASAA) exam. The exam is 75 minutes long. It has 65 multiple-choice questions. That means test-takers have one minute and a few seconds to answer each question.
How many hours should you study for Series 63?
Most Series 63 candidates take 30-40 hours to prepare for the final exam. However, this time frame varies. Some candidates take 4-6 weeks, while others go for up to two months. Mostly, how it takes is determined by the broker-dealer that you are working with.
How do I study for Series 63?
First, find the right study tools that suit your learning style. With the tools, you can draw a study plan to make your learning effective. Depending on the self-study package, you may find video lectures, Qbank, end-chapter quizzes, and practice questions. Practice tests help you familiarize yourself with the exam.
Is the Series 63 exam hard?
The Series 63 exam is challenging. The 65 multiple-choice questions need your undivided attention. The questions are tricky. Again, the exam time is relatively short. If you don't plan your time well, chances are you'll fall behind. So, keep tabs on time.
What are some good books to study for Series 63?
Here is a list of Series 63 exam textbooks.
– Kaplan Series 63 license exam manual
– Knopmanmarks Series 63 Uniform Securities Agent State Law Exam Book 8th Edition
– Series 63 exam secrets study guide
These on-demand textbooks will help you cover Series 63 exam content effectively.
How do you write a good Series 63 study plan?
– Analyze your learning style
– Evaluate the commitments you have
– Create a schedule with breaks
– Set realistic goals. Consider when you want to take the exam and set your goals accordingly.
– Evaluate your Series 63 study plan and adjust
What are the best study materials for Series 63?
There are several excellent Series 63 test prep providers. Here are our top picks:
– ExamFX
– Securities Training Corporation
– Kaplan Financial Education
– Pass Perfect
– Securities Institute of America
These prep courses come with different study tools. Their price points also differ.
What will I learn from the Series 63 course?
The Series 63 course covers the content tested in the final exam.
– Principles of state securities regulations reflected in the Uniform securities act
– Registration of various persons and securities
– Fiduciary obligations
– Customer communication
– Administrative provisions
– Business obligations
– Ethical practices
What are the Series 63 study tips?
– Use your Series 63 prep time effectively
– Read the Series 63 prep course textbook, the Series 63 study guide, and the Series 63 cheat sheet.
– Leverage the question bank to test your knowledge retention
– Take many full-length practice exams
References