Employee Retention Is Important
Employee retention is important, it is perhaps the most important metric that a business owner can measure on a weekly, monthly, and quarterly basis.
Employee retention is one of the only metrics that can be directly correlated with business success, revenue, customer satisfaction, employee morale, and business cost.
Every successful business or company has an employee retention policy in place.
If not, you should begin setting one up and discuss with your leadership team how you can increase employee retention and ensure that your workforce is happy and satisfied.
By not focusing on employee retention, you risk losing your most valuable employees, losing revenue due to inexperience, and losing customer's due to lowered satisfaction.
We've said it earlier and we're going to continue to repeat it, employee retention is important and needs to be a strategy and priority of yours.
Taking care of your employees and developing employees within an organization will only lead to greater success and morale across the board.
How To Retain Good Employees
Retaining good employees is a different for each company and for each use-case.
However, the primary objective can be boiled down to address retention on an employee specific level.
That means, that in order to retain employees, you need to address each employee separately and as an individual.
Though not as easy as enacting a business-wide decision, focusing on individual employees and their developmental needs will increase overall employee retention.
For new hires, retention efforts must be put into place from day-one.
You should focus on training and ensuring that they have the resources and tools at their disposal to accomplish their job seamlessly.
In addition, enacting "buddy systems" or mentorship programs will help newer hires feel more welcomed and accepted from their first day.
For mid-level employees, programs should be enacted which allow those employees to continue learning and developing their skills.
They should not feel that their careers are being sidelined, underdeveloped, or underutilized.
In addition, mid-level employees should be invited to sit-in on certain high profile and high priority projects.
They should be encouraged to contribute both knowledge and expertise.
Lastly, their efforts during and after the project should be mentioned and made known, especially to their direct manager.
When it comes to senior-level employees, it is best to get a sense of what they truly want in their careers.
Are they looking for a management position?
Do they want to lead an internal project?
Really ask senior employees what their goals are and where they want to be.
Doing so should be done naturally and not in a formal setting.
Keep the atmosphere relaxed, open, and inviting and work with them directly to meet their goals.
For all management level employees, take their feedback directly.
Work with them on developing their teams and their management styles.
Encourage managers to meet every other week to discuss what is and isn't working on their teams.
Encourage managers to hold their teams accountable and to hold themselves accountable for their teams.
In addition, provide small budgets for each manager, allowing them to dole out small gifts and knickknacks to their teams.
You should always empower managers and give them the flexibility and space to develop their team.
Seasoned Employees Add Value
Having seasoned, more veteran employees adds direct value to a company.
Seasoned employees are much less likely to commit easily avoidable mistakes or errors.
They are more likely to understand the nuances of the system and how to handle unexpected errors or time-outs.
In addition, they are more comfortable with clients and customers and understand how to deliver on their expectations.
Retention Provides Stability
Perhaps above all, having seasoned, experienced employees adds a sense of stability and calm to a team or department.
By having experienced employees, newer and younger employees feel as-if they work in a safe, stable environment.
This environment promotes a sense of calm and that the department or team is on track to meet its goals.
No one likes working at a company or for a team that is constantly losing members.
This sense of dread and fear that something must be off for so many people to continue to leave only accelerates and encourages more people to leave.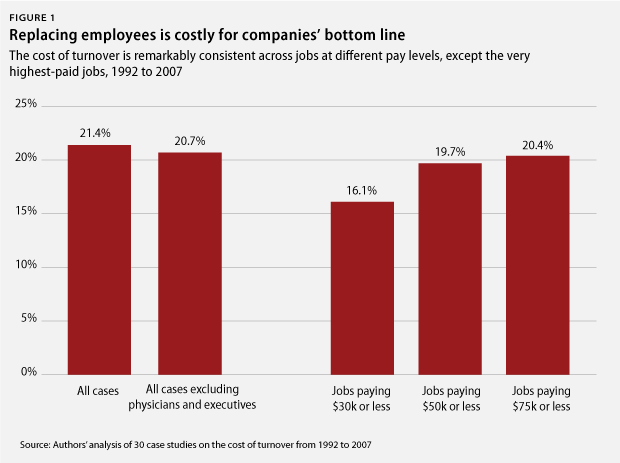 Bad Hires Cost Money
By not retaining your best employees, you increase the likelihood of making a bad hire.
Bad hires cost money in the initial training needed and the mistakes they make once trained.
This is direct, unrecoverable revenue that is lost.
In addition, these bad hires are a detriment to morale and can encourage better, more-qualified employees to abandon ship.
The Loss Of Ideas
Employees who have been with a company and understand its working structure and culture can help it excel from the inside.
They will bring forth new ideas in a manner that will be welcomed and accepted.
Their ideas will be looked upon and considered more carefully, as the employees' reputation and loyalty to the company will precede them.
The Loss Of Friendship and Rapport
Though indirect, by having a high turnover rate, a company cannot expect that members of a certain department or team would be able to establish a working relationship or friendship.
The relationships will be jeopardized and will not have enough time to be established.
The loss of comradery, friendship, and rapport does not bode well for a company, as colleagues begin to become more suspicious of one-another and less-likely to work together for a common purpose.
Customer Vigilance
Daily, loyal customers will begin to notice the lack of retention as-well.
These loyal customers may begin to feel that something is amiss and may leave poor reviews on social media pages about the lack of stability and consistency.
In addition, these customers won't be serviced or assisted in a consistent manner.
Having loyal, hard-working employees who know customers by name and can fulfill their needs immediately will only increase that customers return and loyalty.
Benefit to The Competition
Especially in smaller industries, if one of your best employees leaves, they are likely going to your competitor.
This loss can have not only immediate, direct impacts, but also long-lasting ones as well.
The loss of the employee will be felt immediately, but you will also see your competition get stronger, smarter, and more capable.
Your Reviews Will Suffer
With the proliferation of job and company review boards such-as Glassdoor, losing employees and not being aware of retention can lead to poor and negative reviews being left on your company profile.
These reviews can directly impact your ability to hire qualified talent, who may be unsure to join a poorly reviewed company.
Conclusion
Employee retention should be a focal point of all businesses.
Employees are the backbone of every successful company and can generate new, innovative ideas and products.
Successful businesses share their success with the employees, both financially and indirectly via acknowledgement, awards, and recognition.
Pursuing a retention first strategy is one that is likely to pay dividends in the future.
The growth and stability of the company may rest on employee retention and it is an endeavor worth considering.