Hi there, dear reader.
Welcome to our Series 66 study plan article.
We'll have four Series 66 study plans to help you plan your exam preparation accordingly.
You can download all of them using the button below.
Other free series 66 study materials: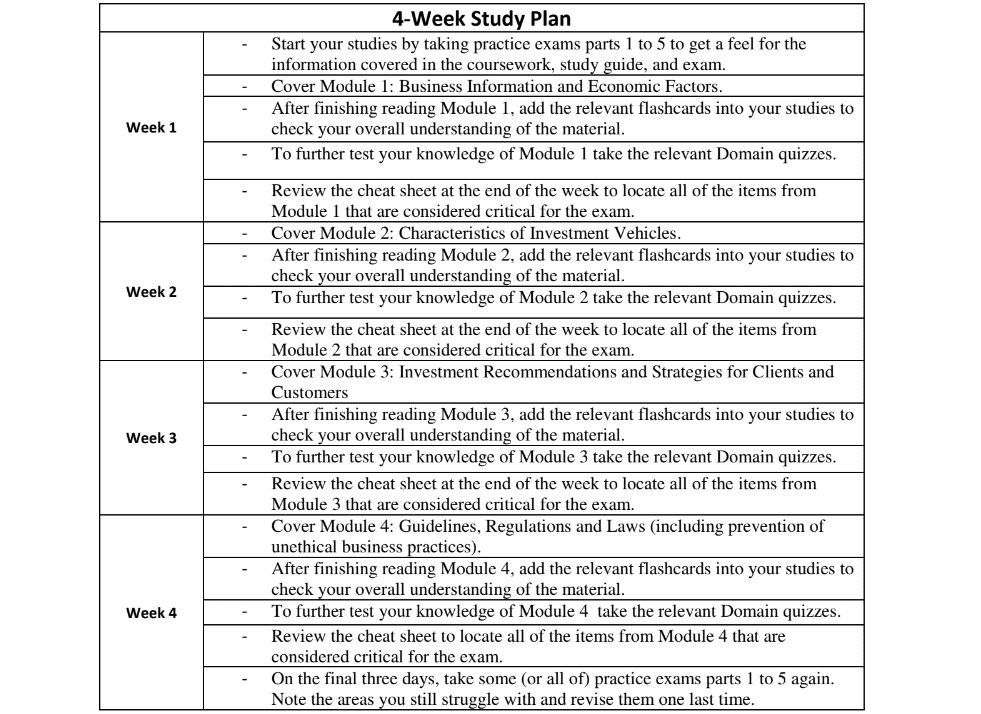 Depending on your availability, you can opt for one, three, six months, or one-year study calendars.
We'll also take you through how long it takes to study for the exam and how to make the most of the Series 66 study plan.
In a nutshell, here is exactly what we'll discuss.
How long does it take to study for the Series 66 exam?
Making the most of your Series 66 study plan
Let's get started.
How Long Does It Take to Study for the Series 66 Exam?
If you are planning to take the Series 66 exam, you definitely want to know how long it takes to study for it.
And that's precisely what we want to talk about today.
Different Series 66 exam prep providers give different study times.
Pass Perfect estimates that learners can take anywhere between 55 and 60 hours.
The study hours can be spread over one week.
Knopmanmarks, on the other hand, projects 75-100 hours over 4-8 weeks for learners who work full-time.
So, to some extent, the time frames are the same: one is for part-time and the other for full-time studies.
Agent Broker Training Center gives almost the same exam prep duration as Pass Perfect.
It projects that test-takers take around 50 hours.
A good chunk of this time goes toward reading the prep course provider's textbook.
The center recommends an additional 16 hours of class work, which may include watching video lectures or taking practice tests.
It's recommended that test-takers schedule the Series 66 exam no more than one week after finishing their test preparation.
So, if you want to pass this licensing exam the first time, be sure you dedicate ample time to reading the text to have a knowledge of the exam material.
Our 4 weeks, three months, six, and twelve months study plans will help break down your studies depending on your availability so that you can cover the exam content effectively.
Don't forget other Series 66 study materials like flashcards, a study guide, and a cheat sheet.
They'll help reinforce the information learned in the book.
They are also handy when taking practice exams.
You'll have a quick reference to verify the information.
Making the Most of Your Series 66 Study Plan
Having a Series 66 study plan is one thing, and making the most of it is another.
So, how do you ensure your Series 66 prep time is effective?
Let's give you expert tips on how you can make the most of your Series 66 study plan.
Set Realistic Goals and Reward Yourself
The first step to making the most of a Series 66 study calendar is to be realistic.
Don't overestimate or underestimate how much you can accomplish within a specific time frame.
So, how do you manage your study time?
Start studying for a short time, say 20 minutes, and see how much you can get done.
Take a break and go at it again.
The second time, increase your study time by around 30 minutes.
The most difficult part is starting, but you can easily keep going once you start.
Studying in bits boosts information retention.
So, keep going.
Also, ensure you have measurable study goals.
When you reach a milestone, reward yourself for a job well done.
You deserve it.
Choose the Best Time to Study
Research reveals that most people are productive in the morning.
Of course, there are others that are at their prime in the evening.
Yours is to find out the time that you are most productive and ensure your Series 66 studies schedule is around that time.
You can schedule the most difficult topics when you are most productive and review the others later.
Did you know that you can read without actually studying?
So, break the chapters into sizeable chunks that you can go through in every study session.
The best way to go about it is to take notes when studying or highlight important sections.
You can also incorporate video lectures depending on your learning style.
This forces you to focus rather than just brush through the content.
Check your progress by ticking on the study calendar the hours you successfully reviewed the material.
You can also opt for an app to help you track just how much time you've committed.
Tracking progress continues beyond your studies.
It also covers end-of-chapter quizzes and practice question sessions you incorporate into your studies.
Make sure you are tracking all your performances.
When you keep tabs on your progress, you'll be better placed to identify areas that need your focus the most.
As you plan your studies, you may realize they are a lot to cover.
There are several study tools, and the exam content is broad.
Don't drown yourself.
Ensure you balance between social life and study sessions.
Also, allow room for unexpected events.
If you create your study time and slot in some spare time for the rare occasions that something crop up, you'll save yourself a headache.
You can always reschedule your studies in your spare time.
Remember, there are several securities exams.
There is a high chance you'll take another FINRA exam.
So, let Series 66 help you create a study habit that will help with the other securities exams.
Passing the actual exam is not a walk in the park.
With a passing score of 73%, you must manage your time effectively.
Make the most of your Series 66 study plan using the tips we've offered.
You'll realize you accomplish a lot during your study time.
If you also use the right study materials (we have a wide range of Series 66 study tools), there is no doubt you'll ace this exam on the first try.
In no time, you'll be an investment advisor or securities agent working for a broker-dealer.
Best of luck with your final exam!
Series 66 Study Plan FAQs
How many hours should I study for Series 66?
The hours you need to study for the Series 66 exam vary. Knopmanmarks recommend you take 75-100 hours over 4-8 weeks if you work full time. Pass Perfect, on the flip side, recommends 55-60 hours. The study time depends on your availability.
How do I study for the Series 66 exam?
– Create or download a Series 66 study plan.
– Make use of on-demand exam prep materials. Usually, they come with many study materials.
– Read the provided textbook or study manual, making notes or highlighting key concepts
– Use flashcards, a study guide, and a Qbank.
– Take practice exams
Who has the best study material for Series 66?
You can find some of the best Series 66 exam prep courses with:
– Kaplan Financial Education
– Securities Training Corporation
– Securities Training of America
– ExamFX
– Knopmanmarks
They provide several online courses that include self-study packages and video lectures.
How difficult is the Series 66 exam?
Series 66 is moderately difficult. According to Pass Perfect, the passing rate is 65-70%. Test-takers must score 73% to pass this exam. So, to be among those who make it on the first attempt, you must delve into the test prep early.
What is the passing score for the Series 66 exam?
The passing score for the Series 66 exam is 73%. That translates to answering 73 out of the 100 questions correctly. To pass, you must devise a strategy to cover Series 66 exam content in-depth. Before you schedule your Series 66 test date, ensure you are well prepared.
What is the Series 66 exam?
Series 66 is also known as the uniform combined state law examination. The exam is developed by North American Securities Administrators Association (NASAA) but administered by FINRA. It's designed for financial professionals who want to become investment adviser representatives. The license allows IAR to offer investment advice at a fee.
What are the topics on the Series 66 exam?
The Series 66 exam covers four topics that test candidates' knowledge of offering investment advice to clients.
– Economic Factors and Business Information.
– Investment Vehicle Characteristics.
– Client Investment Recommendations and Strategies.
– Laws, Regulations, and Guidelines, including Prohibition on Unethical Business Practices.
Where can I get a Series 66 study plan?
You can find the Series 66 study calendar on Career Employer. We provide a free Series 66 study plan for different time frames, including one, three, six, and twelve months. You can also get a study plan by purchasing exam prep courses from platforms like Kaplan Financial Education.
How many questions are there on the Series 66 exam?
The exam has 110 multiple-choice questions. Ten questions are pretest and hence not scored. That leaves you with 100 questions, and you must get at least 73 questions correctly to pass. The exam takes 150 minutes to complete. If you fail on the first attempt, you can always retake it.
Reference
Securities Institute of America