Greetings, our esteemed reader!
Welcome to yet another informative article on our Series 6 study series.
Today, we give you four downloadable Series 6 study plan.
Other free series 6 study materials: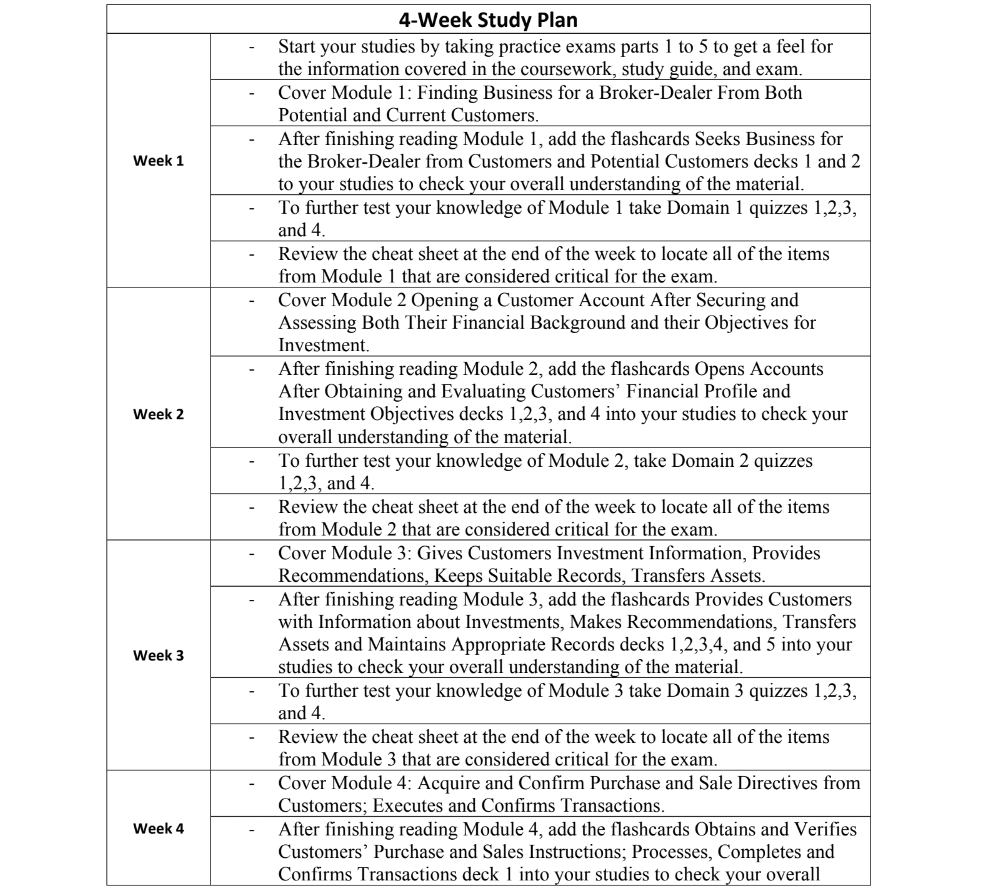 You can download a one, three, six, or 12 months study plan to help you prepare for the Series 6 exam.
Apart from the study plans, we've broken down how long it takes to study for the Series 6 exam and give you expert insights into creating a study calendar and making the most of it.
In brief, you'll learn about:
How long it takes to study for the Series 6 exam
Creating an effective study plan
Tips to make the most of Series 6 study plan
Without further ado, let's jump straight into it.
How Long Does It Take to Study for the Series 6 Exam
Test-takers need 40-60 hours to study for the Series 6 exam.
However, the actual amount of time you'll take depends on several other factors, like your experience in the financial securities industry, your educational background, and the time you can dedicate towards Series 6 exam prep.
The exam has a passing score of 70%.
That means out of the 55 multiple-choice questions.
You must score at least 35 questions correctly to pass.
Hence, to pass the Series 6 test on the first attempt, test takers must dedicate ample time to the topics that are highly weighted in the exam.
The exam covers four topics, each covering a specific function of a limited registered representative.
So, it's best to review the FINRA Series 6 content outline to find out what each topic contains and the number of questions each topic has in the actual exam.
Now, this is important.
The Series 6 exam pass rate is 58%, which means it's fairly difficult despite the few exam questions compared to other FINRA Series exams.
That means you must make the most of your Series 6 prep time if you want to have any chance of passing this exam.
Also, since getting the Series 6 license will require you to take and pass the SIE exam, keep in mind that you'll need an additional 20-50 hours to prepare for the securities industry essential exam.
Creating an Effective Study Plan
When preparing for any FINRA exam, a study plan is essential to help you cover the exam content from back to back.
Creating a Series 6 study schedule will help you easily navigate the Series 6 exam content.
So, how do you go about creating a study plan that balances your studies, work, and other life commitments?
Here are key pointers to help you create a Series 6 study plan that works best for you.
Identify the Deadline for Your Series 6 Exam Prep
Series 6 exam test prep takes 40-60 hours.
Depending on how much you dedicate to your test prep, the study time can run for a week or up to a month.
Series 6 candidates have 120 days from the enrollment date to the exam date.
With the Series 6 test date in mind, you can plan your Series 6 study plan to ensure you complete your studies on time.
Review Series 6 exam content and have a tentative time frame that you'll complete the course content.
In your calendar, mark the deadline for your studies.
Evaluate Your Daily Schedule
Once you know how much time you have until the exam, it's time to break down all your daily activities.
Write down all the activities you do on a daily basis.
As you write them down, highlight how long these activities take.
Have a weekly calendar that blocks the hours you spend on these daily activities.
Recheck your weekly calendar to identify the hours you are free.
Slot your study time during the hours you are free.
If you are a first-time test taker with no experience or background education in the securities industry, ensure you have at least a few hours every day for exam prep.
Most Series 6 exam prep courses have a study plan template you can fill in.
Some have ready-made Series 6 exam study plans you can customize or use as it is.
Simply pick what works for you.
Develop a Realistic Series 6 Study Plan
Now that you have a deadline for your studies plus specific hours you can slot in your studies, it's time to create a study plan.
Ensure your plan has the time to cover all the Series 6 study materials.
Most online training programs have self-study packages with video lectures, a question bank with dozens of quizzes, practice exams, and a study guide.
You want to ensure you've created a study plan that will give you enough time to read the textbook, listen to the video lectures, and go through as many practice questions as possible.
The key to finding the right balance is establishing a few things about your study habits.
First, how long can you concentrate?
Determine how long it takes before you lose focus.
This will help you break down your study time into sizeable sessions that make it easy to absorb lessons learned.
You can resort to 30 minutes daily, a whole day of study, or 3-hour sessions.
It all boils down to what works for you.
The next question you should ask yourself is how many times you need to review the same information to retain it.
And finally, what is your learning style?
Are you better off reading while taking notes, or do you need to take quizzes to understand concepts better?
Perhaps video lectures make it easy for you to understand concepts.
The bottom line is to be realistic when creating your study plan.
Create what works for you, not what looks good on paper.
Identify Your Study Goals
Now that you already have a study plan, it's time to highlight what you want to achieve with each session.
The Series 6 exam covers the four functions of an investment company and variable contracts products representative.
The four job functions are broken down into different topics.
So, in your study calendar, write a goal for each session.
Doing this will help you stay focused and study with an end goal in mind.
Plus, you'll have time for each topic in the Series 6 exam.
Have Breaks and Free Time
This is obvious, but we must mention it.
Don't wait until the last minute and then have a crush program.
You'll die from burnout.
And even when you've started your preparation early on, create a schedule that gives you time to rest.
The best schedule is 70/30, where you dedicate 70% of your time to studying, whether it's online classes or studying the certification materials, and 30% towards breaks.
Put Your Series 6 Study Calendar Where You Can See It
There's an option of a digital study calendar that you can pin to your taskbar or have as your computer's background image.
Suppose you have a hard copy study plan.
You should stick it on the wall above your computer or the study table.
When it's in sight, it's easier to follow.
But that's not all!
You must be disciplined to commit to following the study plan.
Creating a study plan for the Series 6 licensing exam is an excellent strategy, but remember, the calendar is not cast in stone.
The first week is trial and error.
Find out what doesn't work and adjust it accordingly.
As the Series 6 exam date draws near, you'll need to adjust your schedule to focus more on the areas you are weak.
All in all, ensure your study plan meets your personal needs.
Tips to Make the Most of Series 6 Study Plan
With the Series 6 study plan ready, the next logical question would be, how can you make the most of it?
Well, you are about to find out.
The Series 6 exam is divided into four functions of an investment company and variable contracts products representative.
The four functions are weighted differently in the exam.
That means the number of questions from each section varies.
For example, the third function, providing customers with information about investment markets recommendations, transferring assets, and maintaining appropriate records, has 25 questions, while seeking business for the broker-dealer from customers and potential customers have 15 questions.
It goes without saying that you'll need to spend more time on function three than on function two.
As such, the same should be eminent in your study schedule.
Apart from the topic weighting, you should also prioritize the topics you find difficult to understand.
In the stance that you've missed a session because of other commitments, make it a habit to compensate for that time.
Otherwise, you may end up short-changing yourself.
Manage Your Time Effectively
Time management is a big deal.
And so, having a study calendar alone won't cut if you are not keen on time management.
Thus, at the end of every week, go through your calendar to ascertain how much you've done.
Self-evaluation will help you find out where you need to improve.
You can slash some time from your hobbies and commit more time if you notice you are lagging.
You can also adjust your timings to when you are most productive.
The bottom line is to prepare adequately for the Series 6 exam.
Make the most of the little time you have.
Study When You are Most Productive
Different people have different learning styles and when they are most productive.
While some prefer the wee hours of the morning, others are most productive at night.
Some study the most mid-morning.
The point is to find out the time that works for you and use it to cover the topics that you find most challenging.
The Series 6 exam is among the many Financial Industry Regulatory Authority exams.
This exam is important for financial professionals interested in selling variable annuities, mutual funds, variable life insurance, municipal fund securities, and unit investment trusts (UITs).
Series 6 study plan helps you schedule your test preparation to cover all the series 6 exam topics.
And so, immediately you have the Series 6 exam schedule.
It's best to delve into your studies.
A Series 6 study calendar helps ensure you focus on all the exam topics, depending on how challenging they are.
That said, we hope you'll find our Series 6 study plans helpful.
Series 6 Exam FAQs
How long is the Series 6 exam?
The Series 6 exam takes 1 hour and 30 minutes. The exam consists of 55 multiple-choice questions, where five questions are unscored. You need one minute and around 30 seconds to answer each question. So, answer all the questions to the best of your ability.
How many hours should I study for Series 6?
It takes 40-60 hours to study for the Series 6 exam. The exam has a passing score of 59%. That means it is fairly difficult. Start preparation early. Leverage all the study materials you can get and take many practice tests to check your exam readiness.
What should I study for Series 6?
The topics covered in the Series 6 exam include:
– Variable annuities
– Retirement plans
– Securities and tax regulations
– Insurance products
The exam focuses on the daily job function, responsibilities, and activities of representatives selling these products. The SIE exam is a corequisite for the Series 6 license.
Is the Series 6 exam difficult?
With a pass rate of 58% for first-time test takers, we can say it's fairly challenging. The good news is that the content coverage is not as wide as in the Series 7 exam. You can pass on the first try if you start your preparation early.
When can I study for Series 6?
You can start your study for the Series 6 exam once your employer has given you the go-ahead. Ideally, you should spend 40-60 hours preparing for this exam. How you distribute these hours solely depends on you. Ensure you balance work, family, and studies to cover all the exam topics.
What materials do I need to study for the Series 6 exam?
You can find the best Series 6 exam study materials from the following providers.
– Securities Institute of America
– ExamFX
– Knopman Marks
– Kaplan Financial Education
– Securities Training Corporation
The test prep course providers have different study packages. Be sure to review their offerings thoroughly before buying.
What is the passing score for Series 6?
The passing score of Series 6 is 70%. You must get 35 out of 50 scored questions right to pass the exam. Scan through the Series 6 study guide before you plan your study schedule. When you know what to study, you can better prepare for the exam.
References