Hi, and welcome to our informative guide on Series 6 cheatsheet.
This is the sixth article in our Series 6 study hub.
Here, you'll find a downloadable Series 6 cheat sheet to help you navigate the exam content.
Other free series 6 study materials: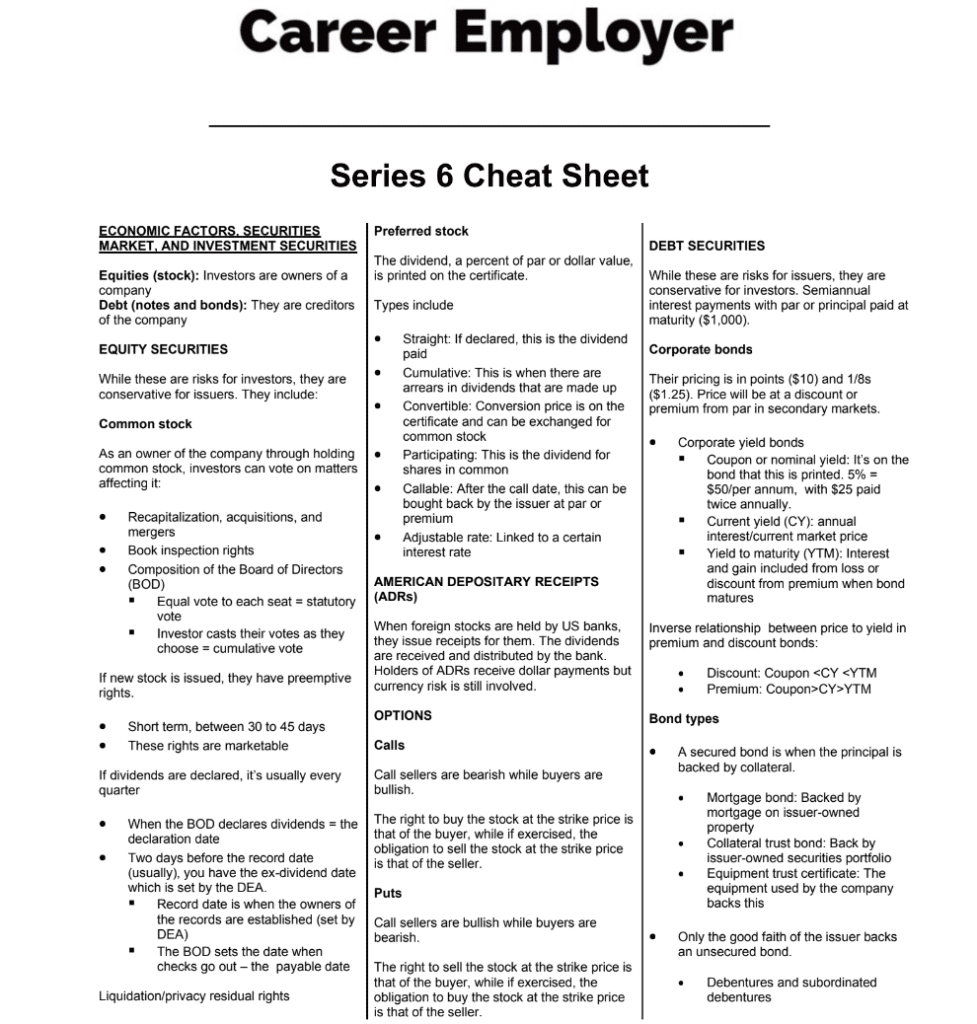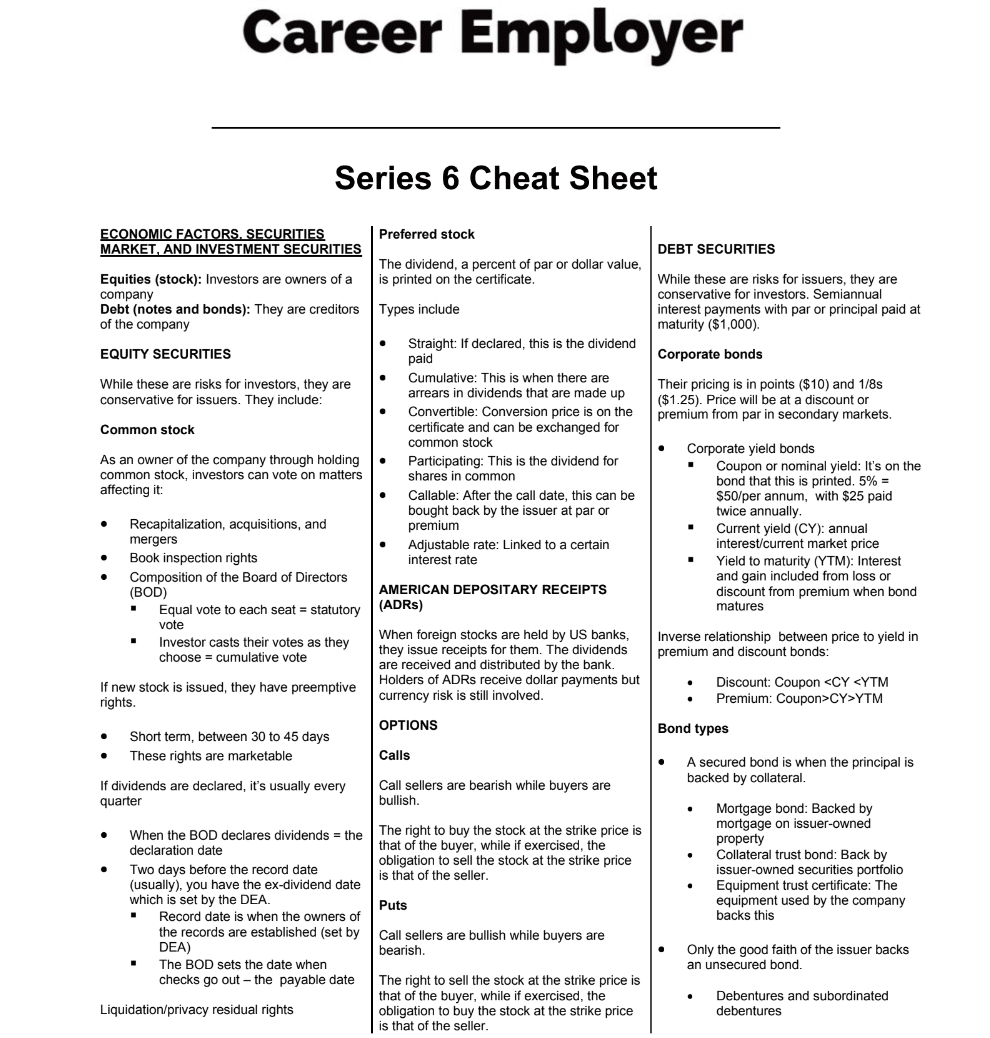 Additionally, we'll give you guidelines on making the most of the cheat sheet.
In brief, we'll discuss:
Making the most of Series 6 cheat sheet
Why Use Series 6 cheat sheet
Without further ado, let's jump straight into it.
Making the Most of Series 6 Cheat sheet
Series 6 test cheat sheet is a handy stool that you must have in your study arsenal.
A cheat sheet summarizes all the key concepts and makes it easy to pick the important points.
Our Series 6 quick sheet is an excellent guide that summarizes the important information for each chapter.
To make the most of this study sheet, you must familiarize yourself with the Series 6 exam content.
That means it can't be your primary study resource when starting Series 6 exam prep.
You'll simply be refreshing your memory when using the cheat sheet.
The key concepts, definitions, and rules and regulations will make more sense when you already have in-depth knowledge of the subject of discussion.
Our cheat sheet is a great resource when used with our other Series 6 study tools, like the study guide, practice exams, and flashcards.
For instance, after taking our practice exams, the next step is reviewing.
You can add to the Series 6 cheat sheet exam questions that are new or areas you need to cover more.
Suppose a question of suitability or closed-end funds comes up and you are not well-versed in those topics.
That's your cue to read more about them and add that information to your cheat sheet.
We recommend you use at least an hour every day to review the study sheet.
Continual review enhances information retention.
A study sheet will save the day towards the exam day instead of pulling an all-nighter.
The small details like the investment company act of 1940 that classifies investment companies into three would take ages to find in your prep course textbook, but in the study sheet, it's a matter of seconds.
You can find what you need to study when you need it.
Around two weeks before the exam, you can use the cheat sheet and the Series 6 study guide as the primary study material.
Don't forget to also take practice exams to test your exam readiness.
Your results will guide you on which areas to focus on when using the study sheet.
Why Use Series 6 Cheat sheet
While there are many exam prep materials for the Series 6 exam, why use a cheat sheet?
There are several reasons why they make excellent tools for preparing for the actual exam.
First, a study sheet helps you remember the important information.
Because the information is summarized, it's easier to recall the finer details of exam content, such as transferring customer accounts to a different broker-dealer, client risk tolerance, money market instruments, and liquidity needs, among other topics, than when reading the same in a textbook.
A study sheet jogs your memory.
You can remember complex information with ease.
The small details that would make you break a sweat become not so complex by reviewing them over and over again.
You can also better connect concepts, understand how they relate to other ideas, and how to apply them.
In a nutshell, the Series 6 cheat sheet makes it easier to prepare for the Series 6 exam.
It cuts down your study time.
You'll also retain more information.
With a passing rate of 58%, you need all the help you can get to pass the Series 6 exam the first time.
Our Series 6 cheat sheet summarizes the key concepts covered in the Series 6 exam.
We make it easy for test-takers to understand the four functions of Investment Company and Variable Contracts Products Representative tested in the exam.
The condensed notes will particularly come in handy once you've studied the source material.
That way, it will make your exam preparation more effective.
That said, we wish you luck as you prepare to take the Series 6 exam and steer your career in the right direction.
Series 6 Cheat Sheet FAQs
What is Series 6 cheat sheet?
Series 6 exam cheat sheet is a condensed study sheet that covers key concepts tested in the exam.
The cheat sheet covers key ideas in investment companies, including management company and unit investment trusts (UIT). It also highlights variable annuities, taxation, conduct rules, FINRA membership, regulations, and qualifications.
What are the best Series 6 cheat sheets?
There are several Series 6 exam prep providers with the best cheat sheets. On top of the list is the Securities Institute of America. SIA cheat sheet comes bundled up with other Series 6 study materials. You can also find awesome cheat sheets on Career Employer and Examzone.
How many questions are on the Series 6 top-off?
The exam has 55 questions covering the four functions of the Investment Company and Variable Contracts Products Representative. The exam has 5 unscored pretest questions and 50 scored ones. The Series 6 exam covers mutual funds, retirement plans, life insurance products, tax regulations, variable annuities, rules and regulations, and securities.
What to bring to the Series 6 exam?
Like all FINRA qualification exams, test-takers are not allowed to enter the exam room with study materials. The securities exams are closed books. You'll only be provided with a calculator, an erasable note board, a dry-erase marker, and noise-canceling headphones.
Is the Series 6 test hard?
Series 6 fail rate is 42%. That means it's moderately difficult. You must score 70% to pass. The Series 6 test questions check your understanding of the four functions of representatives. To pass, create a Series 6 study plan. Make the most of Series 6 practice exams.
Is Series 6 or 7 harder?
The Series 7 exam is harder than the Series 6 exam. Series 6 exam questions test competency for a limited number of securities products. Series 7 exam is diverse, covering several securities products in great detail. The exam has 125 multiple-choice questions, while Series 6 boosts 55.
What score do you need to pass Series 6?
The passing score for the Series 6 exam is 70%. You must score at least 35 questions to hit the passing score. The exam takes 90 minutes to complete. Start practicing early using Series 6 practice tests. Series 6 flashcards and a study guide will also help you.
How many people pass Series 6?
The pass rate for the Series 6 exam is 58% for first-time test-takers. To pass this exam the first time, you need to be strategic. Focus more study time on the highly weighted areas of the exam. You can also explore Series 6 classes for better results.
Does Series 6 have a calculator?
You'll be given a calculator to use during the Series 6 exam. There are a few questions in the exam that require calculation. You may end up not even using it. That's not to say that you should ignore the mathematical questions in the test.
Is the Series 6 top-off test the same as the Series 6?
The Series 6 top-off exam is the same as the Series 6. With the introduction of the SIE exam, FINRA streamlined the Series 6 exam, which reduced the exam questions from 110 to 55. Series 6 exam cost is now $40. It used to be $100.
How hard is the Series 6 exam?
It's fairly difficult. You can only fail 15 questions out of the 50 scored questions. Once registered with an SRO or FINRA member firm, yours is to dedicate time for tutorials and study tools. Commit 40-60 hours towards your Series 6 exam prep.
References
Securities Training Corporation