Hello everyone!
Welcome to an interesting read about our free Series 7 cheatsheet.
Find a downloadable Series 7 exam cheat sheet below.
Other free series 7 study materials: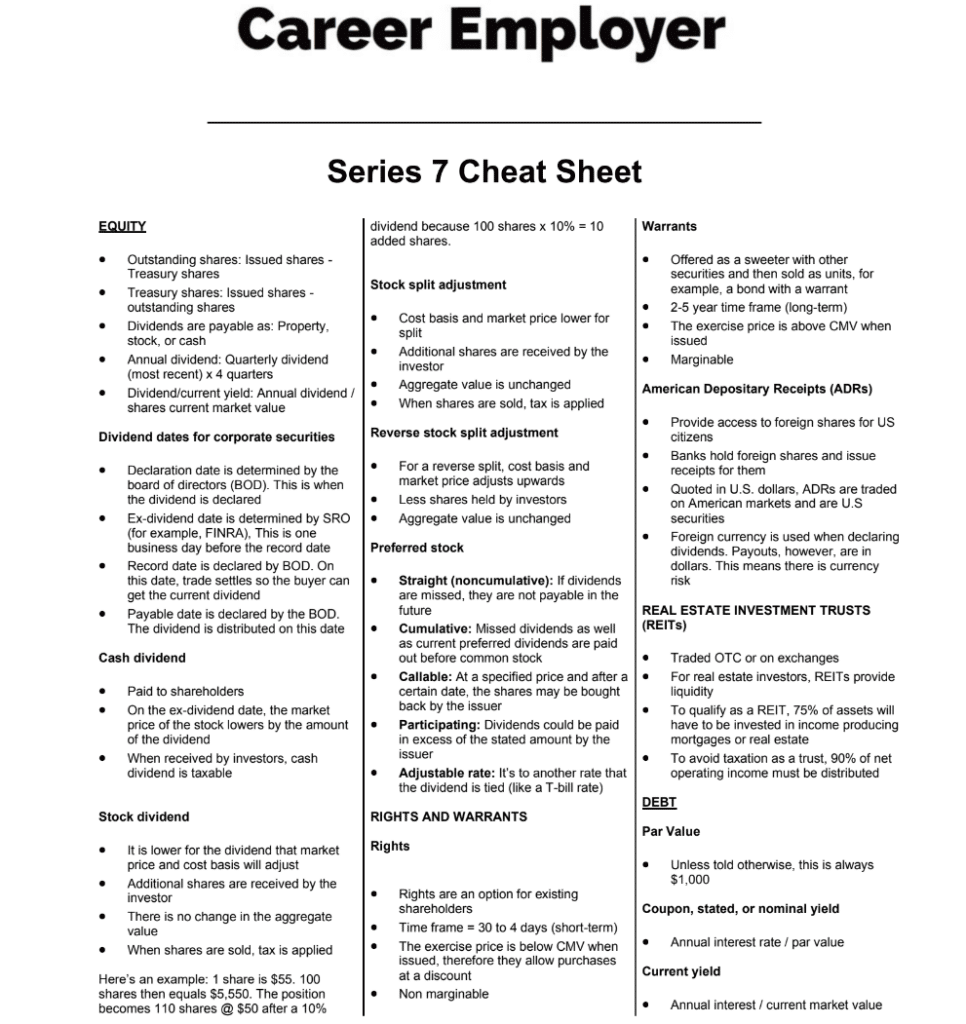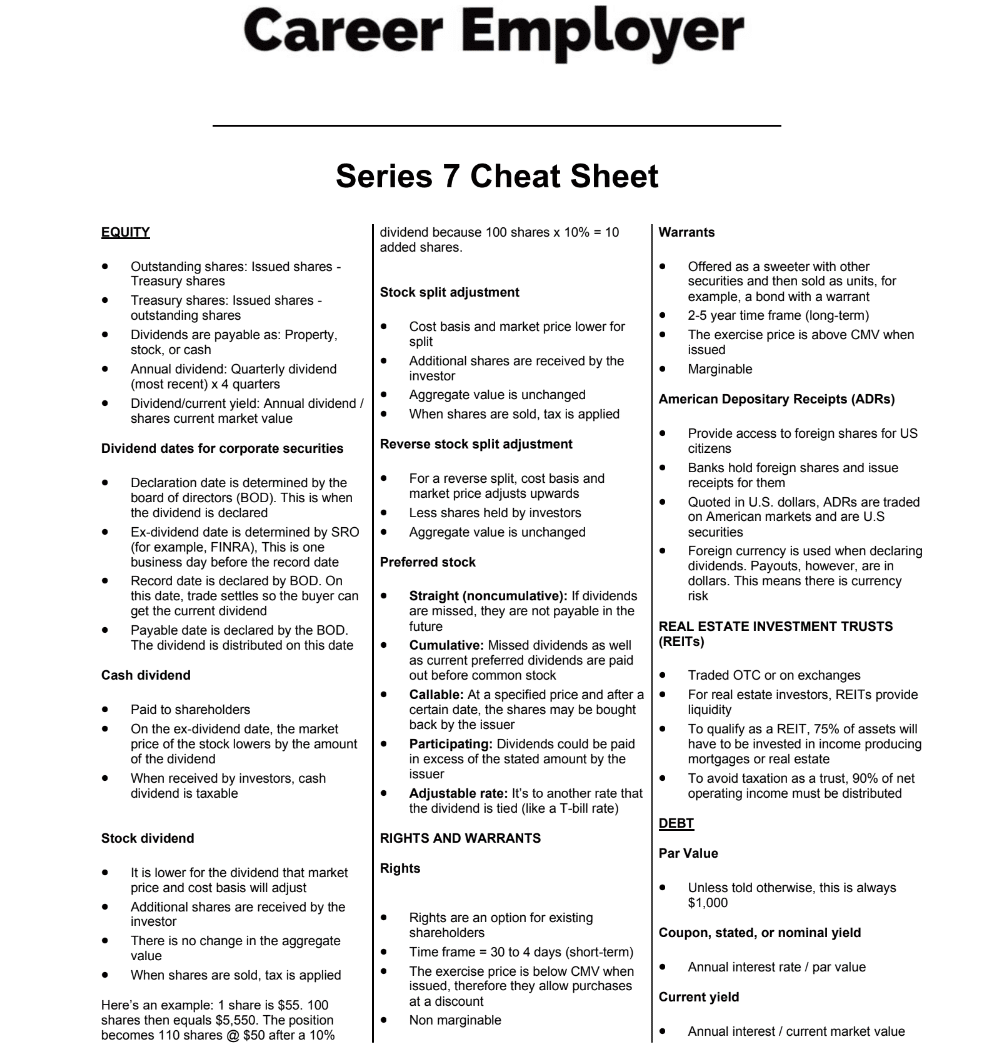 This is the sixth article in our Series 7 exam study series.
We'll also explore how to make the most of the cheat sheet.
Let's get started.
How to Make the Most of the Series 7 Cheat Sheet
A cheat sheet concentrates all the important information you need to know in one central place.
In this case, the Series 7 exam cheat sheet contains crucial information you must learn for the exam.
This study resource is one of the several Series 7 study materials that should be in your study tool kit.
The cheat sheet allows you to refresh your memory and keep tabs on all the key areas you need to learn and understand.
You can have it on the go to review definitions, key equations and formulas, and concepts.
Since the cheat sheet contains only the important information, it saves you time as you don't need to review your Series 7 exam prep course textbook whenever you want to confirm concepts.
You can clarify data, figures, and facts without breaking a sweat.
Furthermore, you can use the cheat sheet with the Series 7 study guide, Series 7 flashcards, and Series 7 practice exam.
Our Series 7 study series has all these resources.
Using our Series 7 study plan, you'll find it easy to have study time for each of these resources.
You can review the Series 7 exam study guide alongside the cheat sheet.
But ensure you have a specific time in your series 7 study time to only go through the cheat sheet.
Again, the cheat sheet will come in handy after taking practice exams.
You can add notes about the critical information you discovered during the test or simply use it to clear up any confusion.
What's more, you can take your Series 7 exam preparation a notch higher by creating a dump sheet for the information you will likely forget.
Memorize the information close to the exam date and pour this information on the scratch paper provided in the exam room immediately after the exam begins.
You can never go wrong with the Series 7 cheat sheet when preparing for the actual exam.
A cheat sheet compresses key concepts likely to come in the exam.
It's easy to review the important information without perusing the study materials from back to back.
Again, you can use it with other Series 7 exam study materials, such as practice tests and flashcards.
A great cheat sheet can become a study guide as the exam gets closer.
So, make the most of your Series 7 exam cheat sheet.
Frequently Asked Questions
Can you cheat on Series 7?
FINRA has strict regulations concerning cheating. Candidates cannot get into the exam room with any study materials. Those found cheating in the Series 7 exam and other FINRA qualification exams may be permanently barred from the broker-dealer industry. Therefore, start studying for the Series 7 exam in good time.
How can I pass Series 7 in a week?
One week is quite a short time to prepare and pass the general securities representative exam. Passing the Series 7 exam will require more time to prepare. It's recommended that you study for 80-100 hours if you have experience in finance and 150 hours if you don't.
How hard is Series 7?
Series 7 exam is considered the most difficult securities licensing exam. The passing score for this exam is 72%. The exam is wide in scope, covering a wide range of securities products and the rules and regulations that govern customer accounts. Series 7 exam questions are detailed and often lengthy.
How can I pass Series 7 exam the first time?
Here are Series 7 studying tips to help you pass the first time.
– Create a study plan
– Use study time to learn concepts. Don't cram.
– Use study tools such as a study guide, cheat sheets, and flashcards
– Use practice questions to test exam readiness
– Take full-length Series 7 practice exams
Is the Series 7 exam hard to pass?
Series 7 exam is comparatively harder to pass than other FINRA qualification exams. The Series 7 pass rate is 65%. The exam is concept-based, and it covers a wide range of topics. However, if you implement a rigorous study plan, there are high chances that you'll pass.
Is Series 7 harder than the bar exam?
Given how long it takes to take the bar exam, we would say it is more difficult than the Series 7 exam. Law school takes three years. From there, aspiring lawyers dedicate 2-3 months to pursuing the bar review course before taking the bar exam.
What is the Series 7?
Series 7 exam is also known as the general securities representative exam. It's an entry-level exam for industry professionals interested in buying and selling security products such as municipal securities, variable contracts, options, corporate securities, direct participation programs, and investment company products.
What is the best way to study for Series 7?
– Start your studies early enough. Create a study calendar that best suits your availability.
– Purchase a Series 7 prep course that comes with a study guide, flashcards, test questions, cheat sheets, video lectures, and the prep course Series 7 textbook.
– Take many sample Series 7 questions.
How long does the Series 7 exam take?
The Series 7 exam takes 3 hours and 45 minutes. The exam consists of 125 multiple-choice questions. The exam questions mostly revolve around maintaining appropriate client records, making suitable recommendations depending on clients' needs, providing clients with investment information, and transferring assets. The key is to learn the concepts.
Do I need to study for Series 7?
Yes. It's impossible to pass the Series 7 exam without studying. The Series 7 exam content coverage is wide. Exam-takers must be conversant with taxation, equity, municipal bonds, life insurance and annuities, mutual funds, debt securities, clients and margin accounts, and options.
References